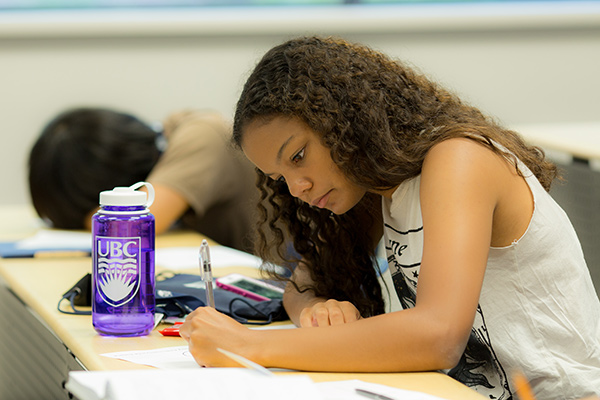 If you're hoping to attend UBC in September 2024 or 2025, it's already time to start planning the rest of your high school courses. Here's a few tips to help you prepare and choose the Grade 11 and 12 or junior- and senior-level courses you'll need for admission.
Know your requirements
Choose Grade 12 or senior-level courses that meet:
your high school graduation requirements;
UBC's general admission requirements;
UBC's degree-specific requirements.
Your general admission and degree-specific requirements will depend on the UBC campus and degree you choose, and the high school curriculum you're studying as a Canadian student or an international student.
When you apply to UBC, you'll have the chance to pick a first-choice and second-choice degree. Make sure the Grade 12 or senior-level courses you choose meet the requirements for both degrees.
If you haven't chosen a degree yet, don't worry! Just make sure that, at minimum, you meet UBC's general admission requirements. Every UBC degree has specific requirements beyond the general admission requirements, but some degrees have fewer than others.
You can use these worksheets to help you plan your courses.
Make sure you meet UBC's English language requirement
Since English is the primary language of instruction at UBC, you will be required to demonstrate a minimum level of English before you're admitted. There are nine ways to meet UBC's English Language Admission Standard for an undergraduate degree.
Start thinking about your personal profile
UBC will evaluate your application based on a combination of your academic achievements and personal experiences. The personal profile is your opportunity to tell UBC what you are most proud of, what is most important to you, and what you have learned from your experiences inside and outside the classroom. Start thinking about what you are learning – and want to learn – from those experiences in the coming year.
Do your best
A competitive university like UBC receives more applications than offers it can give out. We wish we could admit all qualified applicants, but we just don't have the space. UBC has a comprehensive approach to admissions that focuses primarily on your marks in academic courses, but also considers the breadth, rigour, and relevancy of your coursework.
Stay up to date
UBC's admission requirements can change from year to year. Be sure to refer to the Applying to UBC page for the most up-to-date information.