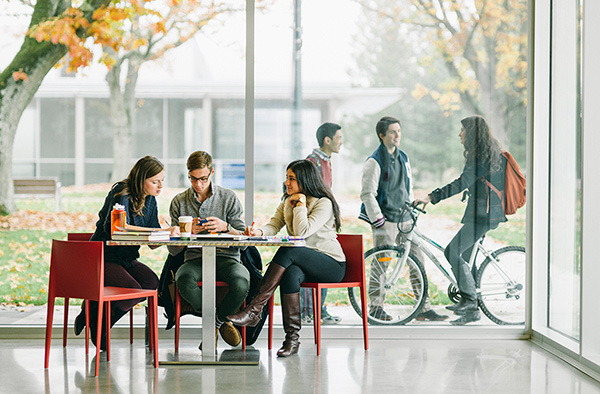 Each year, UBC receives approximately 50,000 undergraduate applications like yours from across Canada and around the world. You may be applying directly from high school or transferring from another university or college, studying at a Canadian school, or following any one of a number of international curricula. English may be your first language, or your second or third or fourth.
Each person who applies to UBC is unique, so each of you will have your own way of meeting our requirements. Here are four questions to ask yourself before you begin your application.
Four questions we'll ask
Do you meet UBC's English language requirement?
English is the primary language of instruction at UBC. All prospective students are required to demonstrate English language competency before they're admitted.
Do you meet UBC's general admission requirements?
Your general admission requirements will vary depending on whether you're a Canadian high school student, an international high school student, or a post-secondary transfer student from Canada or abroad.
Do you know what you're interested in studying at UBC?
You don't need to select a program (or major) just yet (e.g., English or Biology), but you'll need to identify which degree you're working toward (e.g., Bachelor of Arts or Bachelor of Science). Choosing what to study will help you determine which degree-specific requirements you must meet when you apply to UBC and help you understand how your application will be reviewed.
When you complete your application, you can select a first and second choice of degree. You don't have to indicate a second choice if you don't have one or if you only meet the requirements for your first-choice degree, but it's always a good idea to keep your options open. Some degrees are offered on both UBC Okanagan and UBC Vancouver, so one approach is to apply for the same degree on both campuses as your first and second choices.
In the online application, you'll enter those degree choices in the Program Selection tab. Enter your first-choice degree in the "First Program Choice" field and enter your second-choice degree in the "Second Program Choice" field.
Does your chosen degree require a personal profile or supplemental application?
All high school applicants and some transfer applicants are required to submit a personal profile as part of their application to UBC. Depending on the degree you choose, a supplemental application, portfolio, or audition may be required, too.
Find your admission requirements
No matter where you're from, what you want to study, or which UBC campus you're applying to, our Undergraduate Programs and Admissions website can help you find the admission requirements that apply to you.
Still have questions? Contact us and we'll point you in the right direction.