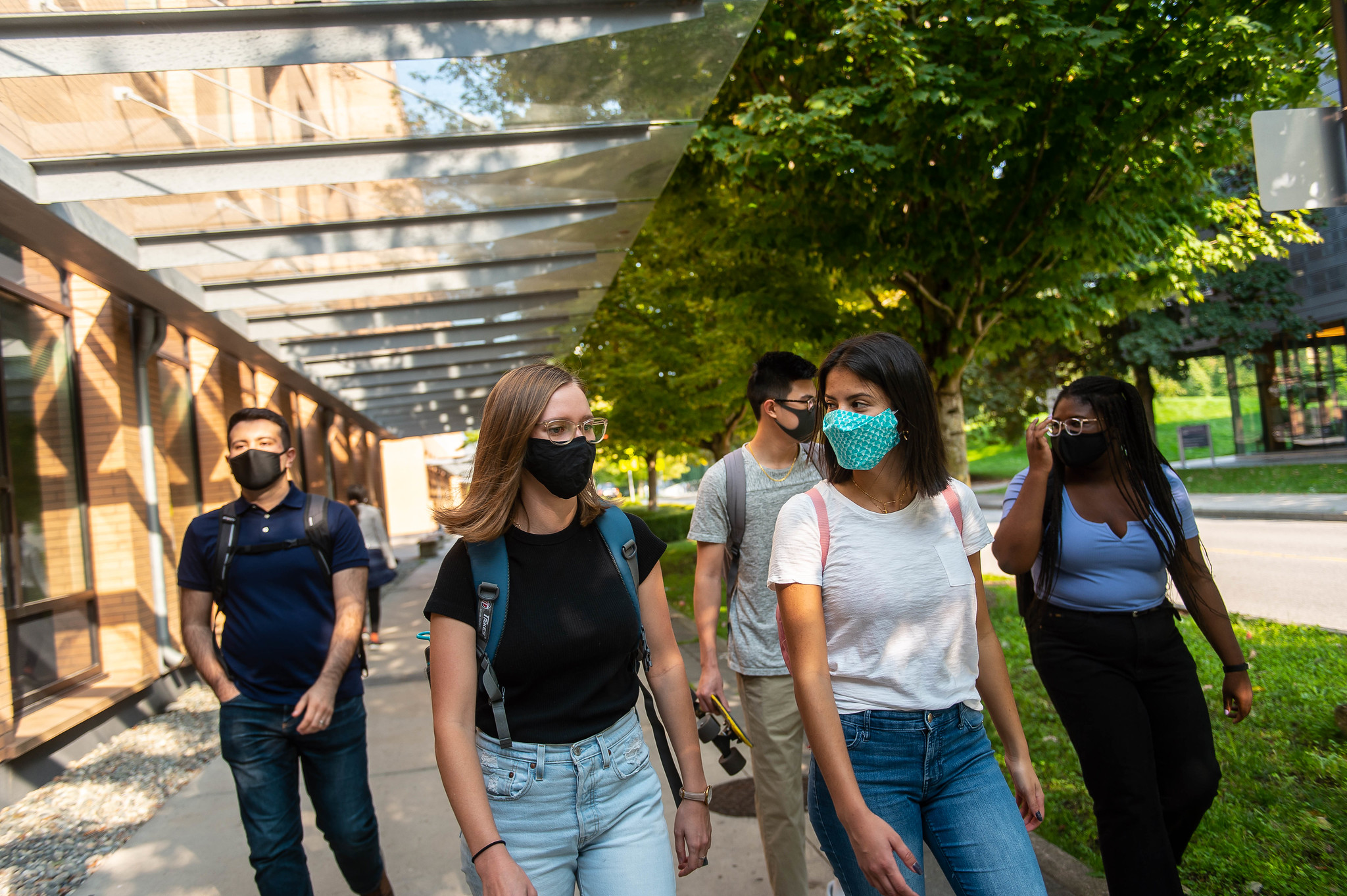 This blog post will be updated as new information becomes available.
Last updated: August 11, 2021
We understand that there has been a lot of uncertainty for you this past year due to COVID-19. As the world begins to move toward life after the pandemic, you've likely been wondering what your UBC classes will look like in September 2021.
The province of British Columbia has been working very hard to make in-person gatherings safe again. Based on the strong and effective safety plans put in place by the government, as well as BC's vaccination schedule, UBC is preparing for increased on-campus activities. This means that you should begin preparing to be on campus for your studies in September!
Your health and wellbeing has always been UBC's top priority, and you can be confident that we will continue to put your safety first. UBC staff are currently making plans in collaboration with public health authorities to make sure on-campus activities are safe and successful. This includes planning for transit to UBC, organizing quarantine arrangements for international students (if this continues to be required), creating options for on-site immunization, and managing the availability of study spaces.
We understand that you might have a lot of questions about coming to UBC in September. Because the situation continues to evolve, it's important to keep checking this blog post to find out the latest information. The date at the top of the post will let you know when it was last updated.
For more information on how UBC is working with provincial health authorities, you can read BC Provincial Health Officer Dr. Bonnie Henry's letter to university presidents on March 8, 2021.
Student housing
Residences will be open to all eligible first-year students in all first-year communities this fall. Remember: the deadline to apply for housing is May 1 on both campuses. If you're eligible for the First Year Guarantee, you'll receive an update on your housing application in mid-June. Find out more about your student housing in our blog post.
Orientations for first-year students
Orientation programs will be available for all new-to-UBC students coming in the fall. Your health and wellbeing is our top priority, and UBC will confirm whether these will be in-person or virtual (or a combination of the two) as we continue to work with public health officials. Find out more about the orientation options available to you.
COVID-19 vaccinations
UBC strongly encourages you to support the provincial vaccine program and receive your vaccination as soon as you are eligible. Vaccines are the best way to protect against COVID-19, and they do more than protect you – they also protect everyone around you.
COVID-19 vaccines are available to all adults living, working, or studying in BC during the pandemic, even if you're an international student. You do not need a Personal Health Number, BC Services Card, or to be enrolled in B.C.'s Medical Services Plan to get the vaccine. The COVID-19 vaccine will not be mandatory. Keep checking the Immunize BC website for the most up-to-date information.
Self-isolation for international students arriving from overseas
If you're an international student arriving from outside Canada, you no longer need to quarantine, stay in a government-approved hotel for the first three nights, or take a COVID-19 test on day eight, as long as you meet the eligibility requirements:
You must be fully vaccinated at least 14 days before arriving in Canada
You must have received one of the vaccinations approved by Health Canada, which currently includes Moderna, Pfizer-BioNTech, AstraZeneca/COVIDSHIELD, and Janssen (Johnson & Johnson)
You will need paper or digital proof of vaccination from any country and submit it through the ArrivaCAN app before travelling. If your proof of vaccination is not available in English or French you must get a certified translation
You will still need to get a pre-arrival COVID-19 test as well as get tested at the airport or land border crossing on arrival in Canada
You must not have any COVID-19 symptoms
You will need to prepare a quarantine plan and be prepared for quarantine in case the officer determines you do not meet the criteria to be exempt from quarantine. Follow the government advice at Fully Vaccinated Travellers Entering Canada during COVID-19
You will need to follow public health measures in BC, such as wearing a mask in public indoor settings, keep a copy of vaccine and test results, and keep a list of close contacts for your first 14 days in Canada
This new policy takes effect on July 5, 2021.
If you are not fully vaccinated
There is no requirement to be vaccinated to travel to Canada or to study at UBC at this time. However, travellers who are not fully vaccinated must follow the government's testing requirements, quarantine (self-isolate) for 14 days, and self-monitor for symptoms.
If you are not able to self-isolate in your own accommodation, UBC Conferences and Accommodation (C&A) is offering a variety of fee-based self-isolation accommodation packages. These packages include a number of on-campus options, plus off-campus accommodation in partnership with local hotels.
Find out more information about self-isolation accommodation for UBC Okanagan and UBC Vancouver. Keep checking these links for the most up-to-date information.
Immigration and health insurance for international students
As the COVID-19 situation continues to evolve, you'll find the most up-to-date advice on your immigration application, study and work permits, and health insurance on our pages for UBC Okanagan and UBC Vancouver. We also recommend reviewing our guide for planning to arrive in Canada for your studies.