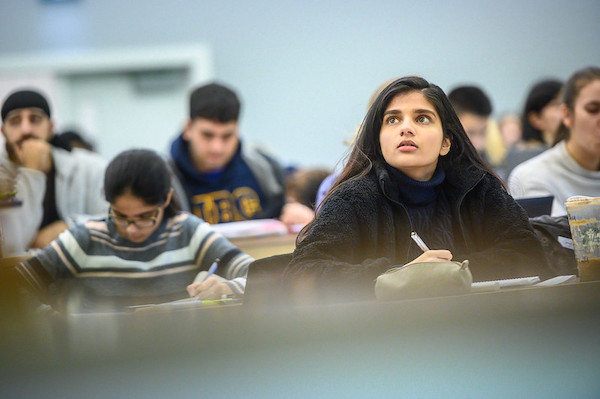 This blog post will be updated as new information becomes available. Check back regularly. 
Last updated: August 25, 2022 
We know that waiting for your study permit can be very stressful. We understand that you're excited to start classes in September. However, it's important to wait until you have all of your documents ready before coming to Canada. 
Here are some steps you can take if your study permit does not arrive on time.
Study permit processing times right now
For a number of reasons (post-COVID challenges, recent world events), the Canadian government is taking longer than usual to process study permits. 
UBC is aware of the situation and has reached out to Immigration, Refugees, and Citizenship Canada (IRCC) to encourage faster study-permit processing times. 
Unfortunately, there is no way to get your study permit process rushed. And UBC is not able to influence processing times or contact IRCC on your behalf. We know how frustrating this must be for you.
Wait for your "Letter of Introduction"
It's important to wait until you have all your documents before coming to UBC. Do not travel to Canada before you receive your "Letter of Introduction" (study permit approval letter) from IRCC. The "Letter of Introduction" is what you'll present to the officer at the airport or border in Canada to get your study permit.
If your study permit isn't processed before classes start on September 6
Most courses at UBC are designed for in-person attendance, and you need to attend from the first day of classes if possible. However, UBC is determined to support you if your study permit isn't processed in time. The options available to you will depend on your specific program. Options might include your professors finding ways to help you keep up with the course materials if you'll be arriving late, like class recordings and other support. In some programs, deferrals may be an option to consider. Your program's advising office is the best place to support you in what options may be available to you.
Check with your academic advisor directly to find out what your options are:
Online courses
If you are unable to attend in person due to a delay in the processing of your study permit, you may be able to start some courses online. This option depends on the courses you are enrolled in and the specific policies developed by your faculty. If you are not sure if online courses are an option for you, check with your academic advisor:
Please note: If you start your courses online, this does not guarantee that you will be able to continue your studies if your study permit is then not approved.
Online courses and your PGWP eligibility
The temporary distance learning measures for the Post-Graduation Work Permit (PGWP) have been extended to August 31, 2023. This means that 50% of your studies can be completed online outside Canada and you'll still remain eligible for PGWP.

Deferring your start date
If you aren't able to make it here for your September 2022 classes because of study permit processing delays, you may request to defer your start and begin your studies at the start of a future term.  
You'll need to complete the request form and submit it to UBC as soon as possible, and when you're able to defer until will depend on your faculty. 
If your deferral request is approved, any payments already made to UBC can also be deferred toward your future tuition fees.
Arriving late for student housing
If you had secured UBC student housing for September 2022 and you need to defer your start date, email UBC Student Housing at information@housing.ubc.ca (Vancouver campus) or information@housing.okanagan.ubc.ca (Okanagan campus) to let them know.  
Your housing deposit may be transferred to a later start date or refunded in full if you choose to cancel your spot in student housing. 
By September 2 – full refund, with no cancellation fee

 

Between September 3-19 – pro-rated refund based on date you cancel, no cancellation fee

 

After September 20 – you will pay a cancellation fee of 25% of the contract

 
More information about student housing cancellations and refunds can be found at: 
Arriving late for Jump Start
You can arrive any time during the week of Jump Start (Okanagan campus, Vancouver campus). Group leaders are prepared to support you if you arrive partway through the orientation program. 
If you are not able to participate in Jump Start at all due to study permit processing delays, Jump Start can issue a refund or credit for both the orientation fees and the housing fees for that week. To request a refund: 
If you have questions about arriving late for Jump Start, you can email: 
Course drop/withdrawal dates
If you decide you have to drop or withdraw from your courses, you'll want to keep these deadlines in mind:
To find out how you can get a refund of your tuition fees, visit: 
More information
Find out more about what you can do if your study permit isn't processed in time: