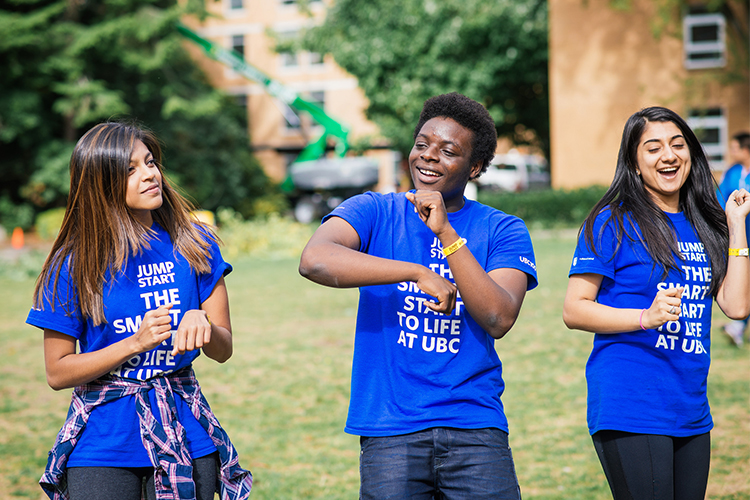 Transitioning to university life can be challenging – especially if you're moving to a new city, coming from a different country or culture, or both. Jump Start is a week-long orientation program held at the end of August, designed to introduce you to your campus, your faculty, and other first-year students.
It's the best way to start life at UBC – but don't take our word for it. We asked students on both UBC campuses about their Jump Start experiences and here's what they had to say.
1. You'll get to know your way around UBC.
"Attending the Jump Start program was a fantastic decision. Not only did I meet new people, I became more comfortable with the transition of moving away from home."
"You'll know how to move around campus and Vancouver." [Or Kelowna, if you're on UBC's Okanagan campus!]
2. You'll get answers to your questions from current UBC students.
"The orientation leaders provide the benefit of their experiences and are able to understand your concerns as a first-year student."
"The student leaders are a meaningful resource and you can discuss anything and everything with them."
3. You'll feel more prepared for the start of the school year.
"Jump Start prepared me for the biggest change in my life, giving me the confidence I needed to emotionally succeed in this experience."
4. You'll get a taste of just how diverse the UBC community really is.
"You will meet people from all over the world."
5. You'll start making friends before classes even begin.
"Jumpstart enabled me to form long-lasting friendships and made me feel like a part of the UBC community."
"You'll get to know the people in your program as well as some of your professors."
Ready to register?
Register for Jump Start on the Okanagan campus by July 31.
Register for Jump Start on the Vancouver campus by July 8.