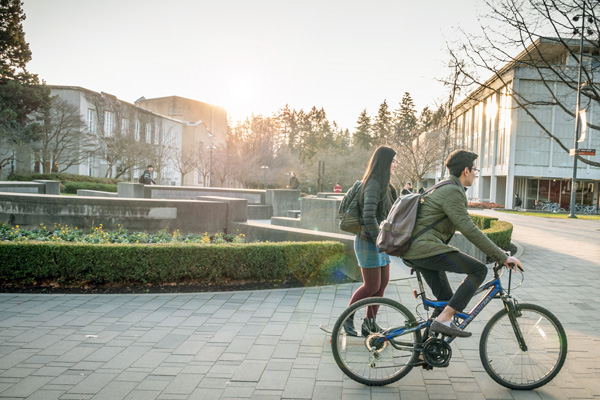 Are you heading into your final year of high school in September? Now's a good time to start thinking about which universities you'd like to apply to for admission in 2020. Visiting campus is the best way to see if you can picture yourself at any university, including UBC.
How we do campus tours at UBC
All of our campus tours are led by our friendly (and knowledgeable!) student ambassadors – actual UBC students who are currently studying at the University and eager to show you around the Okanagan or Vancouver campus. They'll take you to some of their favourite spots to learn, study, work up a sweat, and relax between classes. Best of all, you'll get to see it all through the eyes of someone with firsthand experience of UBC life.
Three tips to make the most of your tour
Dress for the weather and wear comfortable shoes. Your walking tour will last approximately 90 minutes on the Okanagan campus or 2 hours on the Vancouver campus – and you'll spend much of that time outside.
Bring your family. Choosing a university is a big decision and significant financial commitment. If you fall in love with UBC, you'll want your family on board too.
Ask questions! During the tour, your student ambassador guide can tell you more about student life, and campus events and activities. After the tour ends, a UBC advisor will be available to answer questions about undergraduate programs, admissions, finances, and scholarships and awards.
Ready to come for a visit?