If your interest in psychology is in the biological basis of behaviour, this could be the program for you. You'll study a range of topics, including advanced research methods in the behavioural sciences, sensation and perception; animal learning and cognition; hormones and behaviour; computers and psychology; and biopsychology.
Why this program?
Housed in UBC's Department of Psychology, which is top ranked in Canada and in the world.
Puts a strong emphasis on undergraduate research.
Study topics spanning science and arts and prepare for graduate studies in neuroscience, psychology, or professional schools.
Enhance your professional development with co-op, summer research, or internships.
Visit program website
Campus: Vancouver
Faculty: Faculty of Science
Degree: Bachelor of Science
Length 4 yrs
Co-op Yes

You can combine your studies with full-time, paid work at top local and international organizations.

Honours Yes

You can study intense specialization in a single field.
Behavioural Neuroscience investigates the interaction between the brain and nervous system and behaviour. Topics of study include behaviour genetics, behavioural neuroendocrinology, psychopharmacology, decision making, impulsivity, cognition, neuroplasticity, and the underlying neurobiological components of neuropsychiatric and neurodegenerative disorders.
This BSc program is specifically intended for students interested in the biological basis of behaviour. It covers, among other topics: advanced research methods in the behavioural sciences, in sensation and perception, and in animal learning and cognition; hormones and behaviour; computers and psychology; and biopsychology. Some examples of topics researched by faculty members who teach in the Science program are: the neurochemical basis of drug addiction; the hormonal regulation of sexual behaviour; the development of the brain; animal models of eating disorders; and the neural basis of learning and memory.
Experiential learning and research
Opportunities within the Department of Psychology include working and participating in a lab, or attending events, including the regularly offered Colloquia and annual Quinn Memorial Lecture. UBC has a chapter of Psi Chi, the International Honour Society in Psychology that was founded in 1929 to encourage, stimulate, and maintain excellence in scholarship, and to advance the science of psychology.
Campus features
There are six behavioural neuroscience labs at UBC, including the Jason Snyder Lab: Neuroscience and the Laboratory of Behavioural Neuroendocrinology.
Send details
Life at UBC's Vancouver campus
The Department of Psychology is housed in the Douglas T. Kenny Building. The department's faculty members are internationally recognized for their research expertise in happiness, language acquisition, gambling, child development, gender roles, environmental behaviour, and neuroscience. As a Behavioural Neuroscience student, you will have the opportunity to experience the most up-to-date neuroscience approaches to the study of psychology in the department's excellent facilities.
Find out more
Your future
The Behavioural Neuroscience specialization is designed to provide you with a strong grounding in the biological basis of psychology, as well as with the practical skills of the working neuroscientist, such as how to analyze and interpret data, conduct lab research, and to think critically.
The specialization prepares you for graduate school in various psychology sub-disciplines as well as for professional schools (medicine, dentistry, veterinary medicine, law, journalism, etc.).
Program graduates
MA candidate in Clinical Psychology, University of Victoria
J.D. candidate, Harvard Law School
MSc candidate in Public Health, Epidemiology, Biostatistics & Occupational Health, McGill University
PhD candidate in Clinical Psychology, University of British Columbia
Neurophysiology technologist, Vancouver General Hospital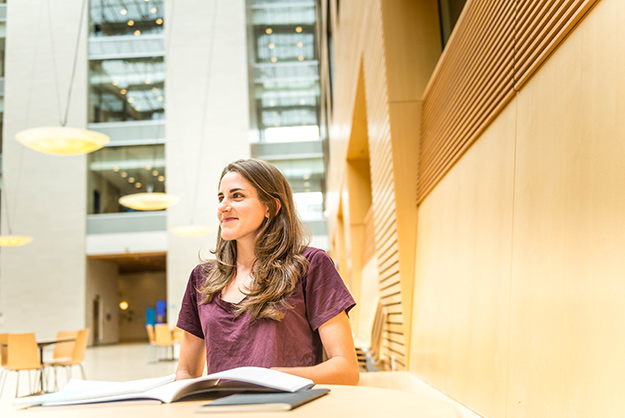 UBC stories

Before arriving at UBC, Katherine had already been cultivating an interest in neuroscience through work in an Alzheimer's research lab. She was able to match and nurture that curiosity further by majoring in Behavioural Neuroscience.

Katherine Tourigny, Behavioural Neuroscience Read the full story
Program requirements
English-language requirements
English is the language of instruction at UBC. All prospective students must demonstrate English-language competency prior to admission. There are numerous ways to meet the English Language Admission Standard.
General admission requirements
IB Diploma Programme
Completed IB Diploma, including at least three Higher Level courses.
IB Certificate Courses
IB Certificate courses (Standard and Higher Level) may be used in an admissions average if you are graduating from a recognized high school curriculum that can be used as your basis of admission.
Students who complete the IB Diploma in English are required to achieve a minimum score of 3 in an IB Group 1 English course at either Standard or Higher Level. (If you are an international student with a score of less than 3, you may be eligible for UBC Vantage One programs.)
IB Math Applications and Interpretations SL, or IB Math Studies, do not satisfy the math requirement for admission to UBC's science-based programs, the Faculty of Management, the UBC Sauder School of Business, or the Vancouver School of Economics.
Degree-specific requirements:
Science
IB Math Analysis and Approaches SL or HL, or IB Math Applications and Interpretations HL. (IB Math Applications and Interpretations SL, or IB Math Studies, are not acceptable.)
One of IB Biology, IB Chemistry, or IB Physics
Grade 11 or equivalent Chemistry, and
Grade 11 or equivalent Physics (may be waived with grades of 5 in IB Chemistry and in your IB Mathematics course)
Note: Grade 11 Chemistry and Physics requirements listed are only relevant to students who are not completing the equivalent IB Diploma Chemistry and/or Physics courses.
For students studying outside of Canada, some examples of courses that may be accepted as Grade 11 equivalents are junior-level courses for American students, and IGCSE and O Level for those following British-patterned curricula.
Related courses
The following subject categories are particularly relevant for this degree. Consider taking courses in these areas in your junior year and senior year.
Language Arts
Mathematics and Computation
Sciences
Visit program website