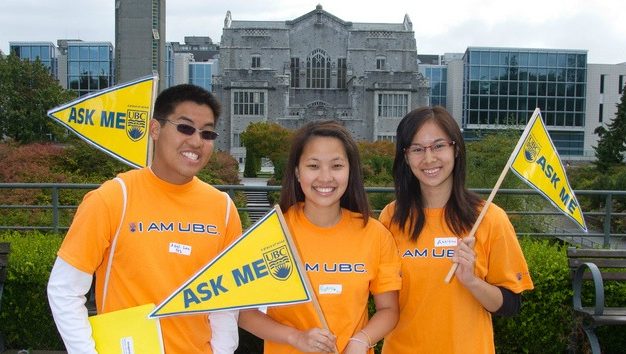 Of the new international undergraduate and Aboriginal students starting at UBC this fall, 1,100 are arriving early to participate in Jump Start, a first-year transition program whose goal is to empower students like Tate to be engaged learners and to feel ownership over their university experience. "We want them to build the community with us, and make the university their own," says Caroline Rueckert, program director for Jump Start. "It's about understanding what you have to offer."
Many international students who end up at UBC are leaders in their high schools and communities back home. "They often have high expectations for themselves at the post-secondary level but coming from different cultures and circumstances means that they need some additional support," says Rueckert.
Jump Start helps to ease the transition to UBC and Canada. On the Vancouver campus it includes a two-week immersion program filled with social activities and workshops on subjects as wide ranging as succeeding in school to setting up a bank account in Canada. During those weeks, students learn about what is expected of them at a Canadian university–which can be very different to what they're used to at home–and attend mock lectures, take notes and learn study techniques.
They also have the opportunity to connect with their Faculty and build important relationships that will serve them throughout their UBC careers. Throughout first year, students are grouped together by faculty into Learning Communities and meet regularly with two peer mentors and a faculty mentor. This helps build a community and provides additional support to help students navigate their studies.
Students from over 150 countries study at UBC. The university boasts such global representation in part because it offers support for students like Tate, who are from regions where there is less opportunity to study abroad like Palestine, Vietnam, and Swaziland.
"We are living in an interconnected world and today's students will need to work with people from a multitude of backgrounds and experiences," says Angela Redish, vice provost and associate vice president, Enrolment and Academic Facilities for UBC's Vancouver campus.
"To provide UBC students with a true opportunity to engage as global citizens, they must have the chance to meet students from every corner of the world."
This year, UBC will welcome a more diverse number of incoming International Scholars than ever before with 34 students from 25 different countries through the International Leader of Tomorrow Award, the Donald A. Wehrung International Student Award, and the MasterCard Foundation Scholars Program.
"That students from such a diverse number of regions and backgrounds come to UBC, is a great strength of the university," says Redish.
Read the full story at UBC News.