Study within Canada's leading management research school and build your expertise in myriad areas of business. The dynamic and challenging curriculum allows you to choose from ten specializations to focus your degree on the topics you're most passionate about.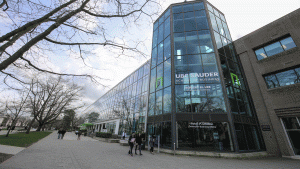 Faculty Website
Campus: Vancouver
Faculty: UBC Sauder School of Business
Degree: Bachelor of Commerce
4 yrs Length
Yes Co-op Option
No Honours Option
The Bachelor of Commerce degree will provide you with a solid foundation of business basics and management skills you'll need to thrive in any career you choose. You'll sharpen your skills in critical thinking, problem solving, communication, organization, and leadership. The diverse range of course offerings and specialization options allow you to tailor your degree to your interests and career aspirations.
Specializations
Accounting
Business Technology Management
Entrepreneurship
Finance
General Business Management
Global Supply Chain and Logistics Management
Marketing
Operations and Logistics
Organizational Behaviour and Human Resources
Real Estate
Optional secondary specialization
Optional concentration
Campus features
UBC Sauder's state-of-the-art facilities create an ideal environment for collaborative and meaningful learning. The Canaccord Learning Commons and David Lam Management Research Library provide research and academic support services. The Wayne Deans Investment Analysis Centre and Leith Wheeler Investment Research Lab have the tools students need to access real-time financial data.
Send Details
Your Future
While at UBC Sauder, students gain a practical understanding of business while learning to be innovators, entrepreneurs, global citizens, and leaders. UBC Sauder's ongoing career support and well-rounded course offerings allow students to stand out from the crowd in the job market and to create a lasting impact on the world. Our alumni network of over 39,000 graduates living in 82 countries have gone on to have successful careers in accounting, technology, consumer products and services, consulting, and financial services.