Book a student meeting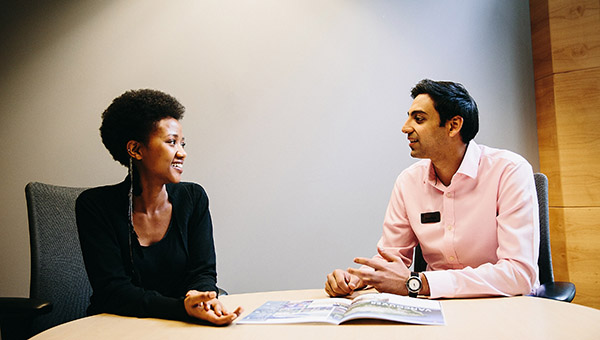 Whether you're a Canadian or international student, our friendly student advisors are here for you. At various times of the year, we post meeting slots where you'll be able to chat one-on-one with our knowledgeable staff, or invite your family along too. During your meeting, you'll have dedicated time to ask your questions, gather all the information you need about UBC, and create an individualized plan that works for you.
We can meet you in person on one of our campuses, at a scheduled meeting in your home country, or online via Zoom.
Before you apply to UBC
Whether you're researching whether UBC is right for you, or you've decided you want to apply and you'd like some advice on making a competitive application, you can book a one-on-one student meeting with a UBC advisor. They can help you through the application process, as well as give you personalized advice about which degree and program might be a good fit for your interests.
After you've applied to UBC
After you've submitted your application, you'll be asked to send in supporting documentation such as your grades or test scores. If you need any help navigating dates and deadlines, or you have any questions about what you need to submit to us, you can book a student meeting with UBC.
Once you've been admitted
Congratulations on receiving your offer of admission to UBC! The spring is an important period in your academic journey – it's the time when you'll decide where you want to study after high school. We know that choice can be tough, so we encourage you to book a student meeting to ask the personal questions you need to learn more about what makes UBC such a vibrant place to live, play, and study.