Study our planet's history and the structure and properties of Earth while you learn to apply scientific knowledge from many disciplines. You'll investigate issues and questions relating to an increasing human population, the sustainability of resource use, degradation caused by pollution and disturbance, and the endangerment and extinction of species and natural systems.
Visit program website
Campus: Okanagan
Faculty: Irving K. Barber School of Arts and Sciences
Degree: Bachelor of Science
Length 4 yrs
Co-op Yes

You can combine your studies with full-time, paid work at top local and international organizations.

Honours Yes

You can study intense specialization in a single field.
Earth and Environmental Sciences is the study of the history, structure, and properties of the earth. The program applies scientific knowledge from many disciplines to issues relating to pollution, resource use and sustainability, and the endangerment and extinction of species and natural systems.
You will gain a fundamental understanding of past and present relationships among air, water, rocks and minerals, and biota. The emphasis of the program is on the interactions between humans and the environment, and because the program is extremely flexible, you can focus on the environment or the solid earth in your studies.
Experiential learning and research
Coursework is enhanced with field trips and extensive opportunities to get your hands dirty in Kelowna's great outdoors. In third or fourth years of study, you have the option of completing directed studies and conducting independent readings and research. The Irving K. Barber School of Arts and Sciences holds an annual undergraduate research conference on UBC's Okanagan campus to showcase student research projects.
Campus features
Facilities include the Okanagan Institute for Biodiversity, Resilience, and Ecosystem Services (BRAES), which works in ecology, biodiversity and conservation, and environmental sustainability. State-of-the-art instruments include a DNA sequencer, molecular laboratory equipment, and high-performance computers.
What can you do with this major after graduation?
Send details
Your future
A UBC education will introduce you to people and ideas from around the world, open doors to new opportunities, and take you places you never imagined. You'll graduate not only with expertise in your chosen field, but with the skills you need to continue growing, learning, and evolving with your career over time.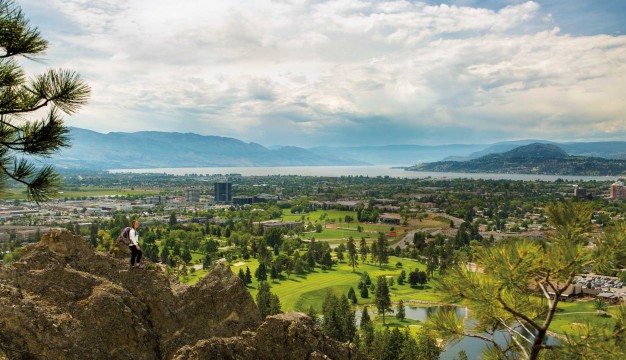 UBC stories

"One year after graduation, I am now working full time for MiEnergy, a renewable energy company in Saskatoon where I have a dynamic role that includes installation, communications and marketing, as well as project coordination."

Jenna Gall, Earth and Environmental Sciences Read the full story
Program requirements
English-language requirements
English is the language of instruction at UBC. All prospective students must demonstrate English-language competency prior to admission. There are numerous ways to meet the English Language Admission Standard.
General admission requirements
Completion of the IB Diploma with a minimum score of 24 points, including at least three Higher Level courses and additional points for Extended Essay and Theory of Knowledge.
Completion of Standard Level or Higher Level English A at a minimum score of 3, where English is the primary language of instruction.
Degree-specific requirements:
Science
Math (Standard or Higher Level) with a minimum grade of 3 (IB Math Studies is not accepted for programs requiring Math [Standard or Higher Level])
One of IB Biology, IB Chemistry, or IB Physics (Standard or Higher Level) (If you didn't complete Biology, Chemistry, or Physics in the IB Diploma, you may meet this requirement by completing one year of this subject at the Grade 11, or junior level, under an international curriculum. Determine the level of study that satisfies this requirement)
Chemistry (at least one year)
Physics (at least one year) is strongly recommended
Visit program website