Earn a Forestry degree that combines classroom and field work while focusing on the sustainable management of forested lands. Choose from majors in Forest Resources Management or Forest Operations to specialize in the area that interests you most.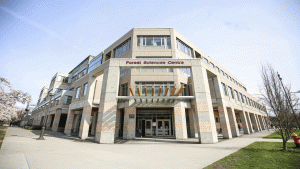 Faculty Website
Campus: Vancouver
Faculty: Faculty of Forestry
Degree: Bachelor of Science in Forestry
4 yrs Length
Yes Co-op Option
No Honours Option
The Bachelor of Science in Forestry program integrates science and technology to advance the understanding and practice of sustainable forest management. Gain a solid foundation in forestry and learn how to manage this renewable resource from planning to the operational aspects of extracting timber. This interdisciplinary degree covers biological, physical, and social sciences.
The Forestry program offers two majors – Forest Resources Management, or Forest Operations – both of which are accredited by the Canadian Forestry Accreditation Board as providing the academic requirements for becoming a professional forester in the eight Canadian provinces that have professional forestry organizations.
Experiential learning and research
Graduating essay written in the final year under the supervision of a faculty member
Participate in week-long field schools at the Malcolm Knapp Research Forest in Maple Ridge, BC, and in the Alex Fraser Research Forest in Williams Lake, BC
Ten-credit forest management plan course taken in fourth year
Campus features
UBC Forestry is the largest forestry faculty in Canada, and is a world leader in education and research. It possesses outstanding facilities and equipment. The award-winning Forest Sciences Centre offers wireless study space, high-tech classrooms, and labs equipped with the latest technology. In addition, the faculty has two major research forests in British Columbia, and jointly manages a third, altogether totalling 25,000 hectares (over 60,000 acres). Students benefit from a stimulating and interactive learning environment, and strong student services.
Send Details
Your Future
Forestry graduates apply what they've learned to help manage forests sustainably. Be prepared for careers in forest operations, consulting, engineering, and business management. After graduation, you can qualify to apply to become a Registered Professional Forester.
Recent Program Graduates
Vice-president, sustainability, and chief forester, TimberWest Forest Corp.
General manager, DWB Consulting
Natural resources referrals, Tŝilhqot'in National Government
Planning forester, Gorman Bros
Project manager of Haida Gwaii operations, Chartwell Consultants
Principal, BA Blackwell & Associates