At the Peter A. Allard School of Law, you'll receive a first-rate legal education that balances traditional areas of practice with emerging fields of specialization. Your first year will cover common curriculum – with classes in Canadian Constitutional Law, Contracts, Criminal Law and Procedure, Property Law, Torts, Legal Research and Writing, Public Law and Transnational Law – and your second and third years offer a wide range of courses and many opportunities for specialization.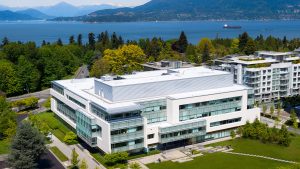 Faculty Website
Campus: Vancouver
Faculty: Peter A. Allard School of Law
Degree: Juris Doctor
3 yrs Length
No Co-op Option
No Honours Option
Admission to the Juris Doctor program at the Peter A. Allard School of Law requires a minimum of 90 credits of approved university-level study (i.e., admission generally no earlier than fourth year). This is a three-year degree that usually follows a bachelor's degree in another field.
The Law program introduces you to the Canadian legal system, provides you with a solid grounding in legal methods and processes, and prepares you for a career in law. In the first year of the Law program, you will take a fixed set of courses. In the second and third years, there are few requirements and you may tailor your program to suit your interests, choosing courses from among the widest array offered at any law school in Canada.
Campus features
The Peter A. Allard School of Law's more than 10,000 alumni include:
Kim Campbell, former Prime Minister of Canada
Ujjal Dosanjh, former Premier of British Columbia and former Canadian Minister of Health, currently serving as MP for Vancouver South
Mike Harcourt, former Premier of British Columbia
Lance Finch, Chief Justice of British Columbia
Frank Iacobucci, former Justice of the Supreme Court of Canada
Wally Oppal, former BC Supreme Court Judge
Steven L. Point, BC Lieutenant-Governor
Kim Baird, former Chief of the Tsawwassen First Nation
Alfred Scow, the first Aboriginal lawyer called to the BC bar
Send Details