Play an active role in protecting and managing our natural environment with this interdisciplinary degree.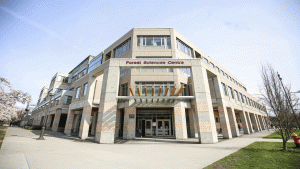 Faculty Website
Campus: Vancouver
Faculty: Faculty of Forestry
Degree: Bachelor of Science in Natural Resources Conservation
4 yrs Length
Yes Co-op Option
No Honours Option
The Natural Resources Conservation program is the Faculty of Forestry's most popular degree program. This degree helps you play an active role in protecting and managing our natural environment, such as wildlife, forests, rivers, oceans and land. In addition to English, Math and science courses, take courses in areas such as conservation, wildlife, fisheries management, computer applications, remote sensing, and soil science. Help fight climate change and protect the environment using the skills learned through this degree. By gaining an understanding of how to balance social, economic, cultural and aesthetic issues, this multidisciplinary degree will help you shape our future and our planet.
Choose from one of two majors. A Science and Management major provides a rigorous education in natural sciences and a strong focus on solving conservation issues. Graduates have the opportunity to become Professional Biologist or Forester. The Global Perspectives Major option helps you gain international experience in policy and planning, and prepares you for work overseas. You will also have the opportunity to gain international experience during your studies.
Experiential learning and research
15-credit field school taken in 4th year of the Science and Management major, giving students first-hand opportunity to explore different ecosystems.
Option to write an original thesis in the final year under the supervision of a faculty member.
Hands-on labs part of most classes in the Forest Sciences Centre research facilities.
Campus features
UBC Forestry is the largest forestry faculty in Canada, and is a world leader in education and research. It possesses outstanding facilities and equipment. The award-winning Forest Sciences Centre offers wireless study space, high-tech classrooms, and labs equipped with the latest technology. In addition, the Faculty has two major research forests in British Columbia, and jointly manages a third, altogether totalling 25,000 hectares (over 60,000 acres).
Students benefit from a stimulating and interactive learning environment, and strong student services. The Natural Resources Conservation program won the Alfred Scow Award for Outstanding Contributions to the Student Experience and Learning Environment at the University of British Columbia.
Send Details
Your Future
Graduates of this degree apply their skills and knowledge to help protect and preserve the planet. Be prepared for careers in environmental sustainability and resource management. Work in organizations spanning areas such as governmental, non-profit, private consulting, education, or law. Help manage and conserve our wildlife, fisheries, and forests.
Recent Program Graduates
Senior research and development biologist, Freshwater Fisheries Society of BC
Senior environmental coordinator, BC Hydro
Biologist, Lower Fraser Fisheries Alliance
Biologist, InStream Fisheries Research
Vice-president and senior biologist, EDI Environmental Dynamics
Urban forestry manager, City of Surrey