Urban Forestry is Canada's first undergraduate degree program dedicated to the planning and management of urban green spaces. Further develop your passion for the urban environment as you learn more about sustainability, green space planning, and nature in the city.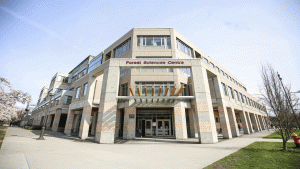 Faculty Website
Campus: Vancouver
Faculty: Faculty of Forestry
Degree: Bachelor of Urban Forestry
4 yrs Length
Yes Co-op Option
No Honours Option
The Urban Forestry program is taught in collaboration with the School of Architecture and Landscape Architecture. This program is for students interested in learning about urban ecology, sustainability planning, recreation, human well-being, and forest sciences and management.
Graduates learn important transferable skills in smart data, modelling and visualization, planning and design methods, community engagement and communications as well as policy, economics, and legal and professional practice.
Experiential learning and research
Field courses in the Vancouver area
International case studies based on UBC research and our professional networks in China, India, South America, Europe, across North America, and elsewhere
Campus features
UBC Forestry is the largest forestry faculty in Canada, and is a world leader in education and research. It possesses outstanding facilities, and students benefit from a stimulating and interactive learning environment, and outstanding support.
The award-winning Forest Sciences Centre is popular on campus with respect to classroom design, information technology infrastructure, research offices and laboratories, as well as open space and living plants.
UBC's Vancouver campus features a botanical garden and the nearby Pacific Spirit Regional Park. In addition, the faculty manages two major research forests in British Columbia with experience in urban and community forestry. UBC has strong links with urban forestry education and research institutions worldwide.
Send Details
Your Future
This degree provides the knowledge and skills necessary to meet the growing demand for urban forest managers and urban forest planners. Graduates of this degree apply what they've learned to help manage urban forests, make cities more livable and make informed city planning decisions. Graduates can pursue careers such as city forester, municipal arborist, green infrastructure planner, parks and recreation manager, and urban forestry consultant.