Gain a deeper understanding of Asian cultures while you study history, literary and religious traditions, languages, as well as gender relations. You'll choose from diverse courses such as "Asian Horror Cinema: National Nightmares and Specters of Trauma," "The Sikhs: History, Religion and Society," and "Classical Hindu, Buddhist and Jain Myths and Legends in Translation."
Why this program?
Learn more about China, Canada's second-largest trading partner, and India, which will soon make up almost half the world's GDP and one-third of its population.
Study at UBC's Asian Library, which has the largest collection of Asian materials in Canada.
Visit program website
Campus: Vancouver
Faculty: Faculty of Arts
Degree: Bachelor of Arts
Length 4 yrs
Co-op Yes

You can combine your studies with full-time, paid work at top local and international organizations.

Honours Yes

You can study intense specialization in a single field.
Asian Studies uses multi- and inter-disciplinary approaches to study Asian societies and cultures, past and present. UBC's Department of Asian Studies focuses on approaches to Asia based in the Humanities (language, literature, history, culture, religion, philosophy, gender studies, performance, visual culture) and features strong coverage of East Asia (China, Japan, Korea) and South and West Asia (India, Pakistan, and the Persianate world). It is one of the leading programs of its kind in the world. You can learn Mandarin Chinese, Classical Chinese, Japanese, Classical Japanese, Korean, Cantonese, Punjabi, Hindi-Urdu, Sanskrit, or Persian.
Graduates will value diversity and command a valuable and rare combination of Asia-relevant linguistic and inter-cultural competencies. Graduates become able to contribute to Canada's evolving relationship with Asia in informed, original, and culturally appropriate ways.
Experiential learning and research
Asian Studies majors are strongly urged to broaden and deepen their engagement with Asia by participating in a Go Global-sponsored study abroad experience, taking Asia-related courses in other Faculty of Arts departments, enrolling in the Arts Co-op and Internship Programs, as well as taking advantage of the many alumni, lecture, and other events sponsored by the department.
Campus features
The Asian Library has the largest collection of Asian materials in Canada. Its holdings include the Puban collection of over 45,000 books and unpublished manuscripts and a serial collection of nearly 1,000 Chinese periodicals and newspapers. Among the library's treasures is the oldest book in the UBC Library system, published in China in 986 AD. The collection also includes a 50,000-volume Indic languages collection with materials in Sanskrit, Hindi, Punjabi, Urdu, Bengali, Marathi, Tamil, and Gujarati.
Send details
Life at UBC's Vancouver campus
UBC has nearly 60 full-time teaching faculty members that specialize in the literature, religion, thought, and history of East and South Asia and offer instruction in Asian languages such as Chinese, Japanese, Korean, Persian, Punjabi, and more.
Find out more
Your future
As an Asian Studies graduate you will have a first-hand appreciation of linguistic and cultural difference, and a critically informed understanding of one or more cultures and civilizations of South or East Asia. These assets, along with strong research, writing, and critical thinking skills, set you up for other graduate and professional degrees; work in the Foreign Service, Canada Border Service Agency, and other branches of government; serve in NGOs and not-for-profit organizations; work as translators and interpreters in a variety of contexts; and employment in diverse educational, cultural, and media institutions.
Program graduates
Research analyst, Asia Pacific Foundation of Canada
Sales Associate, Nishimoto Trading Co.
Job developer, Neil Squire Society
Coordinator/translator, Waterproof Studios
Freelance Japanese-to-English translator
Associate account strategist, Google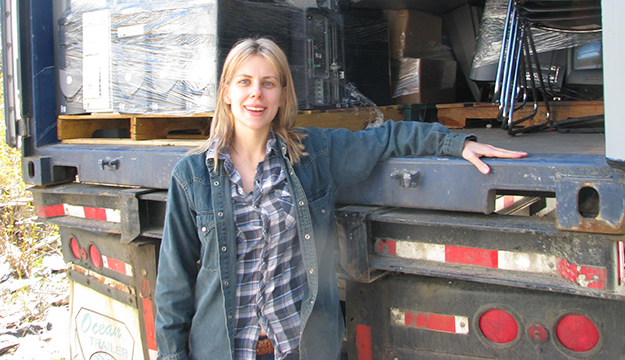 UBC stories

"Each course that I took allowed me to expand and develop my capacities and eventually I became an expert in my field of research."

Sarah Youngblutt, Anthropology and Asian Area Studies Read the full story
Program requirements
English-language requirements
English is the language of instruction at UBC. All prospective students must demonstrate English-language competency prior to admission. There are numerous ways to meet the English Language Admission Standard.
General admission requirements
IB Diploma Programme
Completed IB Diploma, including at least three Higher Level courses.
IB Certificate Courses
IB Certificate courses (Standard and Higher Level) may be used in an admissions average if you are graduating from a recognized high school curriculum that can be used as your basis of admission.
IB Math Applications and Interpretations SL, or IB Math Studies, do not satisfy the math requirement for admission to UBC's science-based programs, the Faculty of Management, the UBC Sauder School of Business, or the Vancouver School of Economics.
Degree-specific requirements:
Arts
No specific courses required beyond those needed for general admission
Related courses
The following subject categories are particularly relevant for this degree. Consider taking courses in these areas in your junior year and senior year.
Language Arts
Mathematics and Computation
Second Languages
Social Studies
Visual and Performing Arts
Visit program website