Astronomers and physicists study the material world and the energy that drives it, from the smallest particles like neutrinos and Higgs bosons to the very largest structures in the universe, and ultimately the universe itself. This program has a large overlap with mathematics, chemistry, biology, and engineering and can be approached from each of these angles.
Visit program website
Campus: Vancouver
Faculty: Faculty of Science
Degree: Bachelor of Science
Length 4 yrs
Co-op Yes

You can combine your studies with full-time, paid work at top local and international organizations.

Honours Yes

You can study intense specialization in a single field.
Astronomy is often considered a sub-field of physics in which principles of physics and mathematics are used to investigate the fundamental nature of the universe and its evolution; the properties of galaxies; and the birth, evolution, and death of stars and black holes. Astronomers apply this knowledge to solve problems in navigation, space flight, and satellite communications, as well as to develop the instrumentation and techniques used to observe and collect astronomical data.
You can select a Major in Astronomy or a Double Honours Major with Physics.
Campus features
UBC has a very significant research program in astronomy and astrophysics, with several faculty globally acknowledged to be at the leading edge of cosmology research. UBC operates the Large Zenith telescope, the largest liquid mercury telescope in the world, located in one of UBC's regional forests.
Send details
Your future
A UBC education will introduce you to people and ideas from around the world, open doors to new opportunities, and take you places you never imagined. You'll graduate not only with expertise in your chosen field, but with the skills you need to continue growing, learning, and evolving with your career over time.
Find out what you can do with your Astronomy major.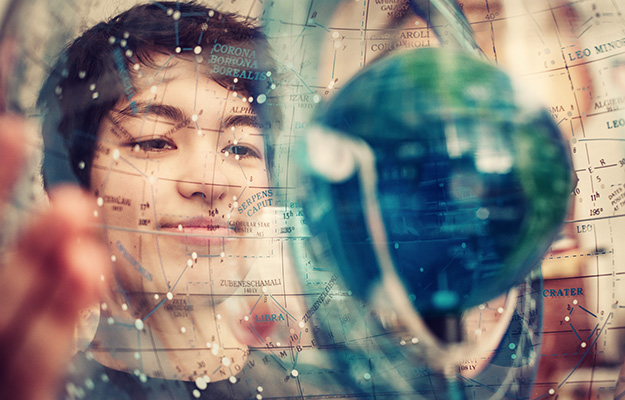 UBC stories

"My goal is to get a PhD after my master's. I'd love to work with NASA or just do research for a while, but I'd also like to do academia eventually. Dr. Matthews has given me so many opportunities, and established contacts for me with scientists around the world. I'd like to 'send the elevator back down' and be able to do that for my own students one day."

Michelle Kunimoto, Astronomy and Physics Read the full story
Program requirements
English-language requirements
English is the language of instruction at UBC. All prospective students must demonstrate English-language competency prior to admission. There are numerous ways to meet the English Language Admission Standard.
General admission requirements
Completion of the IB Diploma with a minimum score of 24 points, including at least three Higher Level courses and additional points for Extended Essay and Theory of Knowledge.
Completion of Standard Level or Higher Level English A at a minimum score of 3, where English is the primary language of instruction.
Degree-specific requirements:
Science
IB Mathematics (Standard or Higher Level; IB Math Studies does not meet the requirement)
One of IB Biology, IB Chemistry, or IB Physics (Standard or Higher Level)
One year of Chemistry immediately prior to IB Diploma
One year of Physics immediately prior to IB Diploma (may be waived with scores of 5 or higher in IB Mathematics and IB Chemistry)
Visit program website