Learn how to apply engineering principles and design to medicine and biology for healthcare purposes in Biomedical Engineering. You'll start by building a foundation in biomechanics and biomaterials, cellular and molecular bioengineering, biomedical systems and signals, or biomedical informatics before specializing in third year.
Why this program?
Learn the fundamentals of the emerging biomedical engineering field
Get hands-on experience through studio, laboratory, and design work
Be part of the most diverse engineering discipline at UBC
Visit program website
Campus: Vancouver
Faculties: Faculty of Applied Science (Engineering), Faculty of Medicine
Degree: Bachelor of Applied Science (Engineering)
Length 4 yrs
Co-op Yes

You can combine your studies with full-time, paid work at top local and international organizations.

Honours No

You can study intense specialization in a single field.
As a Biomedical Engineering student, you'll take a series of core courses aimed at building a solid foundation in engineering, biology, math, chemistry, and design. In your third year of study, you'll have the opportunity to customize your degree to your interests by specializing in one of four streams:
Biomechanics and biomaterials
Cellular and molecular bioengineering
Biomedical systems and signals
Biomedical informatics
The curriculum includes traditional, online, and mixed-instruction courses, plus hands-on studio, laboratory, and design work. Through these experiences, you'll gain a strong understanding of biology, human anatomy, and physiology, and develop the skills required to apply this knowledge in engineering design contexts and solve engineering problems.
Send details
Life at UBC's Vancouver campus
As a Biomedical Engineering student, you'll have classes, teaching laboratories, capstone projects, and studio sessions in various Faculty of Applied Sciences buildings on UBC's Vancouver campus.
Find out more
Your future
As a Biomedical Engineering graduate, you can pursue a career in a wide range of fields, including:
Healthcare
Pharmaceuticals
Biotechnology
Biomedical contexts in government, non-profits, consulting, and finance.
The Biomedical Engineering program also provides an excellent foundation for graduate studies or professional degrees in medicine, engineering, pharmacy, law, or business.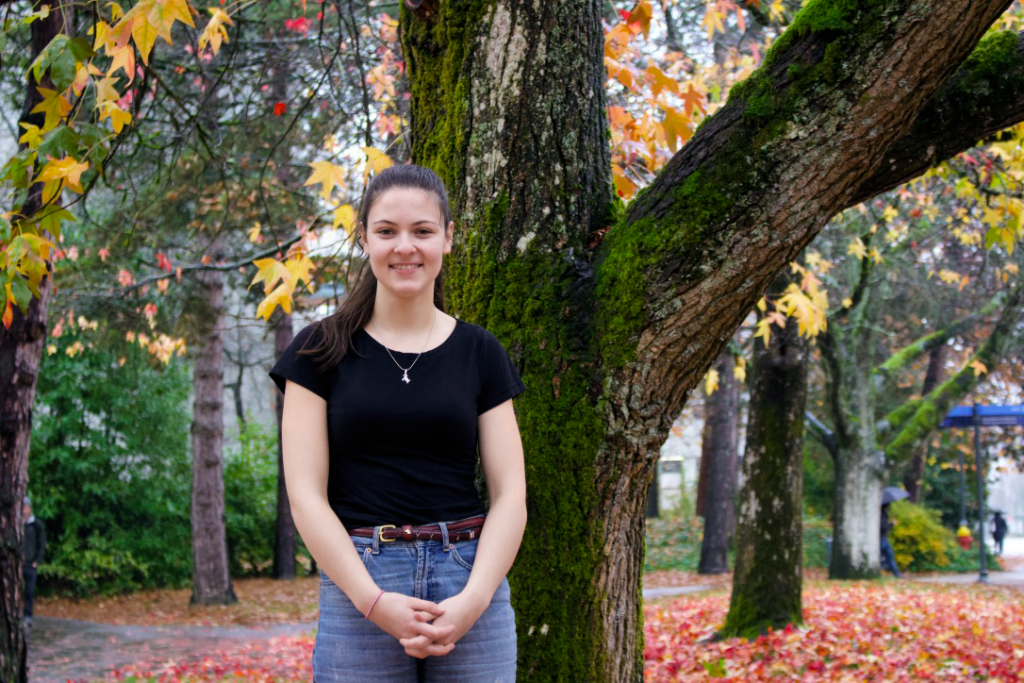 UBC stories

In a general way, the best part of this program is the potential we all have to make a change in people's lives. On a day-to-day basis, this program is great because of how close-knit everyone is. We're all supportive of one another and have formed a community between the students, professors, and coordinators.

Nadine Truter, BASc in Biomedical Engineering Read the full story
Program requirements
English-language requirements
English is the language of instruction at UBC. All prospective students must demonstrate English-language competency prior to admission. There are numerous ways to meet the English Language Admission Standard.
General admission requirements
IB Diploma Programme
Completed IB Diploma, including at least three Higher Level courses.
IB Certificate Courses
IB Certificate courses (Standard and Higher Level) may be used in an admissions average if you are graduating from a recognized high school curriculum that can be used as your basis of admission.
IB Math Applications and Interpretations SL, or IB Math Studies, do not satisfy the math requirement for admission to UBC's science-based programs, the Faculty of Management, the UBC Sauder School of Business, or the Vancouver School of Economics.
Degree-specific requirements:
Applied Science (Engineering)
IB Math Analysis and Approaches SL or HL, or IB Math Applications and Interpretations HL. (IB Math Applications and Interpretations SL, or IB Math Studies, are not acceptable.)
IB Chemistry 
IB Physics 
Academically strong candidates missing either IB Chemistry or IB Physics may be evaluated on a case-by-case basis
Related courses
The following subject categories are particularly relevant for this degree. Consider taking courses in these areas in your junior year and senior year.
Language Arts
Mathematics and Computation
Sciences
Visit program website