A chemistry degree can open doors careers in health-related professions, including medicine, and in a wide range of high-tech sectors. The Chemistry program includes a wide variety of foundational and advanced courses that cover atomic, molecular, physical, organic, environmental chemistry, and more.
This program is also offered at UBC's
Vancouver Campus
Find out more
Why this program?
Work closely with peers and professors on the tight-knit Okanagan campus.
Learn from the best: Chemistry professors are publishing their discoveries in top scientific journals.
Get real world hands-on experience through the many research, co-op, or work study options available to undergrads.
Visit program website
Campus: Okanagan
Faculty: Irving K. Barber School of Arts and Sciences
Degree: Bachelor of Science
Length 4 yrs
Co-op Yes

You can combine your studies with full-time, paid work at top local and international organizations.

Honours Yes

You can study intense specialization in a single field.
Get your UBC degree in Chemistry, and learn how to control matter. Chemistry can be used to make smart materials that can monitor your life signs, to analyze parts per trillion of environmental contaminants, and design nanostructured materials that can efficiently convert water into fuel. Chemistry can turn enzymes into microscopic industrial machines to produce life-saving pharmaceuticals or to eat up pollutants.
Your chemistry degree can open doors to medical, dental, osteopathic, or veterinary school and many other careers in health-related professions. You can complete a Bachelor of Science (BSc) in Chemistry, a BSc honours in Chemistry, or a minor in Chemistry. You also have the opportunity to become an undergraduate research scholar with support through prestigious research awards.
Experiential learning and research
The chemistry program's summer employment opportunities give you real-world experience and the opportunity for a behind-the-scenes look at what UBC's chemists do, like discovering physiologically active compounds in wine.
Directed Studies in Chemistry allow you to undertake independent research on a specific topic agreed upon by you and your faculty advisor. Or, you can pursue one of the many Undergraduate Research Awards available through the Irving K. Barber School of Arts and Sciences.
The Chemistry Course Union on UBC's Okanagan campus strives to bridge the gap between chemistry undergraduates, graduate students, and faculty, and will help develop your chemistry skills and build a network in the science community.
Campus features
Research facilities at the campus include the Fipke Lab for Trace Element Research, which houses several specialist analytic instruments.
Send details
Life at UBC's Okanagan campus
UBC's Okanagan campus is renowned for its research opportunities and access to professors. On a tight-knit campus like the Okanagan's, you'll be able to work closely with award-winning faculty and make meaningful connections with your peers. Professors are collaborating with student researchers on cutting-edge projects like turning biomass into refined fuels and finding new pharmaceuticals in plants.
Find out more
Your future
Career options include environmental chemist, food scientist, and professions in the pharmaceutical and health-care industries. People trained in chemistry become flexible thinkers who can solve problems and be successful in many different fields.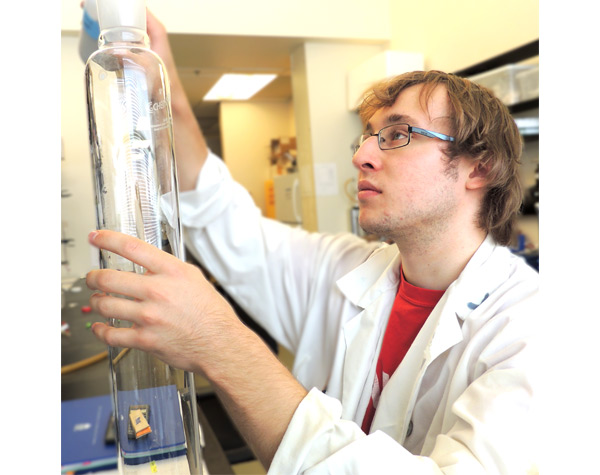 UBC stories

"In my research and lab experience I got to work closely with my professors, which immensely increased my knowledge on the subject at hand – it was a fantastic experience."

Jeffrey Kerkovius, Chemistry Read the full story
Program requirements
English-language requirements
English is the language of instruction at UBC. All prospective students must demonstrate English-language competency prior to admission. There are numerous ways to meet the English Language Admission Standard.
General admission requirements
Completion of the IB Diploma with competitive scores, including at least three Higher Level courses and additional points for Extended Essay and Theory of Knowledge.
Completion of Standard Level or Higher Level English A at a minimum score of 3, where English is the primary language of instruction. (If you are an international student with a score of less than 3 in IB English A [SL or HL], or you are taking English B [SL or HL], you may be eligible for UBC Vantage One programs.)
Degree-specific requirements:
Science
IB Mathematics minimum grade of 3, excluding IB Math Studies*
IB Biology, IB Chemistry, or IB Physics
Grade 11/junior-level Chemistry
Grade 11/junior-level Physics is strongly recommended
* If your intended start year is 2021: IB Math Analysis and Approaches SL, IB Math Analysis and Approaches HL, or IB Math Applications and Interpretations HL. IB Math Applications and Interpretations SL will not satisfy the requirement.
Related courses
The following subject categories are particularly relevant for this degree. Consider taking courses in these areas in your junior year and senior year.
Language Arts
Mathematics and Computation
Sciences
Visit program website