Play an active role in protecting and managing our natural environment, including wildlife, forests, rivers, oceans, and land. This interdisciplinary program of study, which is a major in the Bachelor of Science in Nature Resources degree, is the most popular program in UBC's Faculty of Forestry.
Why this program?
Study a wide range of subjects in the natural and social sciences
Explore different ecosystems through the Integrated Field School that's part of the Science and Management specialization
Embark on an international or unique cultural experience as part of the Global Perspectives specialization
The Science and Management specialization will meet the course requirements to obtain status as Registered Professional Biologist
Visit program website
Campus: Vancouver
Faculty: Faculty of Forestry
Degree: Bachelor of Science in Natural Resources
Length 4 yrs
Co-op Yes

You can combine your studies with full-time, paid work at top local and international organizations.

Honours No

You can study intense specialization in a single field.
Conservation is concerned with maintaining habitats, nurturing diverse natural resources, and understanding human behaviours. Learn how to balance the social, economic, cultural, and aesthetic considerations associated with the world's natural resources so you can help fight climate change, protect the environment, and shape our future and planet.
As a Conservation student, you'll take courses in English, math, and science – plus conservation, wildlife, fisheries management, computer applications, remote sensing, and soil science. You'll also have the opportunity to choose from two concentrations of study:
Science and Management, which offers a rigorous education in natural and social sciences and a strong focus on solving conservation issues. Considerable field experience teaches practical approaches for achieving conservation goals.
Global Perspectives, which provides more experience in policy and planning, as well as more breadth in resource systems than the Science and Management specialization. Students will obtain hands-on cultural or international experiences in a conservation context.
Experiential learning and research
Past winner of UBC's Alfred Scow Award for outstanding contributions to the student experience and learning environment, the Conservation program offers extensive opportunities for experiential learning and research. As a student, you'll:
Participate in hands-on lab work in the Forest Sciences Centre's research facilities.
Explore different ecosystems as part of a 15-credit field school in fourth year if you choose the Science and Management major.
Have the option of writing an original thesis under the supervision of a faculty member in your final year.
Campus features
The award-winning Forest Sciences Centre on UBC's Vancouver campus offers wireless study space, high-tech classrooms, and labs equipped with the latest technology.
The Faculty of Forestry also has two major research forests in British Columbia, and jointly manages a third, altogether totalling 25,000 hectares or more than 60,000 acres.
Send details
Life at UBC's Vancouver campus
Surrounded by 750 hectares of forest, UBC offers the chance to study in a forested environment. Learn from award-winning faculty members in the nature-inspired Forest Sciences Centre, whose main atrium and study area feature giant live plants and a large skylight supported by massive wood beams. As a Faculty of Forestry student, you'll also have access to two research forests for field schools and other learning opportunities.
Find out more
Your future
As a Conservation graduate, you'll use your skills and knowledge to help protect and preserve the planet. Manage and conserve our wildlife, fisheries, and forests with a career in environmental sustainability and resource management at a government, non-profit, private consulting, education, or law organization.
Program graduates
Senior Research and Development Biologist, Freshwater Fisheries Society of BC
Senior Environmental Coordinator, BC Hydro
Biologist, Lower Fraser Fisheries Alliance
Biologist, InStream Fisheries Research
Vice-President and Senior Biologist, EDI Environmental Dynamics
Urban Forestry Manager, City of Surrey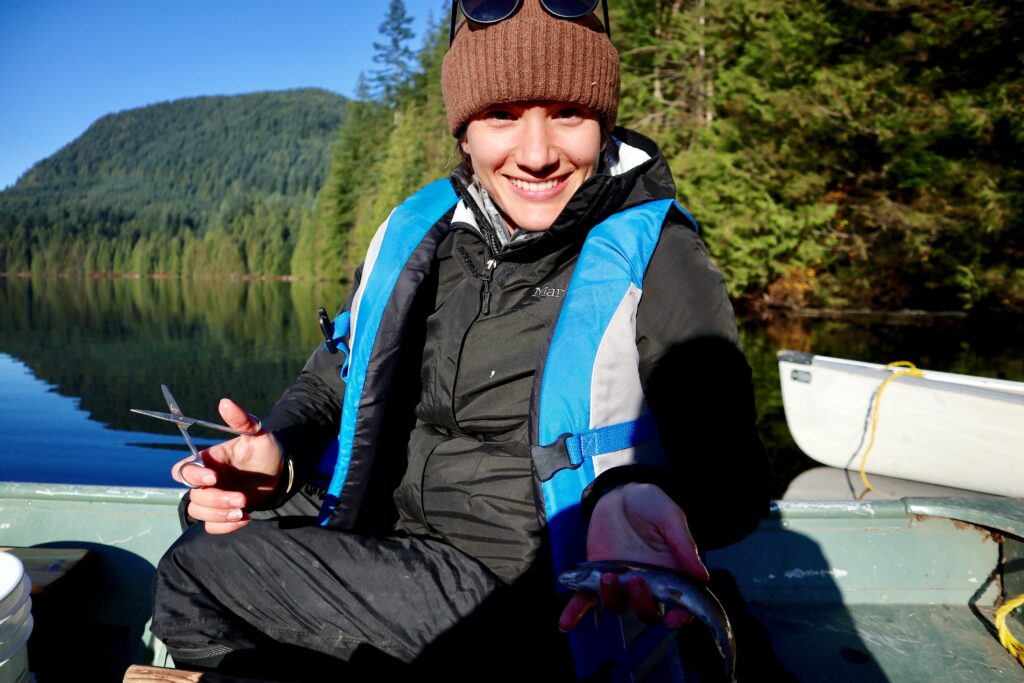 UBC stories

"My experience taking courses in forest ecology, wildlife ecology, and aquatic ecology has allowed me to look at the natural world around me through an entirely new lens. I can recognize that there are intricacies in the smallest of ecosystems beyond what modern science has allowed us to learn so far, and that there is so much more to discover."

Noa Mayer, Student Read the full story
Program requirements
English-language requirements
English is the language of instruction at UBC. All prospective students must demonstrate English-language competency prior to admission. There are numerous ways to meet the English Language Admission Standard.
General admission requirements
IB Diploma Programme
Completed IB Diploma, including at least three Higher Level courses.
IB Certificate Courses
IB Certificate courses (Standard and Higher Level) may be used in an admissions average if you are graduating from a recognized high school curriculum that can be used as your basis of admission.
IB Math Applications and Interpretations SL, or IB Math Studies, do not satisfy the math requirement for admission to UBC's science-based programs, the Faculty of Management, the UBC Sauder School of Business, or the Vancouver School of Economics.
Degree-specific requirements:
Natural Resources
IB Math Analysis and Approaches SL or HL, or IB Math Applications and Interpretations HL. (IB Math Applications and Interpretations SL, or IB Math Studies, are not acceptable.)
One of IB Biology, IB Chemistry, or IB Physics (see Related courses below)
Grade 11 or equivalent Chemistry
Grade 11 Biology (see Related courses below)
If you intend to major in Wood Products or specialize in Harvest Planning and Engineering (Forest Operations), Physics 11 is strongly recommended.
Note: Grade 11 Biology, Chemistry and Physics requirements listed above are only relevant to students who are not completing the equivalent IB Diploma Biology, Chemistry and/or Physics courses. For students studying outside of Canada, some examples of courses that may be accepted as Grade 11 equivalents are junior-level courses for American students, and IGCSE and O Level for those following British-patterned curricula.
Related courses
The following subject categories are particularly relevant for this degree. Consider taking courses in these areas in Grade 11 and Grade 12.
Language Arts
Mathematics and Computation: Calculus is recommended for the Harvest Planning and Engineering specialization.
Sciences: Biology 11 or IB Biology HL or SL is strongly recommended for all majors and specializations. IB Physics SL or HL is also recommended for the Wood Products major and the Harvest Planning and Engineering specialization.
"
Visit program website