The English program offers majors in English Literature, English Language, and a combined program in Language and Literature. You'll study the history and structure of English, rhetoric and discourse, literary studies, and much more.
This program is also offered at UBC's
Okanagan Campus
Find out more
Visit program website
Campus: Vancouver
Faculty: Faculty of Arts
Degree: Bachelor of Arts
Length 4 yrs
Co-op Yes

You can combine your studies with full-time, paid work at top local and international organizations.

Honours Yes

You can study intense specialization in a single field.
By selecting a Major in English, you will have an opportunity to study with outstanding teachers and scholars in a wide variety of fields. You can select the following options: a Major in Literature, in which you will study significant works of literature in the English language to gain knowledge about the social, cultural, and intellectual contexts in which these works are/were produced; or a Major in Language, in which you will study a number of language areas including the history and structure of the English language, grammars, dialectology, discourse analysis, semantics, cognitive linguistics, the history and theory of rhetoric, composition, and composition theory.
The UBC English Department has an international reputation for excellence in teaching and research.
Send details
Your future
A UBC education will introduce you to people and ideas from around the world, open doors to new opportunities, and take you places you never imagined. You'll graduate not only with expertise in your chosen field, but with the skills you need to continue growing, learning, and evolving with your career over time.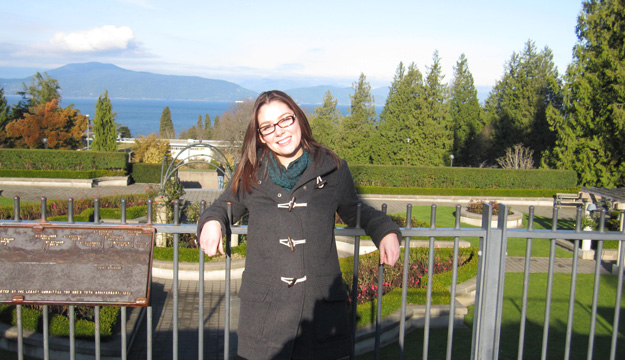 UBC stories

"My undergraduate career at UBC was a wonderful preparation for graduate school. I was able to walk into an actual graduate seminar without being intimidated by the idea of leading a discussion or presenting my ideas to a small, yet discerning, group of students and professors."

Stephanie McGee, English Read the full story
Program requirements
English-language requirements
English is the language of instruction at UBC. All prospective students must demonstrate English-language competency prior to admission. There are numerous ways to meet the English Language Admission Standard.
General admission requirements
Completion of the IB Diploma with a minimum score of 24 points, including at least three Higher Level courses and additional points for Extended Essay and Theory of Knowledge.
Completion of Standard Level or Higher Level English A at a minimum score of 3, where English is the primary language of instruction.
Degree-specific requirements:
Arts
No specific courses required beyond those needed for general admission
Visit program website