Explore the economic, ecological, social, and technological components of managed landscapes, agrifood systems, and communities comprising the land, food, nutrition, and health continuum. In Food, Nutrition, and Health, you can customize your degree as you study a broad range of topics related to applied nutrition and the science of nutrition.
Why this program?
Access to both Food Science and Nutritional Sciences courses and faculty expertise.
Ability to customize your program with flexible program requirements and a wide variety of electives.
Opportunity to enhance your program with dual degrees and minors.
Visit program website
Campus: Vancouver
Faculty: Faculty of Land and Food Systems
Degree: Bachelor of Science in Food, Nutrition, and Health
Length 4 yrs
Co-op Yes

You can combine your studies with full-time, paid work at top local and international organizations.

Honours No

You can study intense specialization in a single field.
The Food, Nutrition, and Health program gives you the flexibility to pursue your interests while gaining a deeper knowledge of issues related to food production, food security, and the role of nutrition in disease prevention. Choosing from a wide variety of electives, you'll study a broad curriculum of your own design as you prepare for a career in the food and health sectors. Food, Nutrition, and Health students can apply to dual degrees with Bachelor of Education or Master of Management, or one of six minors to complement their program.
Experiential learning and research
UBC's culinary lab, named Vij's Kitchen, is an important teaching and learning space. Students gain hands-on experience in creating healthy meals and eating plans, study linkages between food and nutrition, and learn about multicultural cuisine. Undergraduate students are also welcome to participate in research in the FNH laboratories through upper-level courses and practicums. 
In addition, students can integrate classroom learning with real-world experience through community engagement projects and co-op placements. Career mentorship and directed studies are other options to extend your learning. 
Campus features
The Food, Nutrition, and Health (FNH) building is home for students in the program. This is where students and faculty members do internationally recognized research in food science, food processing, nutrition, and health. The building houses UBC's culinary and sensory labs, food engineering and processing labs, clinical nutrition lab, and clinical research units for behaviour and consumer studies. 
Send details
Life at UBC's Vancouver campus
Learn from world-renowned professors recognized for their research and contribution to the field of food production, food security, and the role of nutrition in disease prevention.
Find out more
Your future
The Food, Nutrition, and Health (FNH) program is excellent preparation for a future healthcare career: nursing, medicine, dentistry, or midwifery. With suitable course selections, students may enter UBC's Home Economics Teacher Education Program. FNH graduates also work in food systems management and quality assurance (hospitals, food companies, government), nutrition and food science, product development, and more.  
Program graduates include: 
Policy Analyst, Public Health Agency of Canada

 

Medical student, University of British Columbia

 

Senior Sensory Scientist, Starbucks  

 

Marketing coordinator, Herbaland Gummies 

 

PhD in Food Science, and Researcher, Agriculture and Agri-Food Canada

 

Cookbook author and Podcaster, The Allsorts Podcast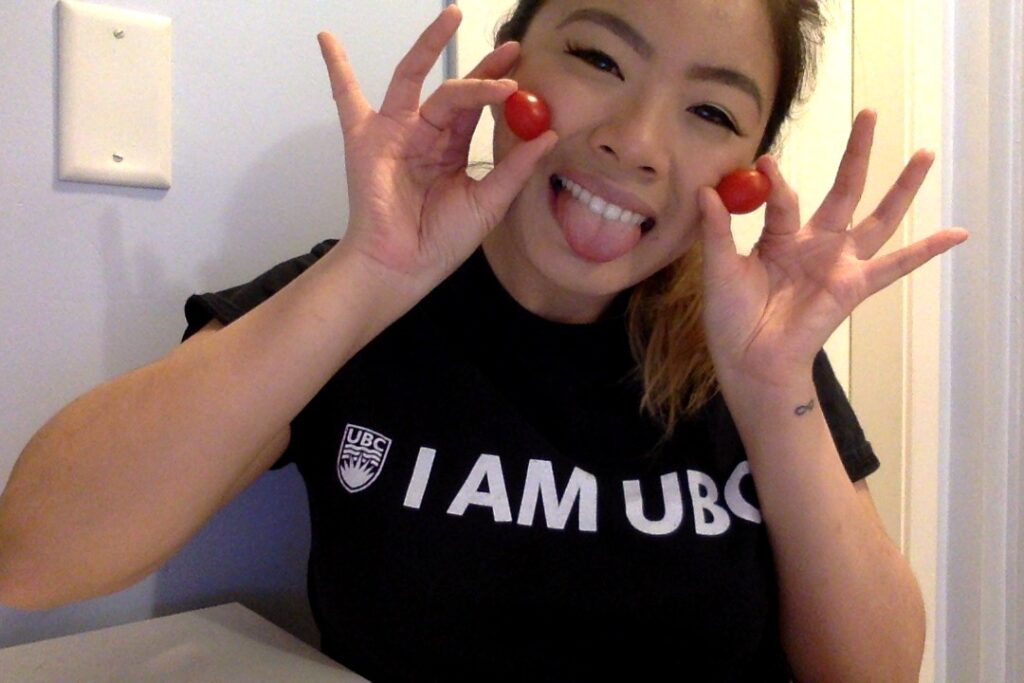 UBC stories

"I realized that I would not only learn about nutrition here, but also [...] social justice issues, psychology, anthropology, and more."

Lucy H., Student Read the full story
Program requirements
English-language requirements
English is the language of instruction at UBC. All prospective students must demonstrate English-language competency prior to admission. There are numerous ways to meet the English Language Admission Standard.
General admission requirements
IB Diploma Programme
Completed IB Diploma, including at least three Higher Level courses.
IB Certificate Courses
IB Certificate courses (Standard and Higher Level) may be used in an admissions average if you are graduating from a recognized high school curriculum that can be used as your basis of admission.
IB Math Applications and Interpretations SL, or IB Math Studies, do not satisfy the math requirement for admission to UBC's science-based programs, the Faculty of Management, the UBC Sauder School of Business, or the Vancouver School of Economics.
Degree-specific requirements:
Food, Nutrition, and Health
IB Math Analysis and Approaches SL or HL, or IB Math Applications and Interpretations HL. (IB Math Applications and Interpretations SL, or IB Math Studies, are not acceptable.)
One of IB Biology, IB Chemistry, or IB Physics
Grade 11 or equivalent Chemistry, and
Grade 11 or equivalent Physics (may be waived with grades of 5 in IB Chemistry and in your IB Mathematics course)
Note: Grade 11 Chemistry and Physics requirements listed are only relevant to students who are not completing the equivalent IB Diploma Chemistry and/or Physics courses.
For students studying outside of Canada, some examples of courses that may be accepted as Grade 11 equivalents are junior-level courses for American students, and IGCSE and O Level for those following British-patterned curricula.
Related courses
The following subject categories are particularly relevant for this degree. Consider taking courses in these areas in your junior year and senior year.
Language Arts
Mathematics and Computation
Sciences
Social Studies
Visit program website