Take your passion for food to the next level in one of the world's most influential scientific research institutions in food science and technology. In UBC's Food Science program, you'll discover the chemistry and microbiology of food, as well as its nutritional and sensory properties, and how it's engineered and processed for consumption.
Why this program?
Food Science is a professional program accredited by the Institute of Food Technologists.
Interact with industry partners throughout the year in courses and through events hosted by the BC Food Technologists.
Gain practical training in the lab.
Visit program website
Campus: Vancouver
Faculty: Faculty of Land and Food Systems
Degree: Bachelor of Science in Food, Nutrition, and Health
Length 4 yrs
Co-op Yes

You can combine your studies with full-time, paid work at top local and international organizations.

Honours No

You can study intense specialization in a single field.
Food Science is professional program accredited by the Institute of Food Technologists, and is the only Food Science Bachelor of Science offered in British Columbia. As a student here, you'll apply knowledge from chemistry, biology, and engineering to foods. You'll learn how foods change during processing and how to prevent food-borne illness. You'll also explore concepts and controversies in nutrition, learn about food borne illness and how to prevent it, and how land, food, and community fit together.
Experiential learning and research
Build a deep disciplinary foundation and develop essential skills through hands-on practical experience, collaborative work projects, and research opportunities. Through specialized lab and integrated course work, you'll have the opportunity to address real-world problems as you work with food industry professionals on industry projects.
Campus features
Food Science has research laboratories with modern analytical instrumentation. Specialized facilities include sensory evaluation labs, kitchens, as well as biohazard facilities. The Pilot Plant Facility at the Food, Nutrition, and Health Building includes equipment specifically for food engineering and processing experiments, and is food-grade.
Send details
Life at UBC's Vancouver campus
This award-winning, small cohort program is located on the beautiful UBC Vancouver campus. You'll learn from passionate, skilled researches and teachers who can support you in connecting with industry professionals as you create close ties with faculty members and student peers.
Find out more
Your future
Many graduates of Food Science go on to careers as food scientists, chemistry technicians, product technicians, food processing specialist inspectors, microbiology technicians, food product developers, and food laboratory managers.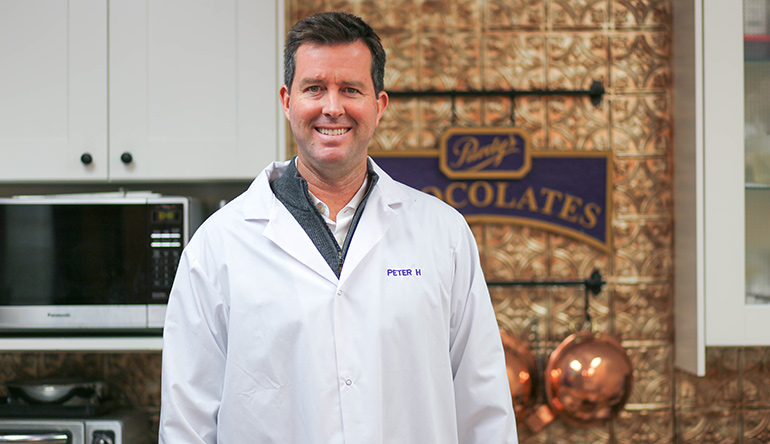 UBC stories

"I travel to places like West Africa to visit the farms that we buy our cocoa from, so that's a real connection back to my roots, in terms of agriculture in Land and Food Systems," says Peter, president and chocolate scientist at Purdys Chocolatier.

Peter Higgins, Food Science Read the full story
Program requirements
English-language requirements
English is the language of instruction at UBC. All prospective students must demonstrate English-language competency prior to admission. There are numerous ways to meet the English Language Admission Standard.
General admission requirements
Completion of the IB Diploma with a minimum score of 24 points, including at least three Higher Level courses and additional points for Extended Essay and Theory of Knowledge.
Completion of Standard Level or Higher Level English A at a minimum score of 3, where English is the primary language of instruction.
Degree-specific requirements:
Food, Nutrition, and Health
IB Mathematics (Standard or Higher Level; IB Math Studies does not meet the requirement)
One of IB Biology, IB Chemistry, or IB Physics (Standard or Higher Level)
Chemistry at the junior or Grade 11 level
Physics at the junior or Grade 11 level
Visit program website