Take your passion for food to the next level in UBC's Food Science program, where you will discover the chemistry and microbiology of food, its nutritional and sensory properties, and how it is engineered and processed for consumption. You will also explore concepts and controversies in nutrition, how to prevent food-borne illness, and how land, food, and community fit together.
Why this program?
Join an exciting, globally important field with a need for more graduates.
Gain extensive hands-on experience in a small and cohesive group of students.
Interact with industry experts through research partnerships, the LFS Mentorship Program, food plant visits, and career days.
Visit program website
Campus: Vancouver
Faculty: Faculty of Land and Food Systems
Degree: Bachelor of Science in Food, Nutrition, and Health
Length 4 yrs
Co-op Yes

You can combine your studies with full-time, paid work at top local and international organizations.

Honours No

You can study intense specialization in a single field.
UBC's Food Science degree has the added distinction of being approved by the Institute of Food Technologists (IFT): the internationally respected governing body that sets the standards in Food Science education. By choosing this program, you'll be eligible to apply for Canadian Institute of Food Science and Technology (CIFST) scholarships and other food science-specific student funding. You'll also have access to the IFT Student Association events and opportunities to collaborate with other students across North America.
Experiential learning and research
Food Science emphasizes hands-on experience through extensive foundational science and food-specific laboratory courses. You'll also be able to take part in community-based learning through the Land, Food, and Community series, where you'll investigate regional, national, and global food systems that are ecologically, socially, and economically sustainable.
Additionally, you can build business skills through hands-on opportunities such as working at the student-run Agora Cafe or at food industry co-op placements.
Campus features
Food Science has spacious chemistry and microbiology laboratories that are used only for undergraduate teaching, providing you with with plenty of space to work on your experimental projects. As well as the teaching kitchen and sensory evaluation space, you'll spend time in the Pilot Plant facility, which is a modern analytical research laboratory used to develop new food products in sustainable ways.
Send details
Life at UBC's Vancouver campus
The benefits of being part of a small cohort within a large institution provide the best of both worlds. You'll experience a friendly and cohesive Food Science community as well as the extensive opportunities and resources that UBC offers — all on the beautiful UBC Vancouver campus.
Find out more
Your future
You'll graduate from the Food Science program ready to work in the food industry, an exciting field of global importance that is undergoing rapid change.  A recent survey of alumni and employers showed a need for food scientists in nearly all areas of the sector, including roles like research and development, regulation, quality control, food safety, processing, food marketing, and management. The breadth of UBC's Food Science program means that you'll graduate well prepared for these varied jobs, and with additional background in food quality management, regulation, and sustainability in response to these industry needs.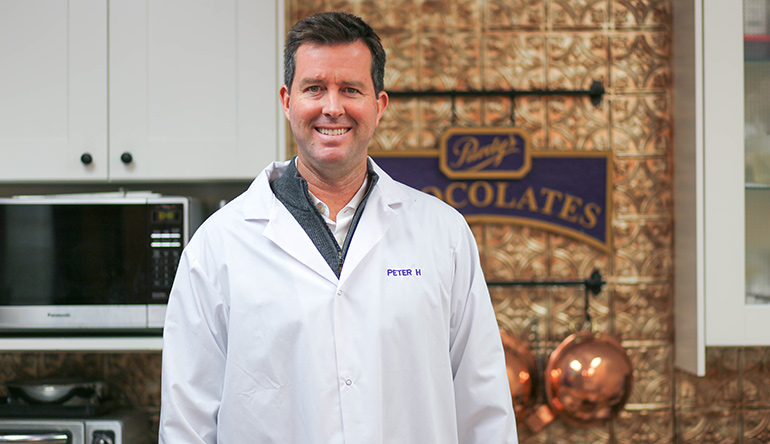 UBC stories

"I travel to places like West Africa to visit the farms that we buy our cocoa from, so that's a real connection back to my roots, in terms of agriculture in Land and Food Systems," says Peter, president and chocolate scientist at Purdys Chocolatier.

Peter Higgins, Food Science Read the full story
Program requirements
English-language requirements
English is the language of instruction at UBC. All prospective students must demonstrate English-language competency prior to admission. There are numerous ways to meet the English Language Admission Standard.
General admission requirements
IB Diploma Programme
Completed IB Diploma, including at least three Higher Level courses.
IB Certificate Courses
IB Certificate courses (Standard and Higher Level) may be used in an admissions average if you are graduating from a recognized high school curriculum that can be used as your basis of admission.
IB Math Applications and Interpretations SL, or IB Math Studies, do not satisfy the math requirement for admission to UBC's science-based programs, the Faculty of Management, the UBC Sauder School of Business, or the Vancouver School of Economics.
Degree-specific requirements:
Food, Nutrition, and Health
IB Math Analysis and Approaches SL or HL, or IB Math Applications and Interpretations HL. (IB Math Applications and Interpretations SL, or IB Math Studies, are not acceptable.)
One of IB Biology, IB Chemistry, or IB Physics
Grade 11 or equivalent Chemistry, and
Grade 11 or equivalent Physics (may be waived with grades of 5 in IB Chemistry and in your IB Mathematics course)
Note: Grade 11 Chemistry and Physics requirements listed are only relevant to students who are not completing the equivalent IB Diploma Chemistry and/or Physics courses.
For students studying outside of Canada, some examples of courses that may be accepted as Grade 11 equivalents are junior-level courses for American students, and IGCSE and O Level for those following British-patterned curricula.
Related courses
The following subject categories are particularly relevant for this degree. Consider taking courses in these areas in your junior year and senior year.
Language Arts
Mathematics and Computation
Sciences
Social Studies
Visit program website