Study the entire manufacturing process, from design concept and manufacturing of mechanical parts through to product delivery, in UBC's Manufacturing Engineering program.
This program is also offered at UBC's
Vancouver Campus
Find out more
Why this program?
Be part of the first Manufacturing Engineering program of its kind in BC
Explore the latest in manufacturing tools, such as artificial intelligence, adaptive robotics, and advanced materials
Graduate with the skills to address the current and future needs of advanced manufacturing
Visit program website
Campus: Okanagan
Faculty: Faculty of Applied Science (Engineering)
Degree: Bachelor of Applied Science (Engineering)
Length 4 yrs
Co-op Yes

You can combine your studies with full-time, paid work at top local and international organizations.

Honours No

You can study intense specialization in a single field.
Manufacturing Engineering looks at the entire manufacturing process, from the design concept, engineering analysis, and manufacturing of individual mechanical parts through to product delivery. While Mechanical Engineering examines the theory and applications of machines, Manufacturing Engineering focuses on the design and manufacturing of machines.
After completing a common first year in Applied Science, you'll take courses in mechanical, materials, electrical and computer engineering, plus specifically designed manufacturing engineering courses in manufacturing processes, production systems management, and industrial automation.
Each year, you'll complete a design course that will help prepare you for a final capstone design project in your fourth year of study. At that time, you can choose to specialize in production management on the Okanagan campus or technical manufacturing on the Vancouver campus. Either way, you'll meet the accreditation requirements set out by the Canadian Engineering Accreditation Board of the Canadian Council of Professional Engineers.
Specializations
Consult with a School of Engineering Advisor about this option.
Send details
Life at UBC's Okanagan campus
UBC's Okanagan campus offers a more intimate teaching and learning environment with state-of-the-art manufacturing equipment and training. You'll be exposed to foundational engineering disciplines and training across a range of major manufacturing processes and platforms. You'll also learn about today's production management practices through digitalization of the entire value chain, non-traditional manufacturing practices, data-centric modelling and analytics, artificial intelligence, and robotics.
Find out more
Your future
Given their ability to develop products, plan processes, and optimize production environments, manufacturing engineers have excellent employment opportunities in:
Industrial and government research facilities
Government and regulatory agencies
Rubber, plastics, and chemical manufacturing
Manufactured mineral products
Computer and electronics manufacturing
Transportation manufacturing
Consulting for professional business and educational services
As a Manufacturing Engineering graduate, you could also work as a control and implementation specialist, a systems analysis engineer, a quality control specialist, and more.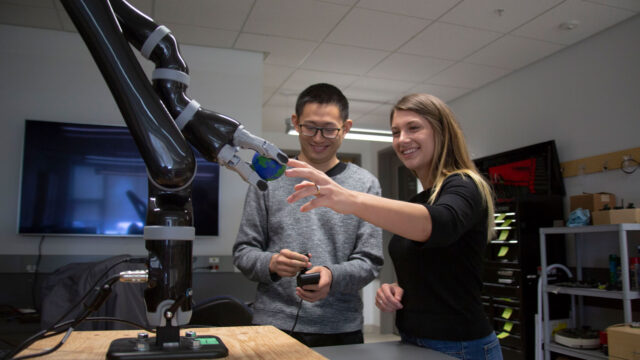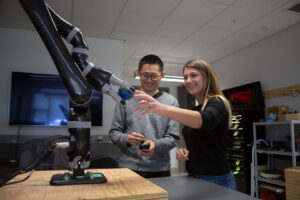 Program requirements
English-language requirements
English is the language of instruction at UBC. All prospective students must demonstrate English-language competency prior to admission. There are numerous ways to meet the English Language Admission Standard.
General admission requirements
IB Diploma Programme
Completed IB Diploma, including at least three Higher Level courses.
IB Certificate Courses
IB Certificate courses (Standard and Higher Level) may be used in an admissions average if you are graduating from a recognized high school curriculum that can be used as your basis of admission.
IB Math Applications and Interpretations SL, or IB Math Studies, do not satisfy the math requirement for admission to UBC's science-based programs, the Faculty of Management, the UBC Sauder School of Business, or the Vancouver School of Economics.
Degree-specific requirements:
Applied Science (Engineering)
IB Math Analysis and Approaches SL or HL, or IB Math Applications and Interpretations HL. (IB Math Applications and Interpretations SL, or IB Math Studies, are not acceptable.)
IB Chemistry 
IB Physics 
Academically strong candidates missing either IB Chemistry or IB Physics may be evaluated on a case-by-case basis
Related courses
The following subject categories are particularly relevant for this degree. Consider taking courses in these areas in your junior year and senior year.
Language Arts
Mathematics and Computation
Sciences
Visit program website