Pursue an undergraduate subject you're passionate about and get a postgraduate qualification from one of the world's most prestigious business schools. You'll study subjects like accounting, finance, marketing, and strategic management, and get personalized professional development advice to help you turn your passion into a profession.
Why this program?
80% of program graduates in 2018 were employed within three months
Gain consulting experience with a not-for-profit organization or social enterprise through the Community Business Project
Work one-on-one with career coaches at the Hari B. Varshney Business Career Centre to fine-tune your profile and outlook
Visit program website
Campus: Vancouver
Faculties: Faculty of Arts, Faculty of Forestry, Faculty of Land and Food Systems, Faculty of Science, School of Kinesiology, School of Music, UBC Sauder School of Business
Degrees: Bachelor of Arts, Bachelor of Fine Arts, Bachelor of Kinesiology, Bachelor of Media Studies, Bachelor of Music, Bachelor of Science, Bachelor of Science in Applied Biology, Bachelor of Science in Food, Nutrition, and Health, Bachelor of Science in Global Resource Systems, Bachelor of Science in Wood Products Processing, Master of Management
Length 4.5 yrs
Co-op Yes

You can combine your studies with full-time, paid work at top local and international organizations.

Honours Yes

You can study intense specialization in a single field.
UBC's innovative Bachelor and Master of Management Dual Degree program makes it possible to earn a bachelor's degree from select non-business faculties and a Master of Management from the UBC Sauder School of Business in as little as four-and-a-half years.
As a Bachelor and Master of Management student, you'll take business and commerce modules during each of the four years of your undergraduate degree. In the summer immediately after graduation, you'll enter the Master of Management program full-time for six months of intensive study.
Experiential learning and research
During your time in the program's capstone course, you'll have the opportunity to learn directly from industry leaders, work on live case studies, and recommend real business solutions.
Campus features
As a Bachelor and Master of Management student, you'll have access to a number of on-campus facilities, including the David Lam Management Research Library and the Hari B. Varshney Business Career Centre.
Send details
Life at UBC's Vancouver campus
As a Bachelor + Master of Management Dual Degree student, you'll gain a competitive edge in the workplace with a postgraduate qualification from a world-class business school and exclusive, one-on-one personal career coaching.
Find out more
Your future
Past Bachelor and Master of Management Dual Degree graduates have been hired by some of the world's most innovative organizations in a wide range of industries, either related to their undergraduate backgrounds or on a new path entirely. Others have gone on to further education in dentistry, medicine, law, and other fields.
Program graduates
Manager, Operational Management, HSBC
Strategic Solutions Analyst, Marketing Automation, Traction on Demand
Medical School Student, Liberty University
Risk Consultant, Advisory Services, EY
Onboarding Specialist, Bench Accounting
JD Candidate, UBC Peter A. Allard School of Law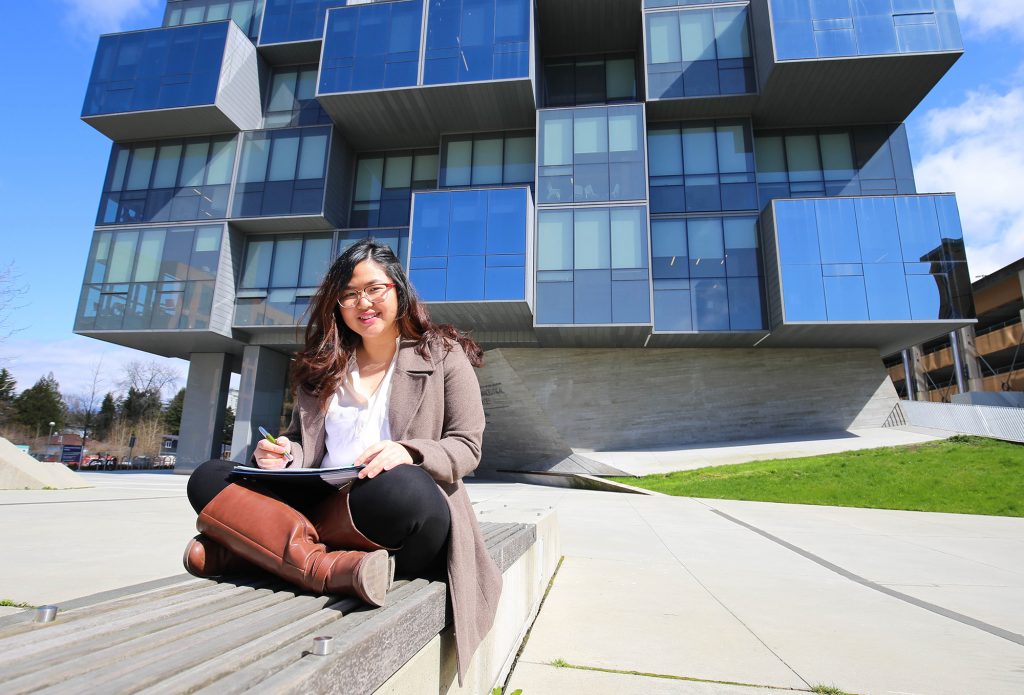 UBC stories

"I will definitely be proud to be a UBC alumna. It is very assuring to know that there exists a strong and global UBC alumni base who are willing to provide support and guidance."

Angela Sunario, Microbiology and Immunology + Management Read the full story
Program requirements
English-language requirements
English is the language of instruction at UBC. All prospective students must demonstrate English-language competency prior to admission. There are numerous ways to meet the English Language Admission Standard.
General admission requirements
IB Diploma Programme
Completed IB Diploma, including at least three Higher Level courses.
IB Certificate Courses
IB Certificate courses (Standard and Higher Level) may be used in an admissions average if you are graduating from a recognized high school curriculum that can be used as your basis of admission.
IB Math Applications and Interpretations SL, or IB Math Studies, do not satisfy the math requirement for admission to UBC's science-based programs, the Faculty of Management, the UBC Sauder School of Business, or the Vancouver School of Economics.
Degree-specific requirements:
Bachelor + Master of Management
You must apply and meet the requirements for one of BA, BFA, BKin, BMS, BMus, BSc, BSc APBI, BSc FNH, BSc FRE, BSc FS, BSc GRS, BSc NRC, BSc WPP, of BSF
Additional application required to the UBC Sauder School of Business
Interview by invitation only
Related courses
Please see the subject categories for your chosen bachelor degree.
Visit program website