Are you planning on a career as a health professional? Do you need practical laboratory skills that will help you get a great job in a medical research laboratory? Are you interested in the health field but not sure of your future career path? As a student in this program, you'll gain practical lab experience and knowledge in a broad range of health science subjects, while developing crucial transferrable competencies.
Visit program website
Campus: Vancouver
Faculty: Faculty of Medicine
Degree: Bachelor of Medical Laboratory Science
Length 4 yrs
Co-op No

You can combine your studies with full-time, paid work at top local and international organizations.

Honours No

You can study intense specialization in a single field.
Medical Laboratory Science is the study of the scientific principles underlying the disciplines practised in hospital and medical research laboratories. This program is a two-year undergraduate degree offered by the Department of Pathology. To earn this degree, you must complete a two-year general program, following completion of the science prerequisites.
Students enter Year 3 of the program and complete two years of study in topics which include: toxicology, pathology, hematology, histology, tissue culture, molecular biology, biochemistry, medical microbiology, human physiology, laboratory administration, clinical chemistry, genetics, immunology, parasitology, cytology, career searching skills, and instrumental analysis.
BMLSc students gain theoretical knowledge in a broad range of subjects as well as practical, hands-on experience in a variety of lab techniques. Students also learn higher-order skills such as experimental design, critical thinking, giving/receiving feedback, strategies for effective group/team work and how to teach and lead discussions effectively.
Campus features
The principal library on campus for materials in the life sciences is the Woodward Biomedical Library, which houses the largest health sciences collection in western Canada. Principal subject areas include biology, botany, dentistry, medicine, nursing, nutrition, pharmaceutical sciences, and zoology.
Send details
Your future
A UBC education will introduce you to people and ideas from around the world, open doors to new opportunities, and take you places you never imagined. You'll graduate not only with expertise in your chosen field, but with the skills you need to continue growing, learning, and evolving with your career over time.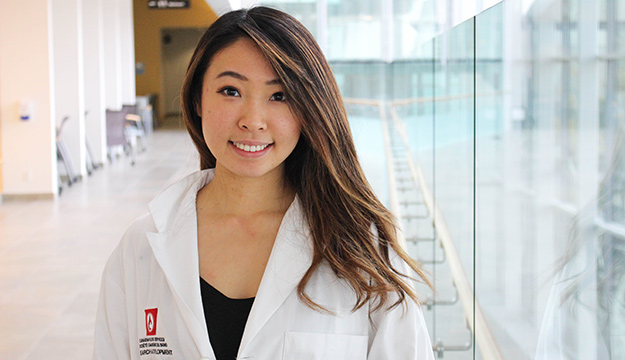 UBC stories

"Although I knew I was interested in going into research, I had a very narrow view of research as a career and was unsure what role I wanted to play. I had this impression that being a scientist meant it was important for me to solidify a single theme, get very skilled in a single area, and only work on that for the rest of my life. Over the course of my studies, I was exposed to a huge variety of subfields and skills in medicine."

Lily Takeuchi, Medical Laboratory Science Read the full story