Whether you're interested in pursuing a career in research or biotechnology, considering entering a health profession, or looking to advance your career as a medical laboratory technologist, the Medical Laboratory Science program could be for you. Gain practical lab experience and knowledge in a broad range of health science subjects, while developing crucial transferrable skills.
Why this program?
Small class sizes
Learn from award-winning researchers, clinicians, and instructors
High acceptances rates into graduate school, medical school, dental school, and more
Career options in a wide range of health science fields
Visit program website
Campus: Vancouver
Faculty: Faculty of Medicine
Degree: Bachelor of Medical Laboratory Science
Length 2 yrs
Co-op No

You can combine your studies with full-time, paid work at top local and international organizations.

Honours No

You can study intense specialization in a single field.
Medical Laboratory Science is the study of the scientific principles underlying disciplines practised in hospital and medical research laboratories, including toxicology, hematology, histology, tissue culture, molecular biology, biochemistry, medical microbiology, human physiology, clinical chemistry, genetics, immunology, parasitology, cytology, and instrumental analysis.
You'll enter the program in your third year of study and spend two years learning the theory and practical laboratory skills needed to design and implement experiments and analyze the results. The curriculum bridges numerous fields of health science study, enabling you to work across interdisciplinary boundaries.
Experiential learning and research
As a Medical Laboratory Science student, you'll gain practical, hands-on experience in a variety of lab techniques. You'll also learn higher-order skills related to experimental design, critical thinking, giving and receiving feedback, presentation delivery, discussion facilitation, and strategies for effective teamwork.
If you're interested in pursuing a research career, you have the option of completing a directed studies research project with faculty members in the Department of Pathology and Laboratory Medicine.
Campus features
The Medical Laboratory Science program is located in the Department of Pathology and Laboratory Medicine at UBC Hospital on the Vancouver campus. As a student in the program, you'll also have the opportunity to visit other spots, including the BC Centre for Disease Control, the William Boyd Museum of Pathology, and clinical hospital laboratories.
Send details
Life at UBC's Vancouver campus
As a Medical Laboratory Science student, you'll study at UBC Hospital, become familiar with the health care environment, and be taught by faculty members from clinical and research sites throughout the Lower Mainland health authorities.
Find out more
Your future
As a Medical Laboratory Science graduate, you'll be prepared for a variety of science-based careers, including those in industry research and development (e.g., with biotechnology and pharmaceutical companies) and academia. For graduates who were previously certified Medical Laboratory Technologists, the Bachelor of Medical Laboratory Science (BMLSc) degree can aid in career advancement. Many BMLSc graduates go on to further studies in medical, dental, and other health professional programs; thesis-based graduate programs (e.g., MSc or PhD); or graduate management programs (e.g., Master of Health Administration).
Program graduates
Associate Histotechnologist, Wax-it Histology Services
Research Coordinator, Hematology Research Program, UBC Division of Hematology, Vancouver General Hospital
Clinical Research Assistant, Laboratory Program, BC Centre for Excellence in HIV/AIDS
Senior Program Coordinator, Social Diversity for Childcare Foundation
Research Assistant/Technician 2, Centre for Molecular Medicine and Therapeutics
Administrator/Client Services Associate, ALS Laboratories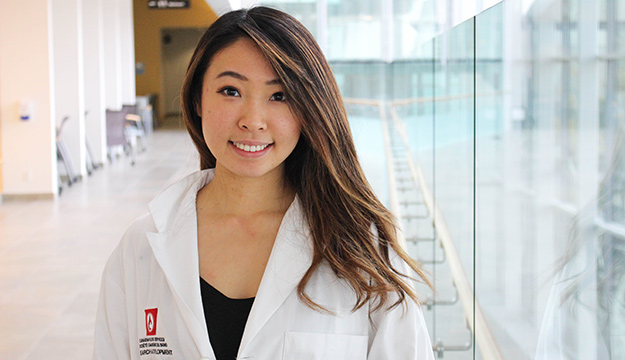 UBC stories

"Although I knew I was interested in going into research, I had a very narrow view of research as a career and was unsure what role I wanted to play. I had this impression that being a scientist meant it was important for me to solidify a single theme, get very skilled in a single area, and only work on that for the rest of my life. Over the course of my studies, I was exposed to a huge variety of subfields and skills in medicine."

Lily Takeuchi, Medical Laboratory Science Read the full story