UBC's department of Microbiology and Immunology is a leading centre for immunology, recombinant DNA technology, and for research into infectious diseases and applied and environmental microbiology. You'll build foundational knowledge in biology and learn about cells, molecules, and mechanisms of innate and adaptive immunity, and more.
This program is also offered at UBC's
Okanagan Campus
Find out more
Why this program?
Flexible specialization with concentrations in biotechnology, molecular microbiology, environmental microbiology, virology, and more.
Strong emphasis on laboratory work and undergraduate research.
Pair with Computer Science, Oceanography, or Biotechnology for a combined major/honours that best reflects your interests.
Prepare for graduate or professional studies such as medical, dental, law, or veterinary medicine.
Visit program website
Campus: Vancouver
Faculty: Faculty of Science
Degree: Bachelor of Science
Length 4 yrs
Co-op Yes

You can combine your studies with full-time, paid work at top local and international organizations.

Honours Yes

You can study intense specialization in a single field.
Microbiology is the study of minute, simple life forms (microbes), including bacteria, algae, fungi, protozoa, and viruses. Immunology is the branch of science that deals with how the body defends itself against disease-causing microbes. Microbiology and immunology together involve studying how microbes can be controlled to prevent disease.
Microbiology and Immunology is available as a major or an honours degree.
Experiential learning and research
The Department of Microbiology and Immunology has three research groups:
Infection, Inflammation, and Immunity (I3)
Bacterial Adaptation and Response Networks (BARN)
Drug Discovery and Target Identification (DDTI)
The Michael Smith Laboratories, named after the late Nobel laureate UBC professor, are located in the heart of campus, and bring together first-class scientists to solve biological problems using genetic engineering techniques.
Send details
Your future
The Microbiology and Immunology specialization is designed to provide you with a strong grounding in microbiology, immunology, bacteriology, virology, and molecular biology. It also equips you with the practical skills of the working microbiologist, such as how to analyze and interpret data, conduct lab research, and to think critically.
Upon graduation, you will be prepared for graduate school in various biological sciences disciplines as well as for professional schools (medicine, dentistry, veterinary medicine, law, journalism, etc.).
Program graduates
PhD candidate in Transplantation Immunology, University of Cambridge
Dentist, Dr. James Y. Y. Hsia Inc.
Medical student, The University of British Columbia
PhD Candidate in Computational and Systems Immunology, Stanford University
Biomedical engineering technologist, Lions Gate Hospital
Associate attorney, Davis Polk & Wardwell LLP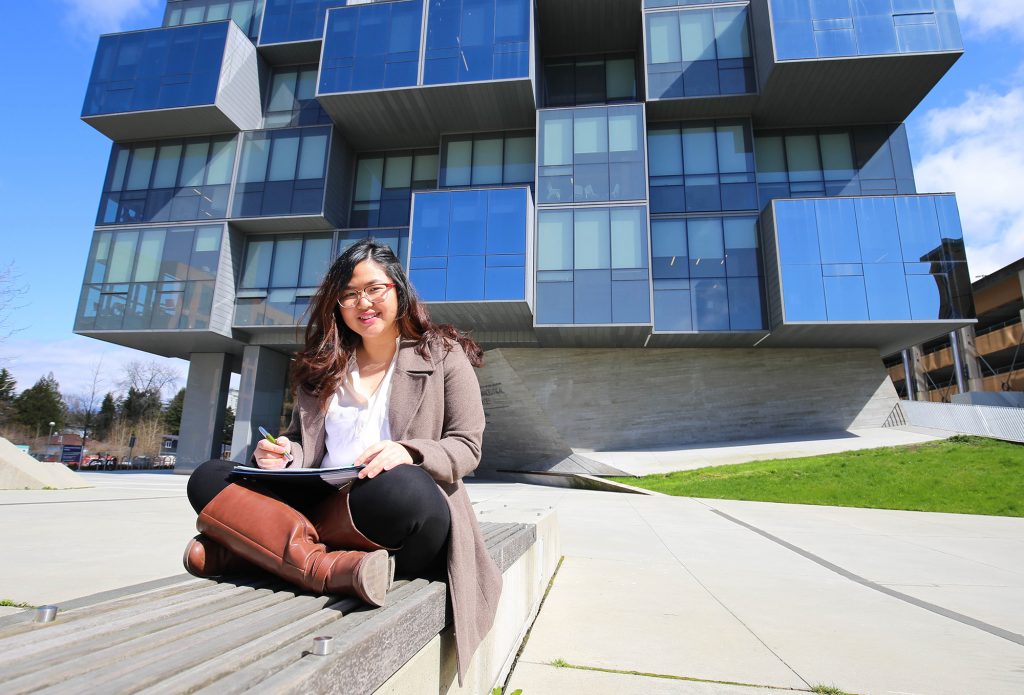 UBC stories

One of the most profound supports I received is the work opportunities provided through the Work Learn program and co-op program. I worked on the procurement team of a Vancouver-based biotechnology firm for eight months as a co-op student.

Angela Sunario, Microbiology and Immunology Read the full story
Program requirements
English-language requirements
English is the language of instruction at UBC. All prospective students must demonstrate English-language competency prior to admission. There are numerous ways to meet the English Language Admission Standard.
General admission requirements
Completion of the IB Diploma with a minimum score of 24 points, including at least three Higher Level courses and additional points for Extended Essay and Theory of Knowledge.
Completion of Standard Level or Higher Level English A at a minimum score of 3, where English is the primary language of instruction.
Degree-specific requirements:
Science
IB Mathematics (Standard or Higher Level; IB Math Studies does not meet the requirement)
One of IB Biology, IB Chemistry, or IB Physics (Standard or Higher Level)
One year of Chemistry immediately prior to IB Diploma
One year of Physics immediately prior to IB Diploma (may be waived with scores of 5 or higher in IB Mathematics and IB Chemistry)
Visit program website