UBC's department of Microbiology and Immunology is a leading centre for the study of bacteria, fungi, and viruses, and their roles in human health and disease, agriculture, natural ecosystems, energy, and global sustainability. The department is known for its work in the human microbiome and immune system and how they affect human health, including warding off infection, cancers, or autoimmune diseases. You'll build foundational knowledge in microbiology and immunology and develop the expert knowledge and skills required to work in a range of relevant fields.
Why this program?
Flexible specialization with concentrations in biotechnology, molecular microbiology, environmental microbiology, virology, and more.
Strong emphasis on laboratory work and undergraduate research.
Pair with Computer Science, Oceanography, or Biotechnology for a combined major/honours that best reflects your interests.
Prepare for graduate or professional studies such as medical, dental, law, or veterinary medicine.
Visit program website
Campus: Vancouver
Faculty: Faculty of Science
Degree: Bachelor of Science
Length 4 yrs
Co-op Yes

You can combine your studies with full-time, paid work at top local and international organizations.

Honours Yes

You can study intense specialization in a single field.
Microbiology and Immunology offers major or honours degrees that provide an in-depth knowledge of microbes and their interactions with the environment, and how they relate to human and environmental health. You'll acquire laboratory skills in bacterial and eukaryotic cell culture and phenotyping, genomics, and data science. Our programs are distinguished by authentic course-based research experiences and opportunities to work in world-leading research labs. In your final year, you'll engage in seminar courses focused on recent research discoveries pioneered by leading scientists in the field.
The Department of Microbiology and Immunology faculty are affiliated with the multidisciplinary Life Sciences Institute (LSI) and the Michael Smith Laboratories (MSL). The LSI is the largest institute in Canada with a mission is to perform innovative, interdisciplinary science focused on discovering the fundamental biological mechanisms underlying health and disease, and to translate this knowledge into new therapies. The Michael Smith Laboratories, named after the late Nobel laureate UBC professor, are located in the heart of campus, and bring together first-class scientists to solve biological problems using genetic engineering techniques.
Send details
Life at UBC's Vancouver campus
The Department of Microbiology and Immunology's undergraduate teaching labs are housed in the new state-of-the-art Biosciences Teaching building, where you'll gain foundational laboratory and research skills. You'll experience to a broad range of undergraduate research opportunities including directed studies courses in the laboratories of our research faculty; co-op work experiences in academic, industrial, and government labs; as well as co-curricular student-driven programs such as the International Genetically Engineered Machines (iGEM) and BioMod teams.
Find out more
Your future
The Microbiology and Immunology specialization is designed to provide you with a strong grounding in microbiology, immunology, bacteriology, virology, and molecular biology. It also equips you with the practical skills of a well-rounded scientist, such as how to analyze and interpret data, conduct lab research, and to think critically.
Upon graduation, you will be prepared to enter the thriving life sciences industry or graduate school in related biological science disciplines, as well as professional schools such as medicine, dentistry, veterinary medicine, law, and journalism.
Program graduates
Research Associate, StemCell technologies
Dentist, Dr. James Y. Y. Hsia Inc.
Medical student, The University of British Columbia
Graduate student, Cambridge University
Law student, The University of British Columbia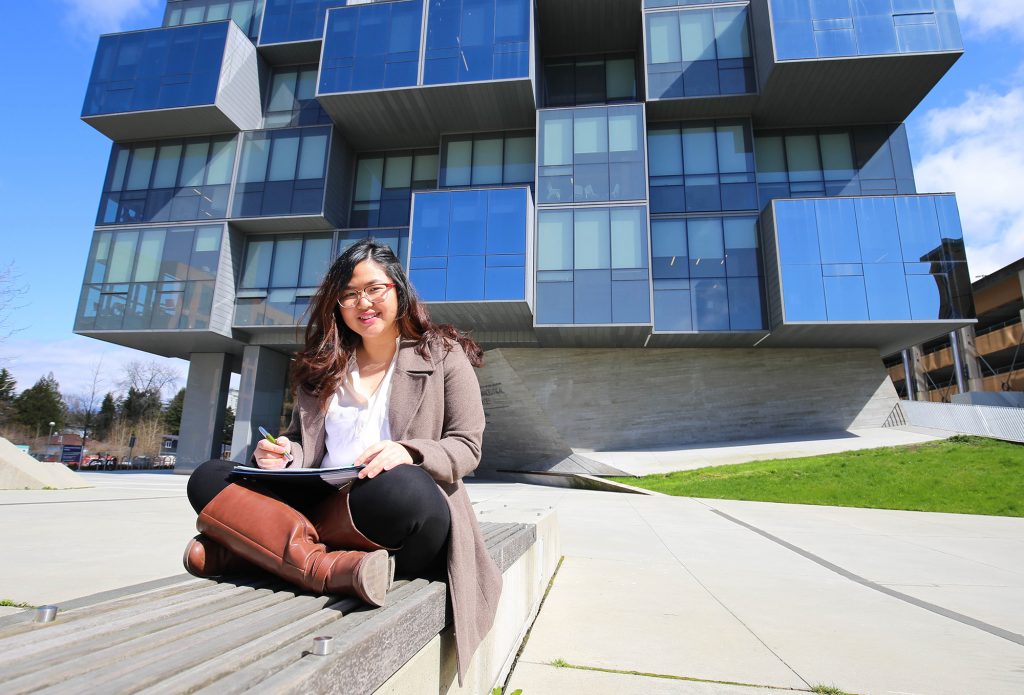 UBC stories

One of the most profound supports I received is the work opportunities provided through the Work Learn program and co-op program. I worked on the procurement team of a Vancouver-based biotechnology firm for eight months as a co-op student.

Angela Sunario, Microbiology and Immunology Read the full story
Program requirements
English-language requirements
English is the language of instruction at UBC. All prospective students must demonstrate English-language competency prior to admission. There are numerous ways to meet the English Language Admission Standard.
General admission requirements
IB Diploma Programme
Completed IB Diploma, including at least three Higher Level courses.
IB Certificate Courses
IB Certificate courses (Standard and Higher Level) may be used in an admissions average if you are graduating from a recognized high school curriculum that can be used as your basis of admission.
IB Math Applications and Interpretations SL, or IB Math Studies, do not satisfy the math requirement for admission to UBC's science-based programs, the Faculty of Management, the UBC Sauder School of Business, or the Vancouver School of Economics.
Degree-specific requirements:
Science
IB Math Analysis and Approaches SL or HL, or IB Math Applications and Interpretations HL (IB Math Applications and Interpretations SL, or IB Math Studies, are not acceptable)
One of IB Biology, IB Chemistry, or IB Physics
Grade 11 or equivalent Chemistry, and
Grade 11 or equivalent Physics (may be waived with grades of 5 in IB Chemistry and in your IB Mathematics course)
Note: Grade 11 Chemistry and Physics requirements listed are only relevant to students who are not completing the equivalent IB Diploma Chemistry and/or Physics courses.
For students studying outside of Canada, some examples of courses that may be accepted as Grade 11 equivalents are junior-level courses for American students, and IGCSE and O Level for those following British-patterned curricula.
Related courses
The following subject categories are particularly relevant for this degree. Consider taking courses in these areas in your junior year and senior year.
Language Arts
Mathematics and Computation
Sciences
Visit program website