This program focuses on visual art practice, critical theory, and art history. If you're seeking a specialized program in the practice of art, the BFA provides an excellent foundation in a variety of fields involving the making and understanding of visual art and contemporary aesthetics.
This program is also offered at UBC's
Okanagan Campus
Find out more
Visit program website
Campus: Vancouver
Faculty: Faculty of Arts
Degree: Bachelor of Fine Arts
Length 4 yrs
Co-op Yes

You can combine your studies with full-time, paid work at top local and international organizations.

Honours Yes

You can study intense specialization in a single field.
The Visual Art program leading to the Bachelor of Fine Art allows you to select a Major or Honours degree. Both BFA and BA programs develop the creative and intellectual potential of each individual student through the practice and study of drawing, painting, printmaking, photography, sculpture, multimedia, and digital media. The BFA is designed for those contemplating a career in the visual arts and who seek a liberal arts education within a dynamic university setting.
Campus features
The Morris and Helen Belkin Art Gallery is the home of the UBC Fine Arts Gallery, and houses the university art collection & archive.
What can you do with this major after graduation?
Send details
Your future
A UBC education will introduce you to people and ideas from around the world, open doors to new opportunities, and take you places you never imagined. You'll graduate not only with expertise in your chosen field, but with the skills you need to continue growing, learning, and evolving with your career over time.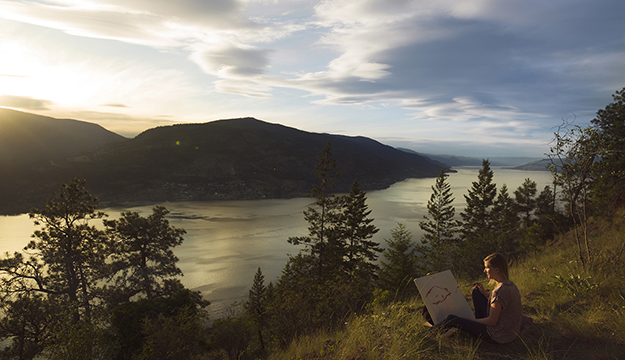 UBC stories

"I would describe UBC's Okanagan campus as a great place to develop into yourself. The interdisciplinary nature of the programs opens your mind to a multitude of concepts and I have seen many students pursue a different path than the one they started."

Nadine Bradshaw, Visual Art Read the full story
Program requirements
English-language requirements
English is the language of instruction at UBC. All prospective students must demonstrate English-language competency prior to admission. There are numerous ways to meet the English Language Admission Standard.
General admission requirements
Completion of the IB Diploma with a minimum score of 24 points, including at least three Higher Level courses and additional points for Extended Essay and Theory of Knowledge.
Completion of Standard Level or Higher Level English A at a minimum score of 3, where English is the primary language of instruction.
Degree-specific requirements:
Fine Arts (direct-entry specializations only; excludes Creative Writing)
No specific courses required beyond those needed for general admission
Audition or portfolio
Visit program website