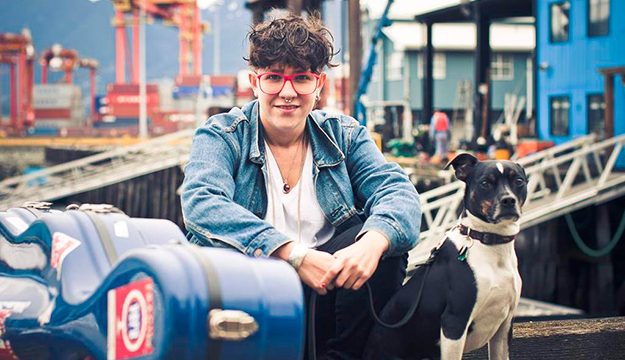 Music alumna and Aboriginal cellist Cris Derksen went from student to world-travelling performer. She's toured with Canadian Inuk throat singer Tanya Tagaq, written music for the CBC, and been nominated for a Juno Award.
After graduating from UBC with a Bachelor of Music in Cello Performance, in 2007, Aboriginal cellist Cris Derksen moved to Toronto to pursue a career in music. The Juno Award-nominated performer and composer started playing the cello with the Edmonton Public String Program when she was just 10 years old. "I knew in Grade 11 that I wanted to be a cellist," she says. "I went to an arts high school and there were lots of potential actors, but I was the only potential cellist. I knew then that I had a niche and I should stick to it."
These days Cris spends most of her time on the road as a touring musician, and hard at work composing music for various projects, such as TV series and films. After playing shows across Canada for the past several months, she ended her summer in Sweden, and is now gearing up for fall and winter tours.
She released her third studio album – Orchestral Powwow, which was nominated for the 2016 Instrumental Album of the Year Juno Award – in 2015. We talked to Cris about her career highlights so far, how UBC figured into her musical evolution, and what it's like to be nominated for a Juno Award.

What made you choose UBC? 
I did a few years at the University of Alberta, and UBC had multiple advantages. The calibre of playing at UBC was higher and more competitive, the weather was significantly better than Alberta, and the orchestra rehearses in the beautiful Chan Centre – all wins in my books.

In what ways did your UBC education and experience help prepare you for what you do now?
I went to UBC to get the performance skills to perform the music I wanted to create in a professional manner. It taught me how to practise, and how to time manage the day-to-day performance life. It also taught me that I didn't want a career in the typical classical musical world that most instrumentalists go to after graduation. I wanted to choose my own musical path.
"The Chan Centre is a special place to perform and hear music live. UBC is so fortunate to have that gem." – Cris Derksen, Bachelor of Music, Cello Performance '07

How would you describe your music? 
I'm an Aboriginal classically trained electro­-cellist. Basically that means I'm pan-genres and fit into all the boxes of musical genres. My major influences include my friends, nature, classical idioms, traditional Aboriginal idioms, and my own heart. I like to explore pretty much everything around me and translate it into something relatable on a cello.

What stands out about your time at UBC? 
Dr. Bob [Pritchard] is kind of amazing – he thinks way outside the box, and it's hard not to love and respect him. I also did a super great course in Business in Music with Sal Ferreras. I truly think every musician needs to take a business in music course. It is so integral for being a working musician.

In your opinion, what makes UBC distinctive from other universities? 
The Chan Centre is a special place to perform and hear music live. UBC is so fortunate to have that gem. Also, Vancouver weather is totally amazing.

Tell us a little bit about your music career and some of the highlights so far.
My cello and I have been on some super amazing adventures. The quick highlights have been performing internationally for three-and-half years with Inuit throat singer Tanya Tagaq, before embarking on my own solo career. Becoming friends with the iconic singer-songwriter Buffy Sainte-Marie, and having her be my mentor over a year is special to me.
Composing music for the CBC's 8th Fire series was a challenging feat – so is all composition for dance, theatre, film, and TV. Turning someone's vision into their soundscape is pretty adventurous. And of course this year's Canadian recognition has been amazing, with performances in New York City, Australia, and work in Mexico, all before the Juno Awards in April. I was nominated in the Instrumental Album of the Year category for my third studio album, called Orchestral Powwow, which is how it sounds – symphonic works with traditional Aboriginal music.

What was it like to find out you were nominated for a Juno? 
I knew I was creating a gem of music while I was composing this, as "Aboriginal" music hasn't really been showcased in the classical world, with an Aboriginal artist being front and centre in the project – especially with a female Aboriginal composer. We are rare entities within classical music.

What's next on the horizon for you?
It's been a busy year. I go to Montreal on Wednesday for three weeks, with some other shows in Saskatoon during the same time. I have a 90-minute documentary on my plate, and then the summer festival season starts up seeing me in multiple Canadian cities. I'll end the summer in Sweden before gearing up for fall and winter tours.