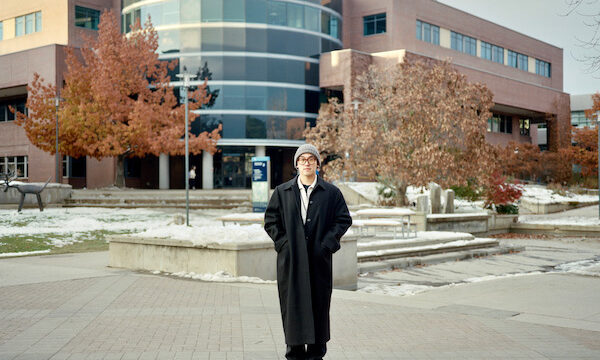 Ziv started his studies at UBC majoring in Biochemistry but he quickly realized that what he really wanted to focus on was arts, so he switched his major to the Bachelor of Fine Arts program. He says that making this switch set him on a career path that he is truly passionate about.
Read his story below, including how he had to develop his prints for his first photo project in his bathroom during the COVID lockdown and his work as an International Peer, where he mentors other international students and works to foster a sense of community among the international student population.
1. UBC is full of opportunities to connect and engage, both in and out of the classroom. What opportunities have you seized, and how have they enriched your experiences here?
During my time at UBC, I've had the honor to take many opportunities to connect and engage inside and outside the classroom. One of my most fulfilling experiences was being the documentation photographer for Riparian ReAnimation, a community program aimed at creating medium to large-scale puppets of characters from the Kelowna floodplain for public parades and presentations. It allowed me to gain a deeper understanding of the ecological system around the Okanagan Valley as well as our local arts community. I've also had the privilege of working with faculty and community members on other exciting opportunities. For example, I am currently helping with the documentation of Alternator Gallery and Art on the Line. These opportunities allowed me to meet like-minded individuals, participate in projects that aligned with my passions, and develop my photography skills. These opportunities have enriched both my learning and life experiences at UBC, and I feel grateful to have been a part of such inspiring and impactful programs.
2. UBC is a mosaic of people, experiences and locations that come together to make it unlike anywhere else. What are some of your favourite places, communities and experiences to explore at UBC?
UBC is a unique and vibrant community with many exciting places to explore. I have been fortunate to have many favorite places on campus, including the darkroom, where I can develop my film and perfect my photography skills. The atrium is another place I frequently visit, as it provides a peaceful oasis in the middle of the bustling campus. And of course, the UBC Library is my go-to spot when I need some physical copies of books or help from the librarians. In terms of communities, I have found a wonderful home in UBC Okanagan's Visual Arts Course Union (VACU), which hosts an annual donation project called Art on the Line (AOTL). This project encourages artists to donate their work to raise money for the Fine Arts program. As a member of VACU, I have had the opportunity to apply for travel reimbursement for short-term trips in the summer, which has allowed me to explore more artistic possibilities.
3. Why did you choose the Bachelor of Fine Arts program? What attracted you to the program and what has been your experience so far?
I started my studies at UBC as a BSC student majoring in Biochemistry, but I soon realized that my passion truly lies in the arts. I wanted to develop my skills and knowledge in a structured and supportive environment, so I decided to switch to the Bachelor of Fine Arts program at UBC. What attracted me to the program specifically was the diverse range of courses offered and the opportunity to work with experienced faculty members and collaborate with other talented artists. Since starting the program, my experience has been incredibly fulfilling, and I have learned so much from my professors and peers.
The program has challenged me to push my creative boundaries, exploring the boundaries between photography and sculpture. UBC has provided a life-changing option for me with the opportunity to pursue my passion in the arts. This program has solidified my desire to continue exploring the fine arts and has set me on a path toward a career that I am genuinely passionate about.
4. How will your studies in the Bachelor of Fine Arts at UBC Okanagan help you achieve your career goals?
My current career goal is to work as a full-time artist. The Bachelor of Fine Arts program at UBC Okanagan has been resourceful in providing me with the knowledge and skills I need to achieve this goal. One of the program's key benefits is that it offers fine art courses in various fields. Aside from that, because I am also minoring in Art History, I have also gained a deeper understanding of the history of modern galleries and curatorial practices, which will be essential for my future work. The program also provides many opportunities to gain practical experience in the field. For example, I have been able to volunteer for various gallery events and exhibitions through the school's resources. Through these experiences, I have developed more connections with people in the arts industry every year and better understand what it takes to succeed in this field.
5. Have you had the opportunity to connect with people of different identities/experiences from you? How have these diverse connections impacted your experience?
I've had several opportunities to connect with people from diverse identities and experiences during my time here at UBC. As an Asian international student and a member of the LGBTQ+ community, the safe space provided by UBC has been crucial in enabling me to form meaningful connections with people from different backgrounds. I met some of my friends from the UBC Pride events and indigenous gatherings. These experiences have helped me to feel more comfortable expressing myself and connecting with others who share similar experiences. In addition to personal connections, UBC has given me the confidence to advocate for the benefits of minorities on campus. One of my recent projects involved collaborating with various minority groups to highlight our shared vulnerabilities despite cultural and racial barriers. This project was well-received by participants and viewers alike and has helped to foster a sense of community and understanding among diverse groups at UBC.
6. Share a memory or a moment in time when you remember feeling validated that you chose to attend UBC. Could be a favourite event, a successful project in the classroom, or something you did with a club or community organization. What about that memory affirmed your choice to come to UBC?
One moment that particularly stands out to me was when I completed my first photo project during my first year of traditional darkroom learning at UBC. Despite the challenges posed by the COVID-19 pandemic, which required me to develop all my photos and prints in my own bathroom, I was determined to create something that would truly showcase my photography skills. I decided to frame all my photos, taken with a 4×5 film camera, onto a roll of kitchen towel to juxtapose the fragility of our daily lives with the power of images to capture and preserve those fleeting moments. When I presented my project for final critique in person, my peers and professors were impressed by the creativity and thoughtfulness of my work. This experience affirmed my choice to attend UBC and reminded me of the incredible opportunities and resources available here. It motivated me to continue to pursue a professional career as an artist.
7. You're an International Peer Mentor for the UBC Okanagan campus. What has that experience been like? What are your goals as a mentor for other students?
As an International Peer for the UBC Okanagan campus, I have had the privilege of supporting and guiding international students as they start their university experience. While this enriching experience is still ongoing, I have been able to use my experiences to help new international students such as introducing campus resources and connecting them with available opportunities.
One of the things that I am particularly proud of is my content creation work. I have created videos to introduce my faculty and our campus to new students and I am currently working on a series of interviews with faculty members, students, and professors. These experiences have challenged me to achieve proficiency in content creation, from initial structural development to final production. As an International Peer, I aim to introduce the supportive and inclusive environment UBC has for new students to thrive in. I hope to foster a sense of community and belonging among the international student population, because building connections and relationships is crucial to a positive university experience.