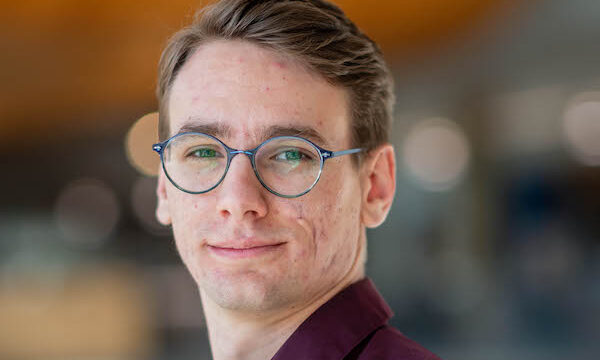 Andrej is a first-generation student from Slovakia and winner of the Karen McKellin International Leader of Tomorrow Award. He chose UBC's Commerce program, with a specialization in Finance, for its emphasis on teamwork and critical thinking and its strong career development support.
Although he didn't know anyone before coming to UBC, he joined student clubs and organizations and now has many close relationships within the UBC community. UBC's innovative learning approach and the strong support network that he has built for himself has made him confident to face the future.
UBC is full of opportunities to connect and engage, both in and out of the classroom. What opportunities have you seized, and how do they enrich your experience here?
One of the first opportunities I seized at UBC was Jumpstart, an orientation for first year students. I consider Jumpstart to be an important element of the start of my journey at UBC as it allowed me to meet students and faculty from my program right at the beginning, some of whom are still good friends two years later.
I also found joining student clubs and organizations to be a great way to meet like-minded people with similar interests while developing my knowledge and skills in an area I am passionate about.
For example, I met many proactive and entrepreneurial people passionate about creating social impact at Enactus UBC, where I served as a Project Director of Impel Consulting, a pro-bono consulting club that provides services to local non-profits, charities, and social impact enterprises.
At UBC BizChina, I combined my passion for business and Chinese culture and language. I also developed my communication skills when looking for speakers for our educational and networking events.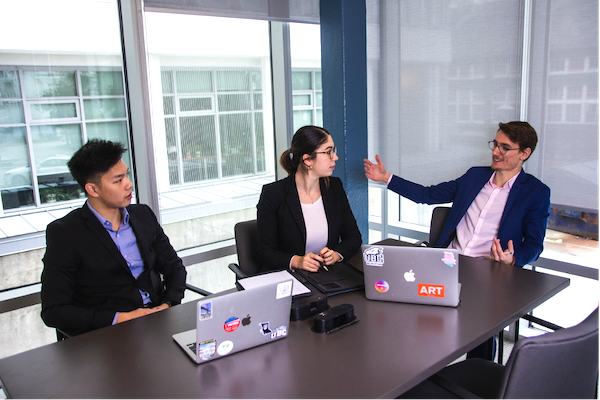 UBC is a mosaic of people, experiences and locations that come together to make it unlike anywhere else. What are some of your favourite places, communities and experiences to explore at UBC? 
One of my favourite things to do on campus is to enjoy a cup of espresso at Loafe Café. I like the café's location in the centre of the campus, which is a great spot to meet people and observe everyday life. I also enjoy meeting friends for group study sessions at Sauder School's library or meeting rooms. Finally, I consider large events such as the AMS Block Party a great opportunity to have fun with friends and meet new people. I certainly feel more connected to the wider UBC community by participating in these events.
What made you choose your area of study? What about Commerce at UBC do you think sets it apart from similar programs at other universities?
I chose UBC's Commerce program because it would allow me to get a strong foundation in multiple business disciplines while building an expertise in one of them by specializing in Finance. What sets it apart from business programs at other universities is its strong emphasis on teamwork and critical thinking, its world-class faculty from a variety of backgrounds (both academic and people directly from industry), and its strong career development support and services.
How has receiving your award opened up opportunities for you?
It allowed me to meet people who have done incredible things for their communities prior to joining UBC and who have continuously impressed me with their vision for our world, hard work, and impact that they have on the UBC community and beyond. It also gave me an opportunity to develop my leadership skills through helping younger students navigate their journey at UBC and leading personal development sessions for fellow scholarship recipients. Ultimately, I am very grateful for this award as it put an incredible financial burden off my family's shoulders and provided me with a strong support network and opportunities for growth. Many of my closest friends at UBC come from the same scholarship cohort.
As a first-generation student, what about UBC makes you feel prepared and empowered to create your own future?
The high quality of education and the myriad of opportunities that we have at UBC make me feel very confident about my future. The innovative approach to learning has helped me became an independent self-directed learner, which gives me a lot of confidence to face unknown situations and pursue different types of upcoming challenges. I especially appreciate the part of the Commerce curriculum that focuses on self-exploration and career planning, as it helps me constantly reflect on my values, passions, and strengths, and inform my future career and personal choices.
In what ways does UBC feel like home to you?
As cliché as it may sounds, it is the people I have met and created close relationships with who make UBC feel like home to me. Therefore, I want to encourage all new students to put a lot of emphasis on making friends and building a strong support network right from the beginning. While it was initially quite challenging for me as I did not know anyone before coming to study at UBC, there is nothing to lose when approaching new people who are—based on my experience—very welcoming, friendly, and inclusive.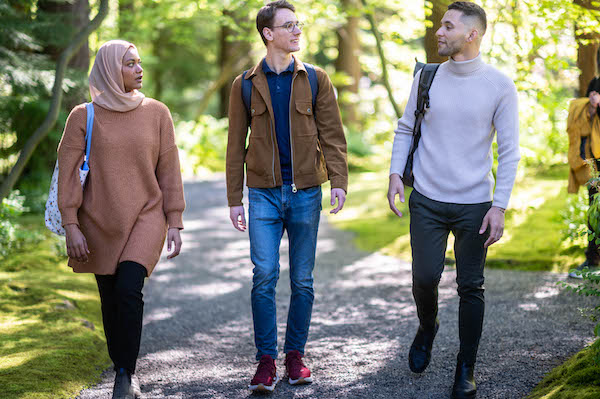 The location of UBC's Vancouver campus is truly unique, with its mix of urban settings and natural retreats. How does our location impact your experience here, and what are some of your favourite ways to take advantage of it?
I really appreciate UBC's location because it allows me to immerse myself in a variety of experiences and social settings. I love to explore different restaurants and coffee shops around Vancouver with my friends, which is very easy given UBC's location. It is also great that we are located relatively close to downtown which regularly hosts many cultural and sports events that I try to take advantage of as much as possible. I also enjoy simply walking around the nearby forests and occasionally traveling further away from Vancouver for hikes with breathtaking views.