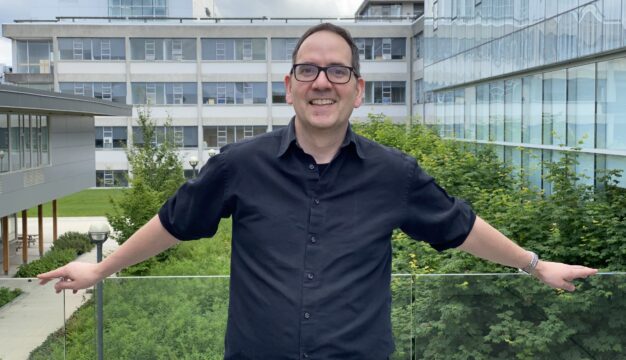 Dr Peter Ostafichuk – or just "Dr Pete" to the Engineering community – says his favourite part of his job is shaping his students' university experience.
As well as teaching two introductory courses to first-year students, his research allows him to collaborate with world-leading companies on sports aerodynamics, designing better soccer balls, bikes, and apparel. Now working on his third book, Dr Pete is researching how to deliver high-quality education while minimizing costs for students. Alongside all of your UBC profs, he's excited to take his instruction online, and is ready to teach the new skills such as digital communication and collaborative virtual design that you'll learn during your first term.
Which classes do you teach to first-year students?
I teach two Introduction to Engineering courses. Engineering is one of very few disciplines where students enter a professional university program right out of high school. A big focus of what we do in the courses is to help students understand what engineering is actually all about, how engineers think and behave, and to get students ready for their chosen specialization in second year and beyond. This goes well beyond just understanding content or passing exams.
What does online learning look like for your classes?
The first-year courses I teach were created about five years ago. We created these courses in what's called a flipped-classroom model, which means that the content was already being delivered online through carefully prepared videos, and the class time is used mainly for discussion and applying the content. To teach online is a small step for us, as all of the content is ready and we are only shifting in-person discussion and activity from the physical classroom to online discussion and activity.
We were also already using online quizzes, polls, and other tools in our physical classes, and that will continue in the online classes.
What can students can expect from online teaching?
I am a strong believer that classes need to engage students and offer something more than can be captured by a video recording. This doesn't change for me whether the class is in person or online. In my classes, you can expect to work in teams and to engage in discussions with your teammates. You can expect that all teams will have an opportunity to share their perspectives and to contribute to the class discussion.
I just feel so fortunate for the opportunities I've been given at UBC, and I try each day to use those opportunities to make a positive impact.
Why do you think students should still pursue a UBC education even if their first term is online?
The world we live in has clearly changed, and I suspect that although things will eventually return to something close to where they were before, I also think a lot of the adaptations we have made will stick with us. There are a lot of conveniences and advantages that come from learning and working online. There are a host of skills, including remote learning, online teamwork, digital communication, collaborative virtual design, and more that are going to be so much more in demand in the coming years. These skills come with practice, and I think an online education gives a great opportunity to develop them.
Because most fall semester classes will be digital, students may be feeling worried about their first term. What would you say to them?
I can fully understand students being anxious about beginning their university experience online. At the same time, having fall classes online actually creates a smoother transition in many ways; students can become familiar with their programs and courses, with their classmates and professors, with the academic expectations of university, and so on. And they can do that all from familiar surroundings. The thrill of exploring a new campus, and potentially a new city, province, or country will still come, and, when the time arrives, I don't know that the excitement will be in any way diminished due to a fall term online.