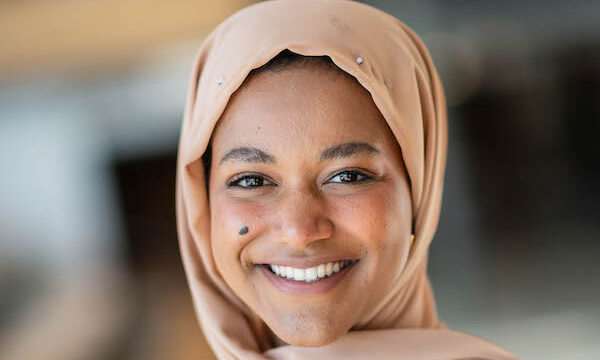 At UBC your learning doesn't just happen in the walls of a classroom.
There are plenty of opportunities for you to experience hands-on learning. For Afnan, a student from Toronto who studied Applied Animal Biology, experiential learning was a core component of her studies. She was a field research assistant in Northern BC, assisted in a biomedical engineering lab and worked with the Beaty Biodiversity Museum's cowan tetrapod collection. All of these hands-on learning experiences helped shape her degree and have allowed her to see what she's learned directly applied to the community.
1. UBC is full of opportunities to connect and engage, both in and out of the classroom. What opportunities have you seized, and how do they enrich your experience here?
I have had many undergraduate research opportunities. In my third year I was a field research assistant for an ornithology PhD project. I had the chance to drive up about 9 hours to North BC, live in a camper van, catch sapsuckers, take DNA samples and release them back into the wild. I learned what research entails and worked through some challenges like freeing a camper van stuck in the mud! It was an incredible experience as it was a way to get some research experience while exploring beautiful areas of British Columbia that I would not have the opportunity to visit otherwise.
I worked at the Beaty Biodiversity Museum digitizing their tetrapod collection. It was a great experience getting to work alongside such a supportive team and learning so much that directly applied to my classes in animal biology. I had a hands-on experience photographing, preparing, and studying the anatomy of animal specimens.
I also had the chance to assist with a research project in a biomedical engineering lab. I had the opportunity to do some cell work, synthesize DNA, and apply what I learned in my genetics classes in the lab setting!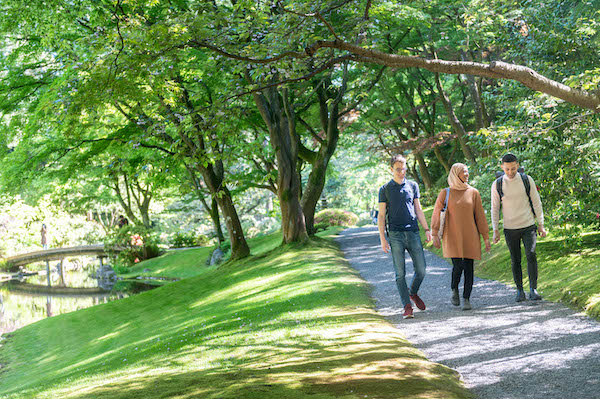 2. UBC is a mosaic of people, experiences and locations that come together to make it unlike anywhere else. What are some of your favorite places, communities and experiences to explore at UBC?
I am a huge fan of the many traditions we have at UBC. My favorite is the UBC polar bear dip. Experiencing running into ice cold water with thousands of other UBC students at the end of winter term is a cathartic experience. The UBC community school spirit really comes out during our traditions. All the traditions are filled with the funniest memories for me. When doing Day of the LongBoat, which is the largest voyageur canoe race in the world, we took so long to get back to shore that we had to get help from the coast guard and were lapped by the next race that started after ours!
It's really special getting to experience these traditions with peers, colleagues and friends. Although on the surface these traditions may seem just for fun, they actually form a lifelong bond through making memories together that we continue to laugh at years later.
My favorite place at UBC is the Japanese Nitobe Memorial Garden. It was the first place I visited on campus with the new friends I made in my first year living in Orchard Commons. From there I was able to expand my community through the different involvements I had on campus.
3. What made you choose your area of study? What about Land and Food Systems at UBC do you think sets it apart from similar programs at other universities?
The Faculty of Land and Food Systems is a smaller faculty which allows it to be very close knit. It had a phenomenal community and all the staff, students, and faculty are extremely friendly. The Applied Animal Biology Program is one of the twenty-six interdisciplinary programs offered at UBC. It builds research into its courses and has prepared me to excel in any discipline. Through the program I was able to take a minor in Philosophy and use what I learned in my philosophy classes. I was also able to work in a Biomedical Engineering lab – and I am by no means an engineering student.
The program prioritizes hands-on experiences. I took a course where we went on field trips visiting various farms around British Columbia before going camping! It was a unique experience. We camped with our professor, sang songs, cooked food, had a camp fire, and swam in the lake. I am still friends with my peers from that class because of this experience.
Another thing that makes the Faculty of Land and Food Systems special is seeing what I learn in the classroom directly applied to our community. It has courses that are supplemented with undergraduate research opportunities and community projects where we connect and work with community members to address a specific challenge. You don't have to source experiences outside the classroom to get a holistic learning experience, instead they are built into our classes. It emulates what working in a real-life industry outside of school would look like and adequately prepares you to be adaptable and take on any challenge.
4. How have university programs/offerings helped you meaningfully engage with fellow students?
The way my program is set up, we do a lot of group work and community projects together which has resulted in strengthening our connection with each other. In spending so much time together working towards a common goal I've made strong connections that have extended beyond the classroom.
The Faculty of Land and Food Systems has student programs such as the LFS Academic, Careers, and Engagement team (LFS ACE). LFS ACE is a group of students that lead programming to support other students by hosting session to learn more about LFS majors, research, graduate school, and more!
I have also met extraordinary student leaders through my involvements. I had the opportunity to be on the planning committee on the Student Leadership Conference and saw the hard work that went into such an extensive programming. Taking part in enabling resources and supporting other students is one of the many ways I've meaningfully engaged with students.
5. In what ways does UBC feel like home to you?
I came to UBC for the ocean since the great lakes just weren't salty enough. I left Toronto when I was 18 years old and did not know anyone in Vancouver. It was big move to make but in doing so, throughout my years at UBC I have made connections that make UBC home for me. It has people I love and have supported me, encouraged me to take risks, to learn from them, and grow. At UBC I received a gigantic amount of support from my faculty, supervisors, peers, and resources. I realized this when my family visited me and I was pointing out of all the locations where I made endless memories on campus. I received immense support during a life changing transition at UBC, and it was the people who have supported me every step of the way that make UBC feel like home to me.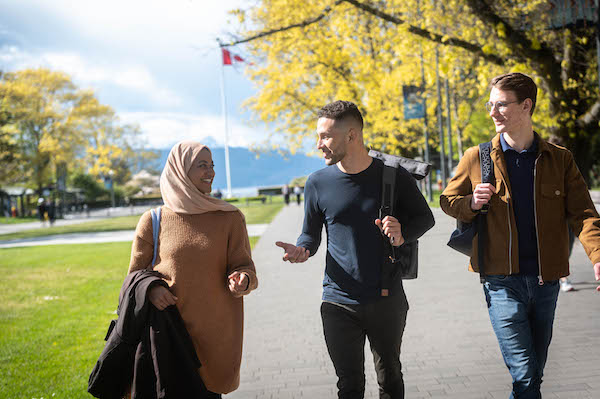 6. The location of UBC's Vancouver campus is truly unique, with its mix of urban settings and natural retreats. How does our location impact your experience here, and what are some of your favourite ways to take advantage of it?
The nature at UBC is unmatched! I am in constant awe that I go to such a beautiful campus. Walking down main mall, I am mesmerized by how green and stunning our campus is. It's incredible to have beaches on campus. Especially with the ocean being a huge factor in why I chose Vancouver, knowing that I don't have to leave campus to look out onto the ocean or go to the beach is amazing.
UBC's location fosters unique traditions that are unlike any other school. Growing up in a large city it was very important for me to have the opportunity to experience city life. Vancouver is a bustling city with so much to explore on every corner, whether it be the latest restaurant or a new hiking trail. One day I went to a hike in Stanley Park in the morning and a concert that same evening – why should I have to choose when I have the best of both worlds?!