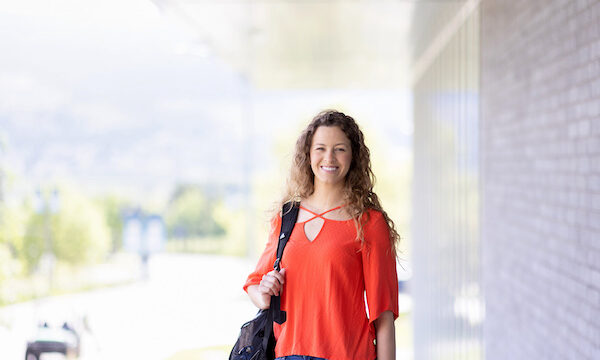 Hellen came to UBC Okanagan from Campinas, Brazil on a volleyball scholarship and quickly found a community amongst her team members as well as the international community on campus. She loves the smaller campuses' community feel and the closer, mentor-like relationships she is able to have with her instructors.
Hellen studies Civil Engineering and, in addition to volleyball, she is busy as president of the CSCE, the Civil Engineering club at UBCO, and takes advantage of student work opportunities. She says that it's the people that have made her feel so welcome and at home on campus. She has decided to finish her degree at UBCO before moving around the world to play volleyball professionally.
UBC is full of opportunities to connect and engage, both in and out of the classroom. What opportunities have you seized, and how do they enrich your experience here?
One of the things I love the most about UBC Okanagan (UBCO) is the small campus (compared to most universities I have seen) which makes me feel part of the community, and it makes it easier to reach out to the professors and students outside of class time. Professors really know every student they have in the class, especially after the first year. Also, the amount of work opportunities available for students on campus has been making a lot of difference for me since my first year, helping me financially while I balance my school and volleyball activities.
UBC is a mosaic of people, experiences and locations that come together to make it unlike anywhere else. What are some of your favourite places, communities and experiences to explore at UBC?
Other than the gym court, which is always a therapeutic place for me, one of my favourite places on campus is the water fountain in front of the Administration building, especially in the beginning of the summer when the flowers start to show up and the sky is blue, and in the winter when it is full of snow; that place is gorgeous.
I love the number of international students we have at UBCO and all the different clubs that englobe each international community, and one of my favourites is the LASO (Latin American community) because that is where I met many other Brazilian students. I am also very connected to the Engineering Society because of all the interesting events they create to connect us with the industry, and I am looking forward to doing some great work as the new president of the CSCE (Civil Engineering club at UBCO).
What made you choose your area of study? What about Applied Science (Infrastructure Management) at UBC do you think sets it apart from similar programs at other universities?
I chose Engineering because I have always loved everything that involves calculations, and I was very curious to understand how tall structures are built, so I decided I would be the one to work on them one day.
I feel the instructors at UBCO are actual mentors if you give them the opportunity to help you and give you advice based on their own experiences, and this is the main difference to the other universities I know.
UBCO also has a great reputation around the world in terms of research, and that was one of the things that attracted me here.
Tell us about your experience playing volleyball. Has it led you to make any unlikely connections? Has your experience in volleyball influenced other aspects of your life at UBC?
Volleyball has been my main source of connection since I was a kid. It opened doors for me to make friends all around my own country (Brazil), in other countries, and even in other continents. It opened doors for me to learn how to overcome countless adversities, to learn about different cultures, to work in a team, to deal with different people, and all by myself, since my parents were not physically present most of the time after I moved away from home to play when I was 15 years old.
Among all the experiences volleyball provided me, the opportunity to live away from home with other teammates made my life way easier when I came to UBCO, where I had to do it all again, in a different country.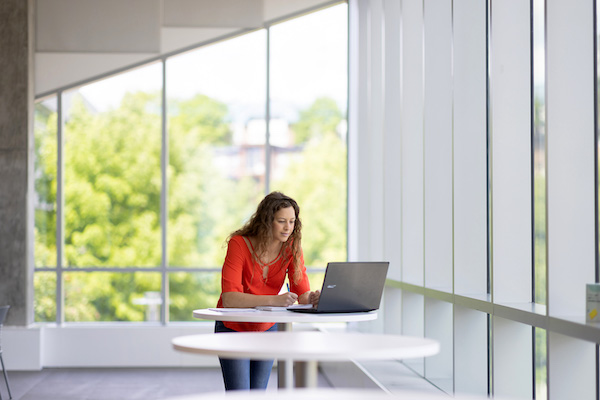 The location of the Okanagan campus is a breathtaking natural playground. How does our location impact your experience here, and what are some of your favourite ways to take advantage of it?
I love the outdoors, and the landscape in Kelowna is very different from what I was used to in Brazil, especially in the winter. I love the well-defined seasons here, and I try to be outside as much as I can; in the summer I want to be outside because I love the warm weather and the colourful nature, and in the winter I do not like the cold, but I still want to be outside because I find the snow pretty and fun.
Staying outside is very relaxing to me, but I also love when I have time to go play beach/grass volleyball and to go snowboarding, these have been my favourite activities up here.
In what ways does UBC feel like home to you?
The international students in the community remind me that I am not the only one going through this challenging experience of living abroad and pursuing a degree in a different language; the other engineering students remind me that I am not the only crazy one who chose engineering and depends on caffeine to survive (:D); my teammates remind me that I am not the only one having to manage school and volleyball to achieve my goals here; and my co-workers remind me that I am not the only one having to manage school and work here.
In short, I can say the people here make me feel very welcome, comfortable, and happy with my choice to come and do all of this at UBCO.