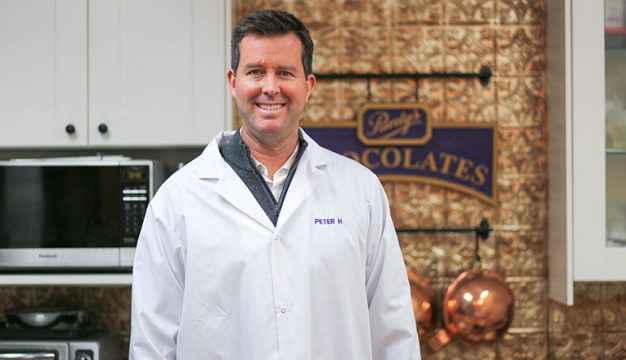 When Peter Higgins arrived at UBC, he had his mind set on becoming a doctor. But after discovering the Faculty of Land and Food Systems, he found his niche that would lead to an exciting career with Purdys
You can find UBC Food Science alumnus Peter Higgins in many places at Purdys Chocolatier, where he holds the titles president and chocolate scientist. He might be in the lab and test kitchen, sampling one of the chocolatier's latest creations; he could be at his desk, strategizing the company's annual goals; he might be in a meeting, brainstorming the next big flavour combo; or he just might be away from the office, on the other side of the world, working in the fields with cocoa farmers.
Working at a chocolate factory
On the day that we visit the Purdys chocolate factory, in Vancouver, BC, Peter is fresh from a morning meeting, and takes us on a tour through the manufacturing facility. He chats with employees as he weaves among equipment – including a vat of chocolate big enough to swallow up a small car – and strolls past a steel cart holding Charles, a three-foot-tall chocolate bunny.
He points to the subtle sheen on the chocolate-covered fudge eggs that rattle past on a conveyor belt and, casually dropping all sorts of scientific terminology, explains how to achieve a shiny surface texture, and the importance of making chocolate that "snaps" and never crumbles.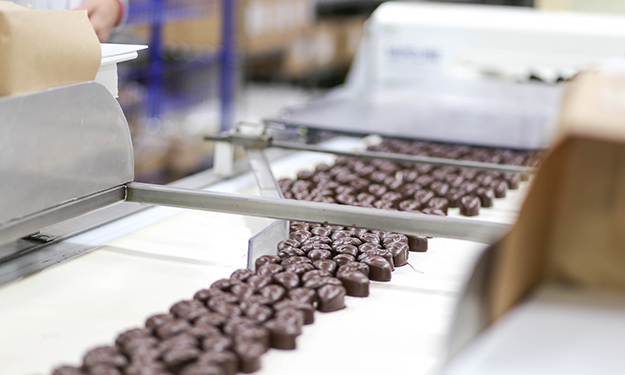 He acknowledges that a lot of what he learned in his UBC Food Science degree has proven indispensable in his career at Purdys. "I travel to places like West Africa to visit the farms that we buy our cocoa from, so that's a real connection back to my roots, in terms of agriculture in Land and Food Systems," he says.
Purdys only buys cocoa from sustainable farms that meet the pillars of its sustainability program, an initiative that includes fair wages for its suppliers, educating farmers, and improving living standards by installing wells and water filtration systems in the farming communities. "I get on the farms, and we're part of teaching the farmers pruning, agriculture, communication, and leadership practices. It's that background knowledge that I have from lots of soil science classes and things that I had to take as part of my degree – it's a very useful connection."
What does a chocolate scientist do?
Peter's technical knowledge base comes from his Food Science background at UBC, where he especially enjoyed courses with applied components, "that took all of your knowledge and made something that you physically had."
At the Purdys bi-weekly chocolate development meetings, he draws on his expertise to inform his new ideas and feedback on products in development. "I get involved very much with the chocolate development: invention and creation of new flavours, working with our team," he says. "I can add in my two bits about why a recipe worked or didn't work based on the technical background. It's really a team approach. A lot of ad hoc stuff, too. It's chocolate – we've got to have some fun with it!"
Finding your way at UBC
Peter has been with Purdys for 19 years, but when he arrived at UBC as a first-year student, he was headed in a different direction. "I was going to be an ophthalmologist, and I remember it so well that everybody in my Biology lab knew exactly what type of doctor they were going to be," he says, laughing. But after his second year, he transitioned into the Faculty of Land and Food Systems (formerly the Faculty of Agricultural Sciences) to study Food Science. "You start to learn about other opportunities. I went to meet the Food Science department, and it was about process and taking science and applying it to something real life, and it really excited me."
After changing course, he didn't have a specific job in mind, but he knew two things for sure: "I'm going to love it, and I'm going to be great at it." He says these tenets are what led him to his career in chocolate.
How university shapes your future
Peter looks back fondly on his time at UBC, recalling the significant role that living on campus and "the camaraderie, the people you meet" played in his university experience. "You're at a time of your life when you're meeting people from every different culture, you're getting to work and live with people that all have equal passion."
Participating in boards, councils, and intramurals were meaningful experiences for Peter outside of the classroom. He says that working with people and understanding their motivations and ideas helped him to develop his values and passion for working with a team.
When asked about how students can find their dream job, he says it takes time and experimentation. "Try not to put too much pressure on yourself to have all the answers right away," Peter advises. "Try a lot of things, and try to find something you like. If you don't find something you like, don't be afraid to try something else." Not everyone can be a chocolate scientist, but everyone can love what they do.
Images: Juan Daniel Leano