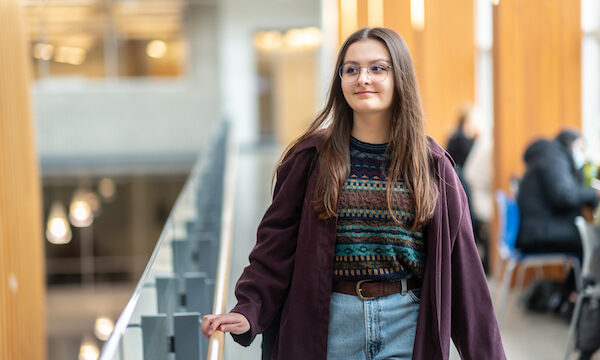 Coming from Quesnel, a small town in British Columbia, Jayden was intimated to join clubs and make friends when she first started at UBC.
It wasn't until her second semester, when she formed a band and started attending events at the First Nations Longhouse, that she realized how important it is to find friends with similar interests outside of her academic studies.
Jayden chose the Media Studies program because she's always wanted to pursue something creative and also because of the small cohort size. She found that taking the Media Studies stream within the Coordinated Arts Program made the transition to university even easier.
UBC is full of opportunities to connect and engage, both in and out of the classroom. What opportunities have you seized, and how do they enrich your experience here?
When I started my first year at UBC, I was intimidated to join any clubs because I was afraid my studies would take up all of my time. However, I learned that it is important to make time for yourself. I joined the Blank Vinyl Project (a UBC club that brings live music to campus) at the start of the year but did not utilize any of the events until the second semester. I ended up forming a band with three other extremely talented musicians, and we have mainly been playing covers of some older songs we like. The band is quite easy-going, but it is nice to form relationships with people that share similar interests outside of an academic setting.
UBC is a mosaic of people, experiences and locations that come together to make it unlike anywhere else. What are some of your favourite places, communities and experiences to explore at UBC?
The First Nations Longhouse often hosts various events throughout the year. I always make an effort to attend, as the community is amazing and the events are entertaining. Since I participated in Jump Start, I was able to go to the early events at the Longhouse to get to know other students, eat some good food, and play some games. The Longhouse is by far one of my favourite places to be, and the staff offers many opportunities to contribute to the UBC community and to better your education.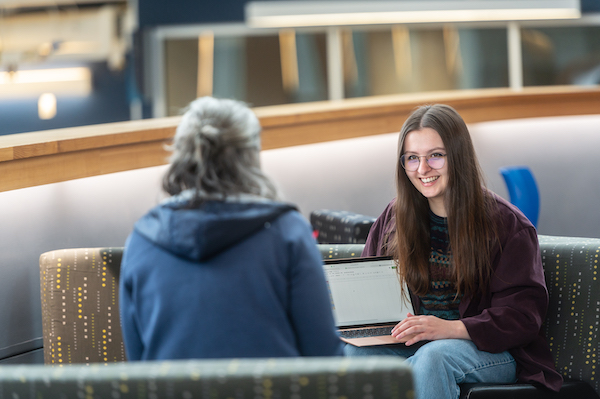 What made you choose your area of study? What about Media Studies at UBC do you think sets it apart from similar programs at other universities?
I have always wanted to pursue something creative. Media Studies encapsulates everything I am interested in—music, creative writing, filmmaking, photography, graphic design, and other similar classes. Another aspect of Media Studies that I appreciate is the small cohort size. Each year the program only accepts about 40 students, which I find has resulted in a tighter-knit group of friends and exposure to a lot of extremely creative people that have an abundance of intriguing ideas and knowledge to share.
UBC also offers the Coordinated Arts Program, and since I am in the Bachelor of Media Studies program, I was involved in the Media Studies stream with CAP. As a first-year program, CAP is extraordinarily useful (even if you aren't in BMS) and offers smaller classes that make the transition to university easier.
UBC is home to a diverse community, where people from all different backgrounds and experiences bring unique perspectives to the student body. You indicated that you identify as Indigenous. How has your identity shaped your experiences at UBC?
I noticed that many students are unaware of the Indigenous issues in Canada. It opened my eyes that many of these Canadian issues aren't super known outside of the country. I found that speaking out about my identity and being willing to answer people's questions provides a safe space for people to ask about Canada's history and the personal affects from someone who has direct ties.
In other words, I have had numerous people ask me questions about these issues because they know I am Indigenous. It is important to me to shed light on these instances, and I am glad to share the information I know with others, especially if they do not know where to go or whom to ask. Although I still have a ways to go, UBC has allowed me to expand my understanding of the importance of community and continuation of culture.
Have you had the opportunity to connect with people of different identities/experiences from you? How have these diverse connections impacted your experience?
During the first semester, I became very close with my Residence Advisor. He is a Hispanic student from Los Angeles, and I am an Indigenous student from Quesnel. Although our hometowns are wildly different, we share a lot of similar experiences. We bonded over the fact that he doesn't feel Hispanic enough to celebrate his culture and that I share the same feeling about being Indigenous. In reality, it is still our heritage to be proud of, so there is nothing wrong with celebrating the pieces of who we are, regardless of our imposter syndrome.
It was relieving to connect with someone over a struggle that feels so personal. I discovered that this feeling is common among many people, and I find comfort in the fact that others share this experience with me. That conversation we had opened the door for various other difficult conversations. He asked me what I knew about the Indigenous peoples of Canada (such as residential schools, ways of knowing, and cultural practices), and I was able to ask him about his home experiences as well. I have found that UBC has granted me the opportunity to learn a great deal from the students I meet and that the knowledge I accumulate outside of classes is just as valuable.
In what ways does UBC feel like home to you?
When I moved to Vancouver, I believed that Quesnel wouldn't be "home" anymore, just a place I would visit. After I finished my first year, I realized I couldn't have been more wrong. A lot of people shared similar experiences with me (albeit from different cities), and I was able to regain a sense of familiarity through them. Although Quesnel was the place I grew up, UBC is the place I will move forward.
Once you leave everything you are familiar with, you are met with the opportunity to reflect on what you want to be and what you want to do. This is why it's so important to branch out and participate in the things you love. I joined the Blank Vinyl Project because of my passion for music, and I would visit the First Nations Longhouse frequently because engaging with these communities gave me a home away from home.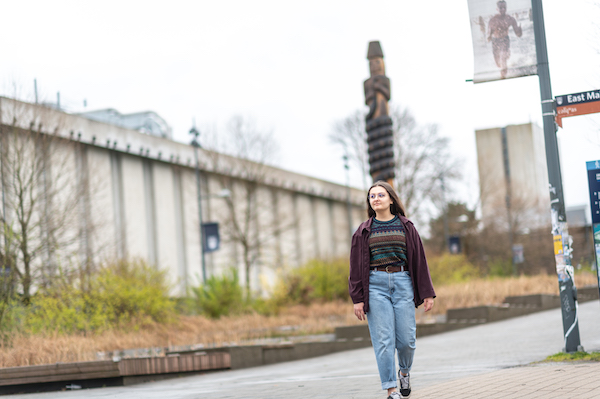 The location of UBC's Vancouver campus is truly unique, with its mix of urban settings and natural retreats. How does our location impact your experience here, and what are some of your favourite ways to take advantage of it?
I was nervous that moving to UBC would be a difficult adjustment since Vancouver is much larger than Quesnel. However, as I adapted to the different environment, I discovered that UBC isn't so intimidating after all. It is often said that UBC is like a small city, which is honestly true. Because of this, I feel like I can explore campus and not be caught in a jungle of people (compared to Downtown Vancouver).
I enjoy walking around and being able to see the ocean from various points on campus, which is a huge advantage of UBC. Another advantage is the availability of food services and shops on campus so you don't have to go into town to get groceries. But having said that, the downtown core is close enough that if you have to go off campus to grab something, it isn't too far out of the way.