Rajalakshmi was born in India but grew up across three different countries in the Middle East. Finding her own identity and fitting into a new community has always been a challenge and answering the question "where is home?" has always been tricky. When choosing a university, she was looking for a welcoming and diverse environment where she could feel at home and contribute to the community.
Before starting at UBC, Rajalakshmi took part in Academic Essentials – a free online academic readiness course for all new first-year students at UBC Vancouver. Academic Essentials helped her feel more confident in what she knew and gave her access to resources and support that made the transition to university smoother.
She's now a Program Assistant for Academic Essentials, giving her a behind the scenes perspective on the program.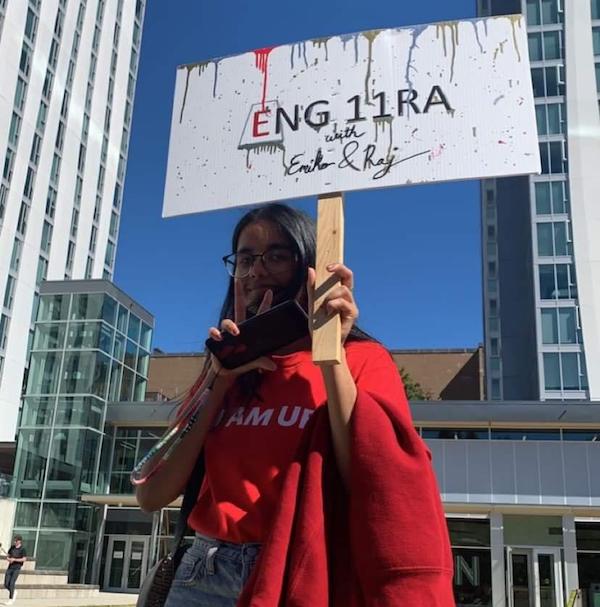 1. Why did you choose to accept your offer to UBC?
When I received my offer from UBC, I explored the university's academic success as well as the community that I would be a part of if I chose to accept my offer. The multicultural aspect of Vancouver and the various initiatives taken by UBC to create a diverse and inclusive community were the perfect match for my values. I knew that I would be able to connect with peers from all over the world and find a supportive community that would make me feel at home.
Apart from that, I would love to pick academia as my future career path, and I was excited to learn about UBC's reputation as a research-intensive university. The opportunity to be involved in cutting-edge research and development and further explore my interests was too good to pass up. I was also aware of the global engagement of UBC and the chance to interact with students and academics from many countries and take part in global projects and programs was quite alluring.
As an international student who was very worried about moving alone and navigating aspects of university life, knowing that UBC has a wide rage of campus resources and support – ranging from mental health resources to tutoring and academic support – was very reassuring.
2. Why did you choose the Bachelor of Applied Science program? What attracted you to the program and what has been your experience so far?
Choosing the Bachelor of Applied Science program at UBC was a straightforward decision for me. Growing up in the Middle East, I was exposed to the petrochemical industry and its significant economic and industrial development. However, engineering as a future career path only came into my mind while I was thinking about the water we drink and ended up exploring the world of water treatment. I was intrigued by the vital role that engineers play in designing, developing, and building dependable and resilient water treatment systems.
As I grew up I was also very intrigued by the medical field. Having seen family members undergo surgeries and seeing how their recovery time was affected by the different techniques and devices used, I realized that I would enjoy focusing on advancements of medical technology and devices rather than being involved in direct patient care. When I came across the Chemical and Biological Engineering program at UBC while applying to universities, it seemed like the perfect opportunity to explore and be a part of an innovative project-based learning system that involves theoretical and hands-on experiences while combining my interest in medicine and biotechnology with engineering. Seeing how welcoming and eager the faculty members and upper years were to share their student experiences and projects they were working on, also played a key role in my decision.
So far, my experience has been incredible, and I couldn't be happier with my decision. Despite the heavy workload I've had many opportunities to apply my learning into hands-on experiences. The professors put in a lot of effort and care into their courses, and created a supportive community that has helped me grow both academically and personally.
3. Before you started your first-year, you took part in Academic Essentials. What was that experience like?
Moving to a new country made my transition to university even more daunting. I was a little nervous about what to expect in terms of academic rigor and what would be expected of me as a student. My high school curriculum was quite local and not as globally recognized, so I wasn't sure where I stood in comparison to other students. Additionally, my senior year of high school transitioned to being online due to the pandemic which made me realise how challenging it can be to adapt to new learning styles and patterns.
This is why I was grateful to have taken the Academic Essentials courses before diving into my first year. It was a great way to get a taste of university life and explore different aspects of academic work. I was able to see how the same content taught to me can be approached and understood in different ways. The feedback and support from the peers and mentors in the program helped me feel more confident in what I knew, while allowing me to learn and grow.
Being an international student, I didn't know anyone at UBC, and not having my family and my support system around made me feel homesick and anxious. That's where, the Live Well to Learn Well program came into play as a great wellness resource to help me adjust to living alone and maintaining a healthy lifestyle while keeping up with my studies. It gave me access to resources and support that made the transition to university life a lot smoother.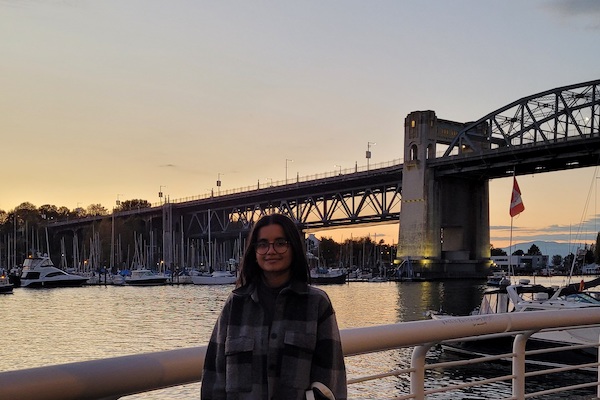 4. How did Academic Essentials prepare you for your classes and university life?
Starting university was quite an overwhelming experience, especially because I was unfamiliar with new online learning tools like iClicker and Piazza. However, I was grateful to have platforms like Canvas and WebWork in Academic Essentials which meant one less thing to worry about on my first day of classes.
Even though I had just completed the content for courses like math in high school, the Readiness for University Mathematics course helped me set expectations for what was to come in various courses I had to take as a part of my degree. It gave me a an of how I would be tested and what I can be expected to learn in most of my courses.
The most significant challenge I had heard about university was time management and self-discipline. Most of the time there are no reminders, and it is up to me to set my own pace and ask for help when needed to make sure that I am not falling behind. These online, self-paced courses allowed me to become more self-disciplined and improve my learning style. It was a great way to enjoy my summer while getting an idea of how some of my class content might look, and it helped me make a smoother transition from high school to university.
5. You're just started a position as Program Assistant for Academic Essentials. Why were in interested in the job?
Starting this new position as Program Assistant for Academic Essentials is really exciting for me! As a student who moved across the globe to start my studies at UBC, I'm passionate about helping others have a smooth transition to university.
It's really exciting to be involved in the course development and content filming process, especially because I've taken the course myself before. The team I'm working with is super creative and supportive, and they genuinely value my input and opinions. It feels like a safe space where I can freely share my suggestions.
There are so many exciting and important modifications happening to these courses, particularly in terms of student engagement, and I feel lucky to be a part of it all. The Learn Well to Live Well course, has a really exciting update this year with a financial literacy module. As an international student, I know firsthand how tough it can be to navigate adult life, especially when it comes to finances. Coming from a country that does not have a tax system similar to that of Canada, I appreciated the resources UBC provides. Therefore, I think this module will be super helpful for incoming students looking for a crash course in adulting 101.
Most importantly, acknowledging that the campus is situated on the traditional, ancestral, and unceded territory of the xwməθkwəy̓əm (Musqueam) People and learning the history of First Nation and Indigenous communities is very important and crucial to everyone's time here. It's really great to see that reflected in the Reading and Writing at University course which incorporates decolonizing and Indigenous elements of literature.
On top of all this, I'm enjoying the opportunity to get a more technical experience by learning about the Canvas infrastructure and other learning technologies that support multiple disciplines at UBC. It's fascinating how these tools facilitate learning across different areas of study.