Physicists study the material world and the energy that drives it, from the smallest particles like neutrinos and Higgs bosons, to the very largest structures in the universe, and ultimately the universe itself.
This program is also offered at UBC's
Okanagan Campus
Find out more
Why this program?
Study at one of the top physics departments in Canada with an outstanding international reputation.
Canada's National Laboratory for Particle and Nuclear Physics, TRIUMF, is located at UBC.
Electives offer training for entrance into medicine, law, education, business, or architecture.
Visit program website
Campus: Vancouver
Faculty: Faculty of Science
Degree: Bachelor of Science
Length 4 yrs
Co-op Yes

You can combine your studies with full-time, paid work at top local and international organizations.

Honours Yes

You can study intense specialization in a single field.
Physics, which deals with matter and energy and the interactions between the two, allows us to understand phenomena that take place around us and in the universe. Physical laws help us perceive our world. Some physicists use these principles in theoretical areas, such as the nature of time and the origin of the universe. Others apply their physics knowledge to the development of advanced materials, electronic and optical devices, and medical equipment.
Physics is available as a major or honours degree, with options for a combined honours in Physics and Astronomy, which is suggested if you wish to enter a career in research. Combined honours in Chemical Physics and Physics and Mathematics are also options. When combined with proper electives, the Physics specialization is suitable as pre-training for a professional degree in architecture, commerce, education, law, or medicine. The large number of electives will enable you to obtain significant background in another field, such as computer science, applied mathematics, physical geography, oceanography, geophysics, or geology. You may wish to select a double major, which can be obtained by satisfying the degree requirements in two subjects.
Campus features
UBC is home to Canada's National Laboratory for Particle and Nuclear Physics, at the TRIUMF facility, a world-renowned accelerator for the study of sub-atomic science.
Experiential learning and research
First-year Physics classes are taught using the flipped-classroom model to ensure that you receive individualized help, even in large, lower-level lectures. The Department of Physics and Astronomy has a strong outreach program that helps run events such as the UBC Physics Olympics, the Michael Smith Challenge, and the Canadian Physics Olympiad.
Send details
Life at UBC's Vancouver campus
The Department of Physics and Astronomy is housed in the historic Hennings Building, which opened in 1947. Laboratories are generally hosted in the teaching and demo rooms of the Hebb Building and Theatre, which recently underwent renovations.
Find out more
Your future
A degree in Physics can lead to a career in medical physics, education, high technology, business, science journalism, or many other fields. The specialization will help you cultivate your ability to think logically, while also emphasizing research and communication skills. A high level of numeracy and strong computational skills are also vital to the successful completion of a BSc in Physics.
More than one third of UBC BSc Physics graduates further their studies in MSc/PhD programs or medical, law, education, or journalism school.
Program graduates
MSc candidate in Astrophysics, University of Tokyo
PhD candidate in Applied Physics, California Institute of Technology
Associate attorney, Norton Rose Fulbright Canada LLP
Software engineer, Google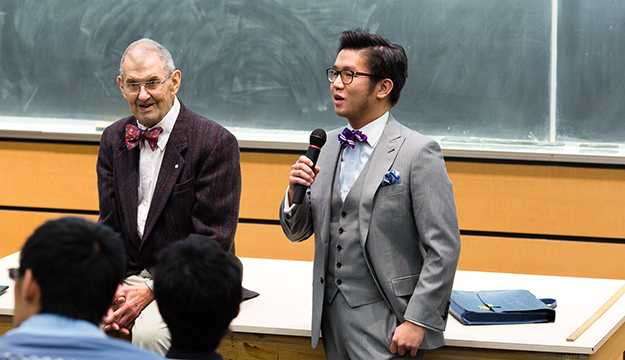 UBC stories

After graduating from UBC, Euweng found a way to pursue his love of music and physics at the same time by going on to study acoustics at the Peabody Conservatory of Johns Hopkins University.

Euweng Chan, Physics Read the full story
Program requirements
English-language requirements
English is the language of instruction at UBC. All prospective students must demonstrate English-language competency prior to admission. There are numerous ways to meet the English Language Admission Standard.
General admission requirements
IB Diploma Programme
Completed IB Diploma, including at least three Higher Level courses.
IB Certificate Courses
IB Certificate courses (Standard and Higher Level) may be used in an admissions average if you are graduating from a recognized high school curriculum that can be used as your basis of admission.
IB Math Applications and Interpretations SL, or IB Math Studies, do not satisfy the math requirement for admission to UBC's science-based programs, the Faculty of Management, the UBC Sauder School of Business, or the Vancouver School of Economics.
Degree-specific requirements:
Science
IB Math Analysis and Approaches SL or HL, or IB Math Applications and Interpretations HL (IB Math Applications and Interpretations SL, or IB Math Studies, are not acceptable)
One of IB Biology, IB Chemistry, or IB Physics
Grade 11 or equivalent Chemistry, and
Grade 11 or equivalent Physics (may be waived with grades of 5 in IB Chemistry and in your IB Mathematics course)
Note: Grade 11 Chemistry and Physics requirements listed are only relevant to students who are not completing the equivalent IB Diploma Chemistry and/or Physics courses.
For students studying outside of Canada, some examples of courses that may be accepted as Grade 11 equivalents are junior-level courses for American students, and IGCSE and O Level for those following British-patterned curricula.
Related courses
The following subject categories are particularly relevant for this degree. Consider taking courses in these areas in your junior year and senior year.
Language Arts
Mathematics and Computation
Sciences
Visit program website