Physicists study the material world and the energy that drives it, from the smallest particles like neutrinos and Higgs bosons to the very largest structures in the universe, and ultimately the universe itself. There are many options with this degree, which include a career in medical physics, education, high technology, business, or science journalism.
This program is also offered at UBC's
Okanagan Campus
Find out more
Visit program website
Campus: Vancouver
Faculty: Faculty of Science
Degree: Bachelor of Science
Length 4 yrs
Co-op Yes

You can combine your studies with full-time, paid work at top local and international organizations.

Honours Yes

You can study intense specialization in a single field.
This program is intended for those wanting to learn physics as part of a general education or combine physics with other disciplines. The program, when combined with proper electives, is suitable as pre-training for a professional degree in Architecture, Commerce, Education, Law, or Medicine. The large number of electives will enable you to obtain significant background in another field, such as computer science, applied mathematics, physical geography, oceanography, geophysics, or geology. You may wish to select a Double Major, which can be obtained by satisfying the degree requirements in two subjects. Career options in physics include medical physics, education, high technology, business, or science journalism.
Campus features
UBC is home to Canada's National Laboratory for Particle and Nuclear Physics, at the TRIUMF facility, a world-renowned accelerator for the study of sub-atomic science.
UBC alumnus Bertram Brockhouse won the Nobel Prize in Physics for his work in neutron spectroscopy.
The Department of Physics & Astronomy was the among the first in Canada to introduce the Personal Response System, an interactive learning tool.
Send details
Your future
A UBC education will introduce you to people and ideas from around the world, open doors to new opportunities, and take you places you never imagined. You'll graduate not only with expertise in your chosen field, but with the skills you need to continue growing, learning, and evolving with your career over time.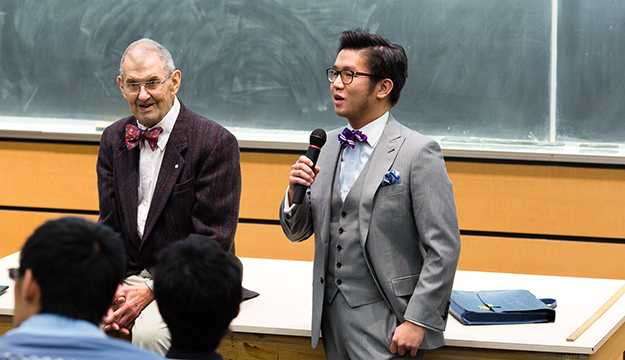 UBC stories

After graduating from UBC, Euweng found a way to pursue his love of music and physics at the same time by going on to study acoustics at the Peabody Conservatory of Johns Hopkins University.

Euweng Chan, Physics Read the full story
Program requirements
English-language requirements
English is the language of instruction at UBC. All prospective students must demonstrate English-language competency prior to admission. There are numerous ways to meet the English Language Admission Standard.
General admission requirements
Completion of the IB Diploma with a minimum score of 24 points, including at least three Higher Level courses and additional points for Extended Essay and Theory of Knowledge.
Completion of Standard Level or Higher Level English A at a minimum score of 3, where English is the primary language of instruction.
Degree-specific requirements:
Science
IB Mathematics (Standard or Higher Level; IB Math Studies does not meet the requirement)
One of IB Biology, IB Chemistry, or IB Physics (Standard or Higher Level)
One year of Chemistry immediately prior to IB Diploma
One year of Physics immediately prior to IB Diploma (may be waived with scores of 5 or higher in IB Mathematics and IB Chemistry)
Visit program website