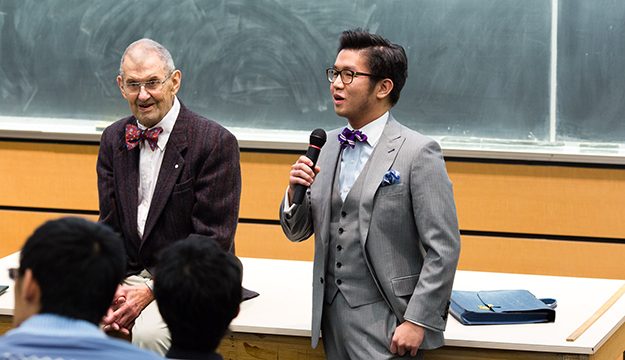 Euweng Chan is a UBC alumnus whose most memorable moment at UBC was also a massive achievement. Euweng undertook the 12-month task of organizing, then chairing, the annual Canadian Undergraduate Physics Conference (highlights posted here). Since graduating this spring, Euweng been accepted into a Master's program in Acoustics at the Peabody Conservatory of Johns Hopkins University. Euweng is currently contemplating between entering the workforce and continuing in his studies.
Euweng encourages others to apply to UBC and, if accepted, to seriously consider attending. He says that UBC "is a campus that offers world-class faculty, facilities, and peers." He also says that UBC offers students the opportunity to wonder, question, and, most importantly, find answers. At UBC he feels he has grown tremendously as a person, as a scientist, and as a citizen of the world.
In his free time, Euweng enjoys listening to music, performing viola in an orchestra, playing badminton competitively, and photography. What makes Euweng smile is a masterful interpretation of a masterful composition such as the Leipzig String Quartet. He tries to find an outlet for his love of music and physics in acoustics. Researching your passions, isn't that what every university student dreams of?