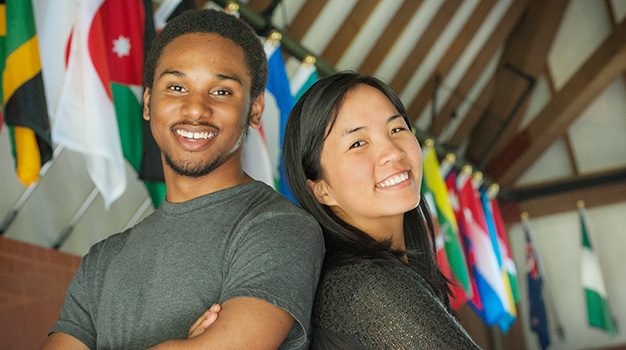 If André Tate, a fourth-year economics student from Jamaica, had one piece of advice for the international students arriving at UBC this week, he would tell them to just dive in.
Getting involved in campus life made Tate feel "empowered to do many things."
Tate found the transition to UBC and Canadian culture difficult. He spent a good chunk of first year hanging out in his residence room alone, a radical change from his academic life in Jamaica. Before beginning second year, he decided to volunteer to be a Jump Start student leader, helping the incoming class of students with their transition to university.
Many international students who end up at UBC are leaders in their high schools and communities back home. "They often have high expectations for themselves at the post-secondary level but coming from different cultures and circumstances means that they need some additional support," says Caroline Rueckert, program director for Jump Start, a program that helps to ease the transition to UBC and Canada. They also have the opportunity to connect with their Faculty and build important relationships that will serve them throughout their UBC careers. Throughout first year, students are grouped together by faculty into Learning Communities and meet regularly with two peer mentors and a faculty mentor. This helps build a community and provides additional support to help students navigate their studies.
"It gave me a chance to break out," Tate says, explaining that after Jump Start he plunged in to other extracurricular activities.
He joined Sauder's Finance Club and became the executive in charge of sponsorship for the Pacific Venture Capital Conference and Competition. He spent a summer volunteering with a venture capitalist and has been elected to the board of the Association of Professional Economists of British Columbia as the student representative.
Tate also wanted to do something to enhance the student experience for his peers. He hopes to bring influential economists, like a representative from the Bank of Canada, to UBC so economics students can hear about their work. "Meeting people who are doing what you want to do is inspiring," he says. To make this happen, he founded the first Canadian chapter of Oikos International, a student-run organization that focuses on sustainable economic management.
Ultimately Tate intends to return to Jamaica where he hopes to use what he's learned and experienced to strengthen the country's economy. He is one of only five students from Jamaica studying at UBC and it was only because of an International Leader of Tomorrow scholarship that he had the opportunity to pursue studies here.
"I know so many friends from high school who could do so much but the money is not there for them to get the same experience as me, to come to a school like UBC," he says.
Students from over 150 countries study at UBC. The university boasts such global representation in part because it offers support for students like Tate, who are from regions like Palestine, Vietnam, and Swaziland, where there is less opportunity to study abroad.
"We are living in an interconnected world and today's students will need to work with people from a multitude of backgrounds and experiences," says Angela Redish, vice provost and associate vice president, Enrolment and Academic Facilities for UBC's Vancouver campus. "To provide UBC students with a true opportunity to engage as global citizens, they must have the chance to meet students from every corner of the world."
Photo: Martin Dee.
Read the full story at UBC News.