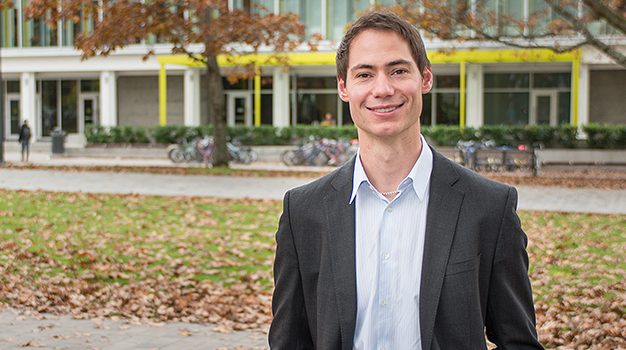 UBC MBA graduate Dustin Sproat brought his A-game to CBC's Dragon's Den last October. Sproat pitched his social networking app Shnarped, which connects professional hockey players and fans, and before the evening was over – all five dragons had invested in his company.
"It's a phenomenal result," he says. "It only happens with one per cent of the pitches on the show."
Together with his co-founder, Kyle Hagel, Sproat went on the show asking the investors for $100,000 for ten per cent equity in their company. They walked away with $250,000. "It means we're going to have a good buzz around our product from a number of influential people," Sproat says.
He pins the success down to the fact that the famed dragons simply liked the app, and its core feature, "the pound," which allows fans to send players a virtual fist-bump in real time after a game well-played.
"They appreciated it as a great way to connect players and fans," Sproat comments.
Shnarped is becoming increasingly popular among the hockey community at large, as a way of keeping up with their favourite players through statistics, news and highlights.
The app currently features over 300 active pro-hockey players, including Jonathan Toews and Andrew Shaw of Chicago Blackhawks, Matt Moulson of the Buffalo Sabres and Brendan Gallagher of the Montreal Canadiens.
This past weekend, the app was released on Android, and will soon be followed by a new release, featuring players from the National Collegiate Athletic Association (NCAA).
Sproat and fellow UBC MBA grad Kamil Sikorski created the app during their 16-month MBA program at Sauder's Robert H. Lee Graduate School, from where they graduated in May. The name comes from a popular card game hockey players often play on road trips, popularized – according to hockey lore – by Vancouver Canucks legend Harold Snepsts.
For Sproat, who attended Princeton on a hockey scholarship before playing three years in the minors and winning the ECHL championship with the Cincinnati Cyclones, the opportunity to fine-tune Shnarped with Sauder professors and classmates was invaluable.
"I can't say enough about the experience – everyone has been amazing and so generous with their time and ideas," he says.
Watch the episode on CBC's website.