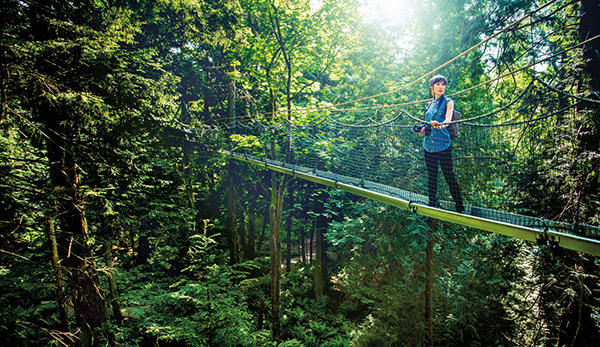 Groundbreaking filmmaker, actor, and storyteller. Advocate of diverse First Nations representation. Lover of all things Vancouver. 
Why did you choose UBC?
After moving to Vancouver to pursue a career in acting, I fell in love with the city, the landscape, and the people. A few years into my acting career, I gave in to my grandmother's suggestion to continue with my education. My grandparents, who were fundamental in shaping my worldview, have always been strong advocates of education – especially for First Nations, Inuit, and Metis peoples. As my grandfather says, "Education is the only way out of our current situation as Aboriginal peoples." I took their advice and chose to go back to school. Not wanting to leave Vancouver and my work as an actor, I chose UBC.
How did you choose your area of study?
In my first semester, I decided to take a diverse course load in the humanities. Soon, I became hooked on First Nations Studies and Women's and Gender Studies. Both programs challenged me to think critically about systemic injustice. Furthermore, I also related to both programs on a personal level. Ultimately, it was the talented instructors, supportive staff, and incredible community in the First Nations Studies Department that led me to choose a Major in First Nations Studies, opting for a Minor in Women's and Gender Studies.
Tell me about your involvement in the Global Indigenous Conference and your work with the First Nations Longhouse.
My Work Study position with the First Nations Longhouse was truly an amazing opportunity to practice my filmmaking and interviewing skills. In all honesty, this job was the best job I have ever had. I learned invaluable skills and worked with an amazingly supportive team at the Longhouse; I'll carry those memories with me for the rest of my life.
Then, me and seven other students organized the first Global Indigenous Conference, dedicated to discussing globalization and its effect on Indigenous peoples. Over 250 people attended the two-day meeting.
We had guest speakers from all over the world, including two activists from Peru who were featured in The Nature of Things documentary "The Real Avatar." David Suzuki was even our keynote speaker. The conference also generated critical dialogue on issues universal to all Indigenous peoples and fostered new networks for many people.
How has UBC prepared you for your career?
As an actor, I often found myself frustrated with the mainstream film industry.  I was continuously confronted with material that in no way represented me as an Indigenous woman. Many of the stories and the diversity of voices I recognized and knew to be true were absent from mainstream film and television. While at UBC, I was introduced to the history of Indigenous misrepresentation in popular culture and media, and how this issue remains pervasive and damaging today. Guided by the groundwork of past generations of Indigenous artists and grounded in these fundamental understandings, I was able to approach film and media in a whole new way – in which I was in control of the stories I wanted to tell and the ways that I wish to be represented.
How has UBC helped you fulfill your aspirations?
Before UBC and the First Nations Studies program, I hadn't even considered the possibility that I could pursue a career in filmmaking. After being introduced to the world of independent Indigenous cinema, I realized there was so much more out there for me. I could be a storyteller in ways I had never imagined. I also had the opportunity to meet people from many different backgrounds. Through those relationships – big or small, I was able to see and understand the world in fresh ways. Now I'm four years into my career as a filmmaker (and sometimes an actor) and I couldn't be happier with the path I've chosen.