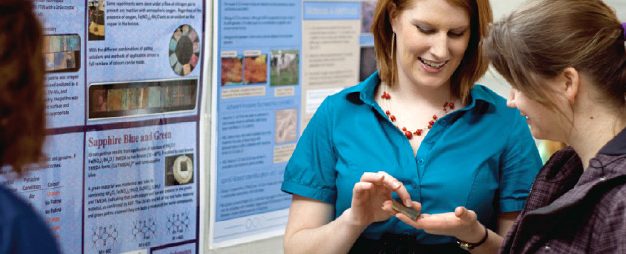 By bringing together the worlds of art and science, Okanagan undergraduate student Ashley Devantier forged a new path in the development of artificial patinas.
The Statue of Liberty's surface is made entirely of copper. Yet why is it green, instead of the colour of a penny? That green colour is a patina, a film formed on the surface of metal due to exposure to air.
Artificial patinas are used by artists, often to add an antique look or feel to metal in their artwork. But these patinas were typically confined to just a few colours, and often required highly toxic materials to create them. That is, until Devantier came along.
She undertook a project of mixing and manipulating common (and much less toxic) metallic elements, and identifying the molecular basis for new colours. The result is a full rainbow of coloured patinas. Colours that, until her breakthrough, were not previously available in the patina palette.
Devantier had planned to finish her Bachelor of Science degree in Chemistry and then join the workforce. But her work on patinas earned her an Undergraduate Research Award from the Irving K. Barber School of Arts and Sciences, and she chose to continue her project as an honours thesis.