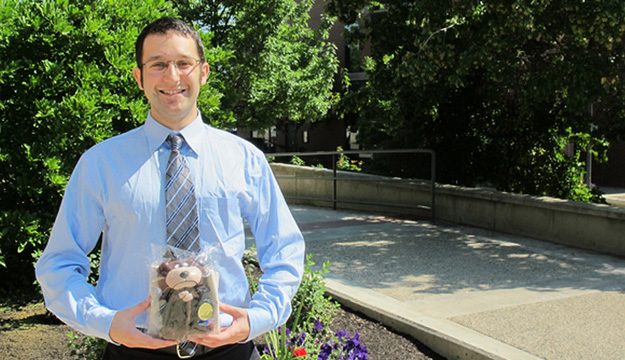 Ryan Trenholm loved video games so much in high school, he decided to take computer science at university.
"I chose UBC because I knew that I would receive a world-class education from some of the best researchers in their respective fields," he says. "I chose the Computer Science program because I was interested learning more about computer games, such as how they are made and how computer programs actually work, with the goal of maybe one day getting into the computer game industry."
After entering into the program, Ryan quickly learned that computer science is about so much more than computer games. "Computer science is involved in so many aspects of our lives, like iPhones and other mobile technology. I am still amazed by it all!"
Ryan graduated this spring and is now doing his master's degree at UBC in … you guessed it: computer science. So what is it about this program that is so compelling?
"The thing that fascinates me the most about computer science is being able to use my creativity and ingenuity to come up with solutions for real-world problems and concerns. I've had the opportunity to work with a non-profit organization in redesigning their website, a video game company with developing new mobile games, and I am currently partnered with the City of Kelowna in researching more environmentally sustainable irrigation practices for city parks!"
From farm chores to global research awards
This last partnership was a significant achievement for Ryan, who traces his interest in irrigation back to his youth.
"I grew up on a farm and one of my chores during the summer was to wake up each morning before sunrise to move the irrigation pipes by hand to new positions in the fields," says Ryan. I often had to take the sprinklers apart, fix them, and start the system again. This is what sparked my interest into how to reduce water use and use it more efficiently."
This experience led to Ryan to apply for an Irving K. Barber School of Arts and Sciences Undergraduate Research Award (URA), which opened up opportunities and experiences that Ryan had never considered. For his URA project, Ryan developed a website for public-park managers to monitor water-consumption data collected by sensors in the ground. This work led to his honours project of building a mobile application with GPS capability for park managers to access water-consumption data in the field.
Ryan's contributions to water-sustainability research didn't stop there. At the Multi-disciplinary Undergraduate Research Conference in Vancouver, Ryan won an Oral Presentation Award for his presentation Reducing Water Usage in Civic Parks Using Adaptive Irrigation.
Ryan then dazzled judges and took top prize on the second day of the global Undergraduate Research Conference at Universitas 21, in Tokyo, where he ranked ahead of 60 undergraduate students from 23 of the world's leading universities for his presentation on adaptive irrigation.
"I still can't believe I won," says Ryan, who describes himself as a nervous public speaker. "I have come away with so much more confidence in myself. My family and professors had so much faith in me, and now I feel like I can do anything. The experience really improved my life. It made me a better person, a better student and a better researcher."
To anyone considering taking Computer Science at UBC, Ryan has this advice: "Don't be intimidated about entering computer science. There is so much more to it than simply computer programming. Computer science is involved in and connected to so many other disciplines and fields of research, from the more practical end of the spectrum such as database systems and software engineering to the more theoretical like artificial intelligence and human cognition. There are so many great options available and I highly recommend trying at least one computer science course – you won't regret it!"
Above: Ryan Trenholm holds his trophy bear, awarded for best oral presentation at an international showcase of almost 60 undergraduate students from 23 of the world's leading universities in Tokyo.