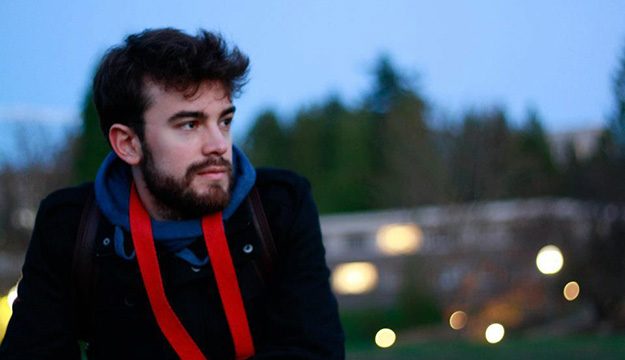 Hívio is one of a growing number of Brazilian students who are coming to UBC for their Science Without Borders experience. So what made Hívio choose UBC over other schools in other parts of the world?
"I chose Vancouver because of a friend's recommendation. Camila, my friend, had been here to study English and she just fell in love with the city. After this, I checked which universities in Vancouver offered my course and which had a reputation for excellence in research. When I found that UBC met all my specifications and it was located near the ocean, I realized, 'that's where I want to be.' Now that I'm here, I can clearly remember my friend telling me 'Hívio, I've been on UBC's Vancouver campus and it's one of the most beautiful places!'"
Hívio, a third-year chemical engineering student, sees a number of differences between UBC and university in Brazil.
"One thing I noticed was the well-being of Canadian students. Canadian students care about their studies, exams, and assignments (a lot of them!) but they never forget their personal lives. They play many sports and are active in many UBC clubs — this is amazing! I believe that is the key not only for good health but for better grades."
Other differences between academic life at UBC and Universidade Federal do Rio de Janeiro (ranked among the top 5 universities in Brazil) are the opportunities.
"Here I have a chance to work with great researchers in hi-tech labs that will certainly increase my knowledge and increase my chances for good jobs when I go back to Brazil."
Knowing that his year of study at UBC will improve his future is important to Hívio. When asked how his UBC experience will help his future studies and career, he says, "To be honest, it'll help a lot! First of all, Brazilian chemical industries attach a lot of importance to experiencing academic life abroad. They know how important an exchange is to opening the minds their employees. Second, an English-language test is usually mandatory when you are looking for a job in a multinational company. This way, putting my English in practice here in Canada will help me to be more fluent."
Coming from Brazil to Vancouver, however, was not without a little culture shock. All UBC students receive a U-Pass, which grants them unlimited travel on Vancouver's public transit system — different from the turnstile and pay-per-ride system in Rio de Janeiro. "That was the first shock I had. Every time I got on a bus I asked, 'Where's the turnstile'? 'How can I prove I've paid for this?' That was funny!"