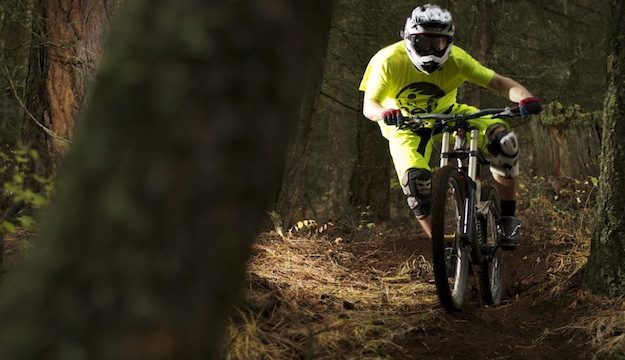 Student Pat McCarter recalls how the Okanagan lifestyle lured him to UBC, and what life on campus has been like since arriving.
For some UBC students, the allure of UBC is its global academic reputation, while for others it is to experience life in an amazing multicultural community. When Toronto native Pat McCarter was choosing which university to attend, he knew it had to be a place where he could pursue his lifelong passion for mountain biking.
In recent article for pinbike.com, Pat wrote:
"When applying for university I had a different motivation than the rest of my high school friends. I wanted to ride my bike. Riding had become such a major part of my life I realized university was not only an opportunity to educate myself but an opportunity to move to where I could do what I loved most.

I knew right away I wanted to leave Ontario and move to British Columbia. At first I didn't even care what part of BC I went to, but looking back, I realize I couldn't have made a better choice or end up in a better location. I chose to attend UBC Okanagan, and I think anyone else who rides bikes and is planning on going to university should come here too." – Pat McCarter, Psychology
Since coming to UBC, Pat has gone for hundreds of rides. His best day of UBC riding so far involved friends, a secluded trail, and the stunning Okanagan landscape. "A couple weeks into first-year some buddies and I went to ride a small trail tucked away near Beaver Lake. We did our last lap during sunset and the whole sky was filled with pink and orange. The air was cool and smelled amazing. The forest was calm and silent. It was the best setting imaginable to ride my bike."
Mountain biking is a popular activity on UBC's Okanagan campus for good reason. There's a downhill racetrack, multi-loop pump track, dirt jumps and a berm/jump trail within a five-minute ride of campus. Kelowna has an amazing network of trails for downhill, cross-country, all-mountain, and dirt jump, and best of all, there are loads of students to have amazing rides with — and the camaraderie is great.
In fact, Pat isn't the only one who came to UBC's Okanagan campus because of mountain biking. "Most of the members of the Mountain Bike Club came to UBCO so they could ride. I think you'll find a lot of new students will be here because of riding as well."
While intermediate and expert riders are spoiled for choice of trail (there are three trails on campus and dozens around Kelowna), there are also loads of trails for beginners to enjoy. Pat says, "Those just starting out will love our cross-country and all-mountain rides. For those looking to get into downhill and free ride, we have an amazing group of riders who would love to help you learn!"
Image: Nathan Dobson