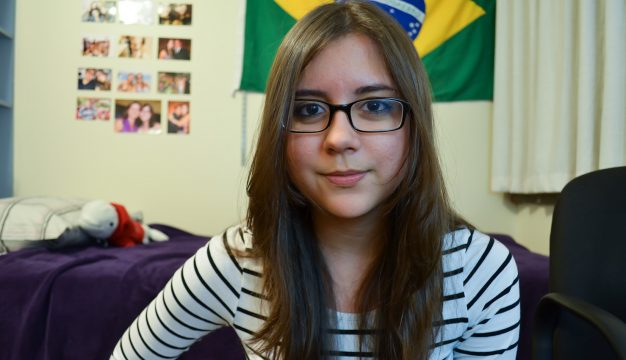 Tuani Ladeira is a third-year environmental engineering student from Universidade do Estado do Pará. For her Science Without Borders year, she chose UBC for its international culture, research facilities, and the opportunity to develop academically and personally in ways that she couldn't back home.
"Absolutely everything that I do and learn in Vancouver is different from what I have experienced in Brazil," says Tuani, "so everything is an opportunity. Being able to live with people from all over the world and learn other cultures is a unique experience."
Tuani enjoys being immersed Vancouver culture — she loves exploring the city with her camera and friends — but she also sees a long-term benefit to her UBC experience. "Having to adapt to a completely different environment is certainly going to be important for my career. Moreover, communicating in English every day and having the opportunity to study in one of the top universities of the world will help me academically."
Tuani is studying chemical engineering at UBC and is taking courses in the Earth and Ocean Sciences program. Her main interest is studying river ecosystems and water quality, and she intends to research the mineral content in Vancouver's English Bay. UBC's strong commitment to sustainability was one of the reasons she chose to come here.
"UBC is incredibly environmentally oriented and has researchers in all the fields that I am most interested in. It also has the infrastructure that we need to study and develop individually and academically. Learning new technologies is something I'll bring back to my country. Applying the knowledge that I am absorbing here in solving environmental questions in my country is something I consider of major importance."
Tuani's best UBC story is a reminder of Vancouver's international culture: "The funniest thing that I found here was realizing how many Brazilians live in this city. My friends and I find Brazilians almost every time we go out in Vancouver!"