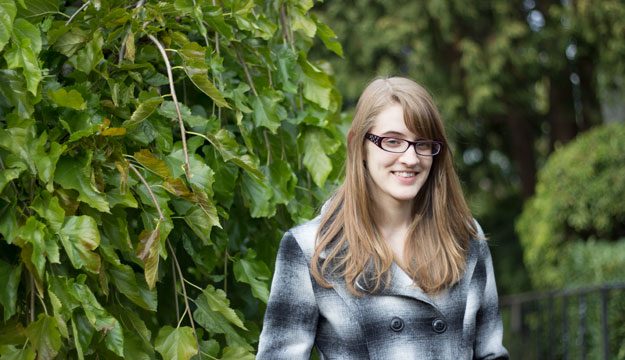 Hailing from Winnipeg, Manitoba, Music student Samantha Ballard was one of the Major Entrance Scholarship recipients in 2011. Now in her second year, Samantha studies harp under Vancouver Symphony's Principal Harpist Elizabeth Volpé Bligh.
While rehearsals and music classes occupy much of Samantha's time, she finds the time to chronicle her student experiences on a blog with the UBC Blog Squad.
"The Blog Squad gave me an opportunity to share my experiences at UBC with others, be they current students or prospective students trying to make a decision," she said.
When not sharing her strategies for midterm success or chronicling her adventures in learning to cook, Samantha also spends her time with the Knitting Club on campus. For Samantha, joining the Knitting Club in her first year helped ease the transition of moving to Vancouver.
"My biggest challenge was being homesick and lonely," said Samantha. "I didn't have any friends or relatives living in Vancouver, so I was looking for a community, and I ended up finding some people in the Knitting Club that I really clicked with."
After Samantha found her niche on campus after trying something new, she encourages new students to do the same.
"There are so many opportunities to get involved. There's so much energy on campus – people are really passionate about what they do and start up new things all the time," said Samantha. "I'm really looking forward to making even more connections on campus, and getting even more involved," she said. "I want to start a student directed seminar, and I'd like to apply to be a campus ambassador, and just keep knitting and blogging and studying what I love."
To follow Samantha's stories of her UBC experience, check out her blog.