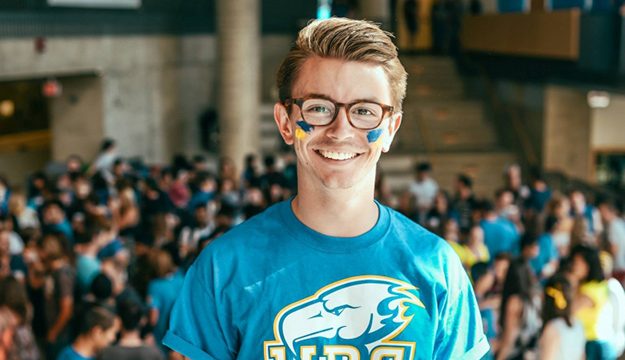 Ontario native Aaron Bailey made the familiar leap from living at home and going to high school, to moving miles away for university. The Integrated Sciences grad and former AMS president tells us what worked, what didn't, and how UBC helped to shape his future and allow him to grow as an individual
After graduating with a bachelor's degree in Integrated Sciences, in spring 2016, Aaron Bailey liked UBC's Vancouver campus so much that he never left. He began working with UBC Thunderbird Athletics as an engagement strategist. And Aaron would know a thing or two about engagement – during his time at UBC he led a rich life outside of the classroom that included being a residence advisor, holding various titles in the Science Undergraduate Society, and becoming the president of the Alma Mater Society.
Aaron takes us through his UBC experiences and shares his best advice for getting involved, making friends – "everyone is as terrified and uncertain as you are!" – and finding the support you need to be happy and healthy during your time at UBC.

Why did you look out West when applying to universities? 
I've always had an inner draw to beautiful spaces and inspirational landscapes – British Columbia offers some of the most spectacular in the entire world. In the summer before my senior year, I visited family living in Nanaimo and Vancouver and had the opportunity to tour the campus starting from Wreck Beach. It took about five hours for me to decide definitively that UBC was the place I wanted to study.
In February of 2011, I was fortunate enough to be selected as a W. Garfield Weston Loran Scholar, which provided me with the means to attend my dream school. I spent the next few months travelling around Ontario attending the same UBC recruitment events over and over again because I was so excited. In the end I didn't apply anywhere else!

What helped you with the transition of moving away from home and living in Vancouver?
I've written and spoken publicly about the difficulties of my transition – first year was especially hard being away from my support network, under the weight of rigorous scholarship requirements, and studying in the academically intensive Science One program. By November, I found myself in a very dark place and was struggling with some serious mental illness.
What helped most were two things. First, out of necessity and not necessarily choice, I opened my life up to others and asked for help – something I wish I had done much earlier. Second, I consciously opted to redefine what success at UBC meant for me, moving away from evaluation by numbers and grades and instead benchmarking myself on how fulfilled and happy I was in my academic pursuits and overall campus life.
I recall coming back from Christmas in Niagara and deciding not to look at the marks I received on top of my exams and assignments, focusing on my love of learning to motivate me. This made all the difference – not only was I healthier and happier, my marks actually improved in second term!

What was your residence experience like?
To be honest, due to my difficult first months at UBC, I didn't take advantage of the amazing opportunities that residence offers until late in my first year – something I deeply regret. That said, I made up for it by returning to residence for three full years as a Residence Advisor.
My time working with RezLife led me to meet some of my closest friends, allowed me to have a positive impact on the lives of first-year students facing similar challenges that I faced, and really accelerated my personal growth. My friends also joke that it helped me avoid my separation anxiety, keeping me on campus – where I still live now – throughout my entire degree.

How did the reality of attending UBC live up to your expectations?
Looking back, it exceeded my expectations in every way imaginable, from the people I met to the incredible experiences I had, and all the challenges I faced along the way. To talk specifics, those people telling you that university is much more difficult than high school are correct – even if I tried really hard not to believe them. Difficult, however, in the most beautiful ways. University, and UBC in particular, are vessels upon which you travel to discover your true identity. Once you realize that you are the captain, it can open up routes to becoming whomever you wish to be.

What surprised you about UBC?
I came to UBC expecting to really dive deep into my academic passions, which at the time was hard science. I had this vision of Grecian intellectualism: debating the nuances of quantum physics with white-haired, tweed-jacketed professors across massive mahogany desks. For some people, that definitely is their reality at UBC. For me, I quickly surprised myself by realizing that I much rather enjoyed spending my time with feet on solid ground, out in the community learning by doing – something my bookworm, high-school self could never have seen coming.
Aaron Bailey's Official How-To Guide for Getting Involved™

1. Start broad: sign up for everything on Imagine Day, go to a million club events in two weeks, and become extremely overwhelmed.
2. Continue to be overwhelmed as you slowly opt out of 100 enewsletters.
3. Attend faculty orientation, meet really cool people, go to a few more club events with them, and get really inspired by student politicians.
4. Say no to 98% of the original things you signed up for, get super excited about one or two clubs or groups, run for your first undergrad society election, have a crazy idea, and make it a reality.
5. Dive deep and spend the next four to six years pursuing your passions, meeting the most incredible people, and somehow becoming AMS president along the way, and cap it off by leaving UBC a better place than how you found it.

How can students find their community on campus?
Your community will not come to you, you need to go find it! Take bold risks and talk to people – there is no time or place in your life more conducive to making new friends and amazing connections than your first year of university. Remember that everyone is as terrified and uncertain as you are, even if they try and play it off otherwise.
A few months of late-night conversations, ice cream socials, and the odd fraternity party here and there can make a big campus like UBC feel really tiny really quickly.

You spoke at the 2016 Student Leadership Conference about "Learning Beyond Lecture." What did you learn at UBC outside of academics?
I learned how to say no, how to be confident in myself, how to lead and how to follow, how to really listen, how to manage my time, how to effectively communicate my ideas, how to be a good friend, how to mentor and how to be mentored, how to longboard, how to admit mistakes, how to be alone, and how to love.

What's your best piece of advice for students who are thinking of moving away for university?
Call your mom. Seriously, just do it. No matter how fiercely independent you think you are, you'll need someone to have your back when the going gets rough. Plus, she's probably worried sick about you!