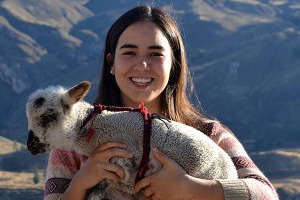 Since coming to UBC from Peru, Cecilia has involved herself in many activities on and off campus. Getting involved has been the key to her having a great UBC experience and led to her receiving a Faces of Today Award, which recognizes achievements of UBC student leaders.
In this video, Cecilia talks about her many involvements during her undergraduate years. In the interview below, she describes what it was like coming to UBC, and how UBC shaped her amazing university experience.
Why did you decide to study at UBC? Did you get a chance to visit before you came?
UBC was always a dream school for me in terms of its location and the calibre of its environmental programs and opportunities. I didn't have a chance to visit the campus before coming but I attended lots of recruitment events in Lima and I spent countless hours researching UBC and Vancouver online (especially through Facebook and YouTube). I applied to several schools across North America but there were lots of factors that drew me to UBC, including research opportunities, financial support, and the incredible city of Vancouver. I was blessed to receive the International Leader of Tomorrow full scholarship and that made all the difference.
What were your expectations of life in Canada? Of life in Vancouver?
I had never been to Canada before coming to UBC, but the more I researched Vancouver, the more I loved it. I guess my expectations overall were to complete my studies in a safe, clean, and stimulating environment with genuine nice people — and Vancouver definitely delivered!
What were your concerns about studying abroad?
I think like any international student, I had my concerns about being so far away from my family, friends, and everything I was familiar with. I worried about being homesick and I definitely worried about missing Peruvian food too much. In the end it all worked out and I wouldn't change any of it.
Describe your transition to life at university. How did UBC help with that transition?
I flew into Vancouver on a gorgeous sunny August day, jumped in a taxi, and came to campus to sign in for the Jump Start orientation. The two-week orientation program provided me with more than I expected. Academically, it prepared me for success in the Faculty of Science through mock lectures, a chance to meet professors and all kinds of resources to support me. It also helped me set up my bank account, get a phone, apply for my health insurance, and all those details of moving to Canada.
Personally, though, the biggest help UBC offered me, through the Jump Start orientation program, was a chance to meet students from all around the world, make long-lasting friends, and feel at home at UBC. Throughout my first year I felt like there were always people there to support me and I am eternally thankful to people like my residence advisor, my academic advisors, and of course my friends, who soon became my family away from home.
What are some highlights of the city, some favourite places to go or activities to do outside of UBC?
I love exploring Vancouver as much as I can and I love that we get a bus pass that allows us to do so. Some of my favourite places include Stanley Park, Grouse Mountain, and Granville Island!
What inspires you?
I am constantly inspired by the incredible natural environment that surrounds me here in Vancouver. Moreover, I am super-inspired by the people in my life! I am very much a people person and I love getting involved with teams where I have the opportunity to work side by side with talented and fun individuals who are passionate about the same causes as me. I find great motivation in motivating others. I'm also inspired everyday by my family and friends, whom I hope to make proud with my accomplishments and whom I know are always there to support me along the way. Finally, I'd say I'm really motivated by new challenges, especially those that give me the opportunity to grow and change my perspective, to learn new things, or to meet new people.
How has UBC supported your goals?
I have had an unbelievable amount of support from UBC along the way – from my peers, teachers, and advisors. My orientation leaders and my Resident Advisor in first year dorms were all incredible, helping me find a sense of community at UBC and giving me tips on how to kick-start my involvement at UBC. UBC staff, in particular the advisors from International Student Initiative and International Student Development, have been incredibly supportive of me along the way, helping me with any problems that came along – whether they were academic, financial or any personal concerns. When I was confused about my majors the science advisors were extremely helpful in guiding me and helping me to apply for a double major. There are so many people I am grateful for.
What would you say to a student considering coming to UBC?
Come! If you have that gut feeling that UBC is the right place for you and it feels like a right fit for your passions and interests – apply and, if you can, come check it out! I have absolutely loved my experience here and a large part of that is because of the people and the huge variety of opportunities to get involved with. There is truly something for everyone.
What do you hope to do after graduation?
I hope to stay in Canada for a couple of years and gain some work experience with environmental consultancy and/or wildlife management. In the long term, I will probably go back to Peru but for now I am really happy here in Vancouver and it seems like the perfect place to start my career.
Best moment on campus?
This is the hardest question by far! There are TONS of moments that come to mind and every year here has been a whole new adventure. Personally, nothing beats hanging out on one of campus' beaches or forests with a group of friends on a lovely sunny day; or dancing your heart out at one of Association of Latin American Students parties, to name a few of MANY amazing moments.